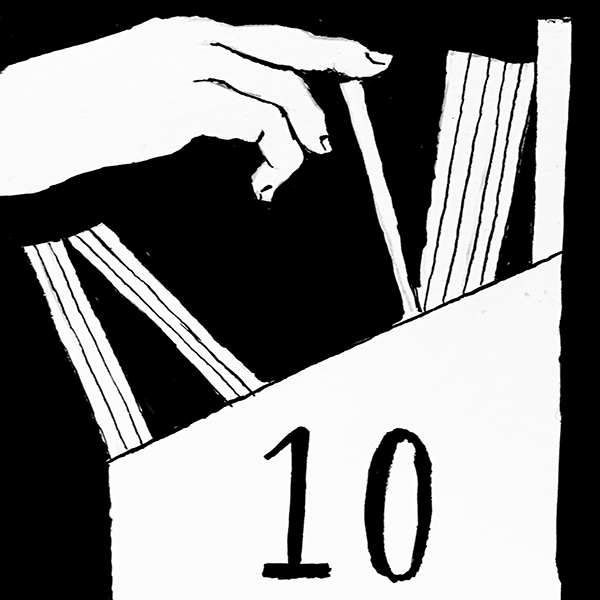 The mark of a great album is always a balance between cohesion and contrasts. This natural push and pull between unity and diversity draws a listener closer and more articulately paints the big picture. Artists who have mastered the strategy behind music-making, production, promotion, and release often see their work celebrated for more than their auditory aesthetic. Albums help define the artist in a way singles can never do.
Like the album format, Detroit's music community waxes and wanes between isolation and collaboration. In 2015, our city's thriving arts scene displayed its potential for national recognition, while becoming more localized than ever. From Top 40 rap to genre-bending pop crossovers, these are Detroit Music Magazine's best albums of the year. —P.Y.
[You can listen to or purchase any album by clicking on its cover art.]
---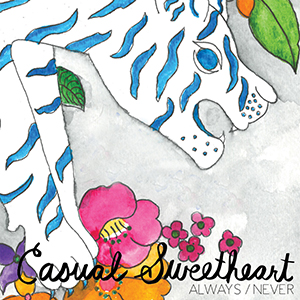 10
Casual Sweetheart
Always / Never
Detroit trio Casual Sweetheart make quirky indie pop that sounds like a more, well, casual take on Riot Grrrl. Always / Never offers plenty of strong melodies set against simple, chugging rhythms. Opener and highlight "Marchers of Loaf" becomes nearly anthemic when frontwoman Erin Norris repeats the mantra "Know who you are, what you can, what you can't see" in the chorus. This introductory humanizing statement sets the tone for a charming 23 minutes. The surf rock-like, Breeders-esque "Mistake" is perhaps the most fun, while closer "You Ought to Know" builds beautifully toward its end with brilliant harmonies and a great guitar lead. The wealth of hooks and absence of pretension on Always / Never make this group very easy to root for. —Theo
---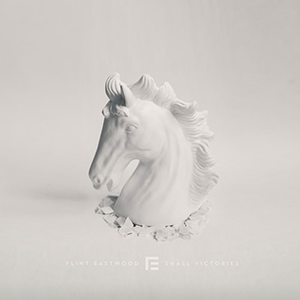 9
Flint Eastwood
Small Victories
"I want to talk about it/ When they say 'How you been?'/ I'd love to talk about it/ Where do I begin?" Flint Eastwood's gorgeous 2015 release Small Victories is Jax Anderson's album-as-elegy. She turns a mirror upon her personal experience to produce something approaching universal meaning from its depths. On Small Victories Anderson lays bare the death of her mother, but far from the morose dirge she would have been forgiven for engaging in, we are instead administered a six-song dose of energetic compositions. Those anticipating an internal odyssey of loss and helpless desperation should prepare to have those expectations upended. With their soaring guitar riffs and dancefloor-ready synths, we should feel fortunate that Jax was willing to share these Small Victories extracted so deftly from her life. —Dan Jones
---
8
Britney Stoney
Native
Though Britney Stoney had been bopping around town for the past couple years, playing open mic nights and events across metro Detroit, this summer saw the release of her excellent new EP Native. A perfect combination of unique electronic production and Stoney's soulful voice, Native demonstrates both the innovation and incredible talent of a new generation of musicians from the city. Her multilayered vocals reveal the strength of her singing, and the inventive nature of her songs makes her a true force to be reckoned with. —Meta
---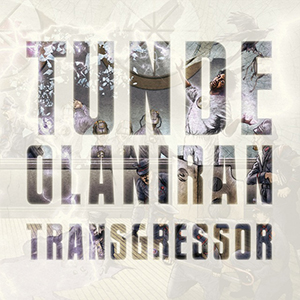 7
Tunde Olaniran
Transgressor
The fermentation of what DMM Managing Editor Khalid Bhatti referred to as "Mariah Carey melding with M.I.A." forms the essence of Tunde Olaniran's debut full-length. Olaniran's breadth of inspirations is unconstrained, and he reflects on themes ranging from self-identity to Taco Bell combo meals. In addition to its genre-bending melodies and progressive instrumentation, Transgressor is a theatrical testament to individualism and — at the same time — sociability. The record's standout tracks — "Let Me Go," "KYBM," "Diamonds," and "Namesake" — are far from your typical pop anthems, and each delivers an undiscovered, glimmering facet of "Tunde." Do yourself a favor: drench yourself in the pageantry of Transgressor. Even the album art is colossal. —P.Y.
---
6
Big Sean
Dark Sky Paradise
Right when Big Sean's career seemed to have crested, he released his best album yet. Dark Sky Paradise honed the artist's position as rap's wisecracker du jour, while simultaneously lending him a surprising air of gravitas. Rather than getting relegated to a supporting role on his own work, lost amidst a plethora of guest spots, Sean's star burns brightly. He proves himself equally capable of knocking out crowd-pleasing bangers as he is nailing feats of lyrical inspiration. The mix of restraint and revelry is intoxicating enough in small doses, but Dark Sky Paradise feels like Sean's first fully-formed statement of purpose. Sean's delivery is firmly in the pocket, and the beats span both bawdy R&B slink and flossy, gaudy hip-hop strut. Ten years ago, no less than Kanye West saw Big Sean's raw talent; Dark Sky Paradise finally makes good on that early promise and lets the rest of us hear it too. —Khalid
---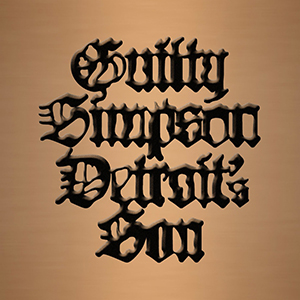 5
Guilty Simpson
Detroit's Son
Guilty Simpson sunk his teeth deep into the underground hip­-hop world in the late '90s and hasn't let up since. The 17 tracks on Detroit's Son whiz past like a fanciful parade, pairing Simpson's compelling baritone with left­-field production that recalls the late J Dilla. Fans now had the rapper's greatest collection to date, while new listeners were introduced to one of the genre's most criminally overlooked voices. Aussie beatmaker Katalyst, a member of the Quakers crew that linked up with the rapper in 2012, stays within the realm of the classic Stones Throw sound while adding nods to current EDM and trap trends. The resulting album is varied and colorful, inviting and engaging. —Joe
---
4
Gosh Pith
Window
Josh Smith and Josh Freed are Detroit's most compelling electro-pop duo, and their debut EP Window gave the city its first comprehensive listen. Tracks like "Waves" and "Smoke Bellow" make vulnerability and exposure undeniable, not shameful, while "Prints" goes the way of early-2000s Arctic Monkeys' cool. Gosh Pith seamlessly combine ambient beats and catchy melodies in a way that separated them from the rest of 2015's releases. The two's association with artists such as Flint Eastwood, Valley Hush, and Tunde Olaniran quickly pushed them to the forefront of Detroit's indie-pop scene, but the real reason Gosh Pith are still climbing is Window's 24-carat sound. —P.Y.
---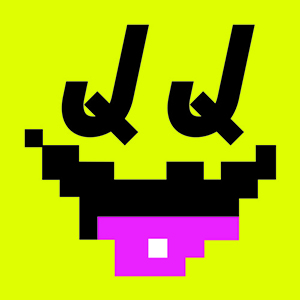 3
Jamaican Queens
Downers
Of the ten songs on Jamaican Queens' sophomore album, four have the word "love" in their title, but don't be fooled into settling in for a paean to romance. Opening track "You Can Fall in Love with Anyone" is a bit of a red herring, as its lyrical sentiment and swooning atmosphere are immediately contradicted in the two songs that follow. Downers is a tense affair, with frontman Ryan Spencer walking a tightrope along the poles of longing and repulsion. Throughout the record, he teeters on the edge of hope, only to undercut the possibility of happiness with an act of self-sabotage. Similarly, where debut effort Wormfood's ornate production was intricately woven with layers of aural filigree, here Jamaican Queens carom between different sounds with each song. But whether they're pilfering the blaring, over-modulated production of contemporary electronic music or ransacking styles from the past — girl group harmonies, reggae riddims, synth-pop sparkle — they bend everything to their will. Love may be impossible, but enjoying the variegated pleasures of Downers is easy as pie. —Khalid
---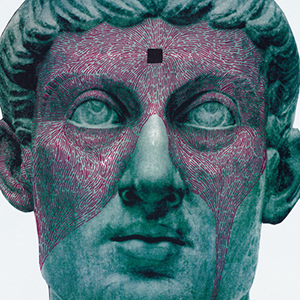 2
Protomartyr
The Agent Intellect
After releasing Under Color of Official Right (our favorite album of 2014), the boys in Protomartyr never once came up for air. Since then, they became one of the most talked about acts in the country, toured Europe, started work on a new collection of songs, and released The Agent Intellect to two nights of sold-­out crowds at the Marble Bar. Next year they will tour for another three months. When do they sleep? It's easy to imagine the group existing in another world where it is eternally 1:00 a.m., with singer Joe Casey onstage fighting to be heard over Greg Ahee's wailing guitar. In this struggle between Casey's lyricism and Protomartyr's foreboding mood (punctuated by Alex Leonard and Scott Davidson's clever rhythmic detours), the band have created a style all their own. The Agent Intellect sounds muddled, earnest, powerful, and effortless. It is the shark in a sea of guppies. —Joe
---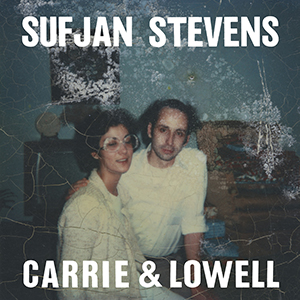 1
Sufjan Stevens
Carrie & Lowell
Given its high position on nearly every end-of-year list, it's hardly a surprise that Detroit-born Sufjan Stevens' Carrie & Lowell tops our favorite albums this year. This highly anticipated release did not disappoint, leaving both critics and fans alike blown away by Stevens' glorious return to his folk roots. Carrie & Lowell exemplifies his thoughtful, quiet introspection that we have come to know and love. Named after Stevens' late mother and surviving stepfather, the record explores the complex relationships that exist within families, the pain of loss, and the relief of acceptance. When the LP was announced in January, I asserted that my personal year-end list would be Carrie & Lowell 100 times, and after months and numerous listens, I have to maintain that I was spot-on. —Meta
---
Check out the rest of our end-of-year coverage, including Honorable Mentions (Albums), 10 Best Tracks, 10 Best Videos, and Favorite Live Events of 2015. Click here to view our contributors' individual lists.
Illustration by Matt Renneker.
Comments