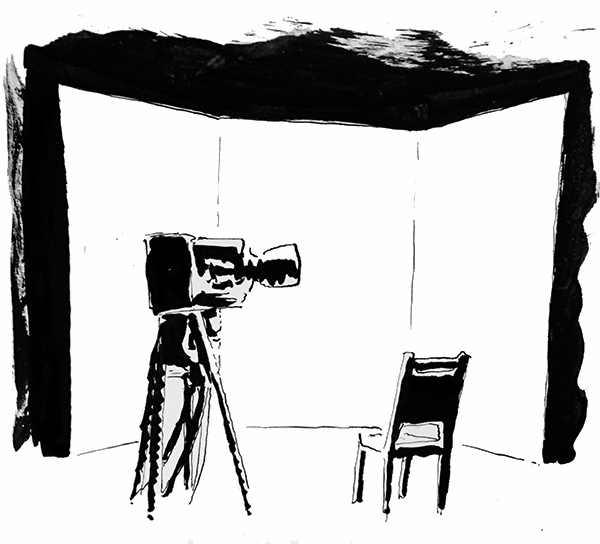 Nothing stops Detroit, as is evident by the plethora of amazing musical offerings from the city this past year. The city has always had a reputation as an industrial behemoth, its successes and failures dependent on notions of innovation and toughness. This drive bleeds into the arts and culture as well, with the rise of techno being just one historical example. And now, a little over a year out of bankruptcy, the D is back on the upswing.
All eyes are on our city, now more than ever. Brooklynites and Berliners want to be here. International design institutions highlight Detroit (not New York, not Los Angeles) as a global creative capital. DETROIT MAKE THE WORLD GO 'ROUND *mic drop*
So with that, here are ten prime examples of Detroit's visual creativity and experimentation from 2015. Can't wait for more. —Joe
---
10. Mexican Knives: "Beach Song"
Director: Erin Barry
A platinum blonde young woman clad in a denim jacket, boho white lace peasant dress, and black Chelsea boots sits wistfully by a river, making ripples in the water with a broken tree branch. The camera lingers over the ink tattoos on her hands: a cross, the initials "SJKC," and what appears to be a runic symbol. The woman looks over her shoulders pensively, as if waiting in vain for someone. She falls back in the grass, and we can't be sure if it's out of pain or pleasure. "You'll never find what you're looking for," sings Ruth the Truth, but that doesn't stop the search, as the camera shifts to a first-person POV, drops into the water, and accosts surprised visitors to a park. Director Erin Barry provides the perfect setting for Mexican Knives' "Beach Song," matching the band's take on '90s slackerdom with dream-logic visuals. Mexican Knives' grunge-laden surf riffs and Alternative Nation strut come alive in this vision of Ophelia by way of Delia's. It's just what they were looking for, and we're lucky to have found it. —Khalid
---
9. The Armed: "Forever Scum (4K)"
Directors: The Armed
The Armed's video for "Forever Scum (4K)" centers on the classic, entropic punk activity of setting shit on fire and beating it with a hammer. We see a record spinning on a turntable next to a lamp before it is doused in gasoline and torched. The visual, coupled with The Armed's two-minute meltdown of a song, creates such a destructive, testosterone-soaked video as to seem almost tongue-in-cheek. Surely no one else but Michael Bay could produce such ridiculously explosive work seriously, yet the video was directed by the band themselves. In any case, watching that vinyl record warp like spinning pizza dough is pretty fun. —Theo
---
8. Duane ft. Kiki: "You Got Style"
Director: Niki
Duane the Brand New Dog usually stays within the realm of black and white, donning leather and black makeup and xeroxing his album art. For "You've Got Style" he brings in pops of primary colors and playful VHS manipulation, giving a nod to his love of 1980s and '90s techno. Duane released three videos in 2015, with this entry best showcasing his abilities as a performer. His music is infectious, and he rocks a beret better than anyone you know. —Joe
---
7. Craig Brown: "Shoulda Been Fishin"
Director: Jason Sudak
In its use of found footage that mixes vintage cartoons with obscure live­-action scenes and strange 3D animations, the video for "Shoulda Been Fishin" holds some parallels with Craig Brown himself. As a member of The Mahonies and Liquor Store, Brown has earned his reputation as one of hardest rockers in Detroit's garage scene. And when you think that's all there is to him, he records a warm country ballad that mixes melancholy chords with John Cusack namedrops. It's unexpected yet strangely appropriate, just like its accompanying video. —Joe
---
6. Lord Scrummage: "The Sprinkle"
Director: Conor Edwards
Adult Swim meets abject art in "The Sprinkle," Lord Scrummage's latest video in their ambitious and ongoing twelve-part condiment series. The experimental collective's own Conor Edwards drops us into a warped reality where pixels coexist with Pixie Stix, and a sugary-sweet dessert topping can have other uses. The clip mingles digital sprites and traditional animation with live actors (including a Santa who's definitely been naughty) to comment on our increasingly fragmented and Internet-addled world. Sex, drugs, and Rocky Road are all fodder for Lord Scrummage's twisted vision, and their swirl of battered electro beats with tattered computer effects gives new meaning to the idea of "binge watching." The video may be gross, but in its own weird way, it's also gorgeous. Just like beauty, "The Sprinkle" belongs to the eye of the beholder. —Khalid
---
5. Protomartyr: "Want Remover"
Director: Hanly Banks
Protomartyr's exceptional industrial garage rock seems like the type of music that you listen to in a dark, sweaty basement or slightly seedy bar, not in a beautiful dance studio with tons of natural lighting. The incongruous combination of heavy post-punk and ecstatic dancing is what makes the "Want Remover" music video so brilliant. It makes sense that a song that emphasizes the relief of being "free from fear" would have accompanying visuals that express physical catharsis. The tranquil, nearly hypnotic dancing featured in the video exemplifies liberation and freedom in a pleasantly unexpected way. —Meta
---
4. JR JR: "Gone"
Director: Los Pérez
JR JR seem to have done well by their name change and album release this past year. Their music video for the track "Gone," off their new self-titled full-length, is a bizarre and joyous testament to letting go. Directed by Los Pérez, the visuals are splashy to say the least. As the cast literally are cleaved in two only to leave half of themselves behind, the tragedy of time passing is largely belied by the throwback palette and kitschy vibe of this enthusiastically conceived universe. Lest we become too distracted by the high production values and avant-garde concept, there is an actual narrative (of sorts) to this bouncy video. And easy as it would have been to get sucked into the song's K-hole of the abstract and absurd, Pérez opts for just the right mix of the surreal and emotionally grounded. This is definitely the most riotous and energetic video you are likely to see about giving up in 2015. —Dan Jones
---
3. Jack White: "That Black Bat Licorice"
Directors: James Blagden [Animated], Jack White [Live Action], Brad Holland [Headbang]
In the wake of Jack White's highly publicized release of 2014's Lazaretto and before Third Man Records' triumphant return to the Cass Corridor, the interactive "3-in-1" environment for "That Black Bat Licorice" pushed listeners a fated step towards the future of visual media. The triple-vision experience is not quite virtual reality and not quite a game; it's more of a choose-your-own story without the plot commitment. White trusts two of the video shoots to James Blagden (animated version) and Brand Holland ("headbang" version), but saves the live-action interpretation for his own directorial vision. By pressing the "3" key and "B" key, users are able to toggle between the different views to create their own visual stitching. The immersive video is packed with White's signature aesthetic and hints to Third Man Records' visually invested future. (Look for Third Man Records' "Pinball Wizard" and Dirtbombs drummer Ben Blackwell during the "headbang" version by holding the "B" key.) —P.Y
---
2. Jamaican Queens: "Never Felt Love"
Director: Brenton Bober
The visual accompaniment for "Never Felt Love" features beautiful lighting and camerawork, a compelling performance from Bryan Smith, and a lot of truly terrifying imagery. It's demented and disquieting and pretty much what you would expect from Jamaican Queens. It's the type of video that really sticks with you, both because of the high production quality, and because when you're trying to fall asleep, the only thing you can picture is Smith pulling off parts of his fake face. The spooky, disturbing nature of the video reflects the unsettling sentiments of the song, complementing the track perfectly. —Meta
---
1. Big Sean: "Play No Games"
Director: Mike Carson
Big Sean had a big year. In 2015, he released his most successful work to date, Dark Sky Paradise (earning him his first No. 1 on the Billboard 200), hosted a star-studded homecoming at Joe Louis Arena (featuring Eminem, Dej Loaf, Trick Trick, Danny Brown, Royce da 5'9″, Mike Posner, and others), and had one of the "coolest" videos ever — thanks to "Play No Games." Directed by Mike Carson, the premise revolves around the classic sitcom Martin, starring Martin Lawrence. The Detroit-set series ran from 1992-1997, during which Lawrence played a DJ of the fictional radio station WZUP and later the host of a Detroit public access TV show. Big Sean's video is not solely the product of a hefty budget, but also the meticulous pairing of nostalgia with the 27-year-old rapper's hometown pride. From Big Sean's iconic Martin jacket to appearances by Chris Brown and the show's original cast members Martin Lawrence and Reginald Ballard (as the sandwich-swiping Bruh Man), "Play No Games" pays tribute to the rapper's deep sentiments as well as his newfound superstardom. —P.Y
---
Our end-of-year coverage continues this week with Detroit's 10 Best Tracks and Albums of 2015.
Illustration by Matt Renneker.
Comments