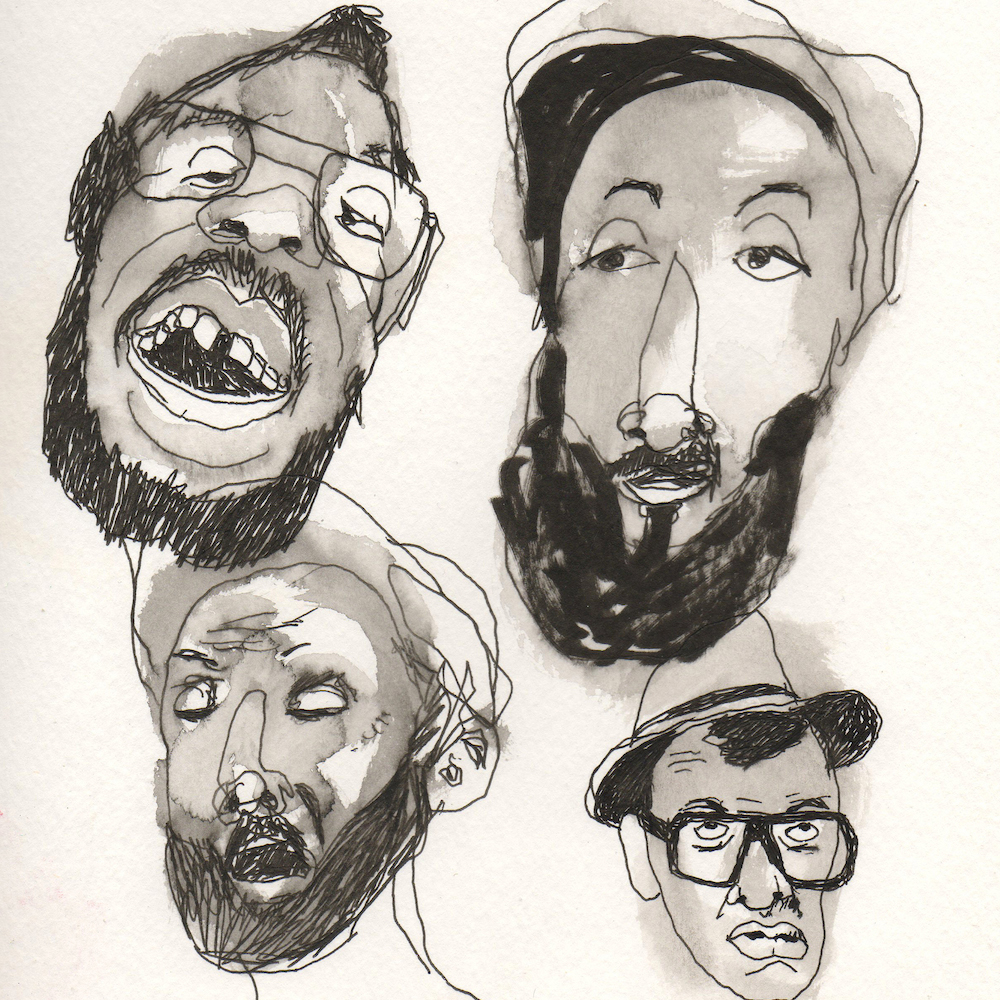 Detroit duo Passalacqua kicked off a burgeoning REVIVAL of conscious rap last summer with their captivating sophomore full-length CHURCH, an album recorded in collaboration with Seth and Jax Anderson of Flint Eastwood (known together as SYBLYNG) that was eagerly awaited but easily lived up to the hype. Prior to the release of CHURCH, Blaksmith (Brent Smith) and Mister (Bryan Lackner) had best been known for upbeat jams better suited for backyard barbecues than Sunday Mass. But here they were rhyming about credit cards and liquor stores, sneaking in caveats over catchy beats.
"At the Party" finds Passalacqua returning to their carefree roots, at least on the surface of things. The first track to be released from the duo's upcoming EP Banglatown opens on a funk-inflected vamp of flute and bass that wouldn't sound out of place on a '70s game show. There's a din of people in a large crowd, which is confirmed to be a bumpin' party in the first line: "Let me describe the scene at the party/ I couldn't even see at the party." But for Blaksmith and Mister, a party doesn't connote an occasion of merriment and celebration; rather, it seems that after the reckoning of CHURCH, these events have stirred up some old demons.
As Mister tells it, the song "deals with the social anxieties one deals with at a gathering where they don't know many people. I tend to go to the food, or the records, or the cat/dog." Put the track on in the background and its buoyant rhythm and jaunty beat might add a little spring to your step; pay closer attention to the lyrics, and you might recognize yourself in the richly observed details: "More hummus than I need at the party/ Mix it with tabbouleh at the party/ Eat it so fast/ People move on past."
Passalacqua are currently on their first full-scale national tour with Height Keech and Eze Jackson as part of the inaugural North American edition of the Rap Round Robin. In addition, they'll be playing a non-Round Robin show in Grand Rapids on April 10 at Mexicains Sans Frontieres. The duo returns to Detroit for a show on April 11 at PJ's Lager House with Doc Waffles x Eddie Logix, Gosh Pith, and Cold Men Young. Banglatown sees release on April 14, and if "At the Party" is any indication, we're sure to hear more jams that straddle the line between jubilation and maturation.
Listen to the Detroit Music Magazine premiere of "At the Party" below:
Comments