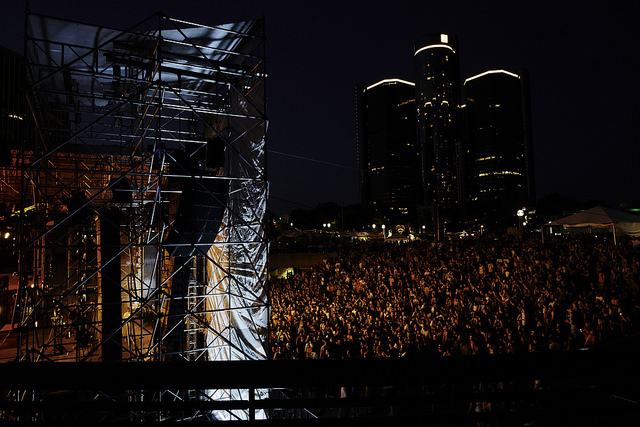 Movement 2016
(Nick Kassab | Detroit Music Magazine)
Movement ends with one last surge of excitement and adrenaline, and it's a good thing, too, given how long and how late many of the attendees have been going over the weekend. 2017 will be no different, with a bevy of acts from home and abroad bringing their sonic wares to Hart Plaza. It's a fitting cap to a celebration of one of Detroit's most vaunted imports.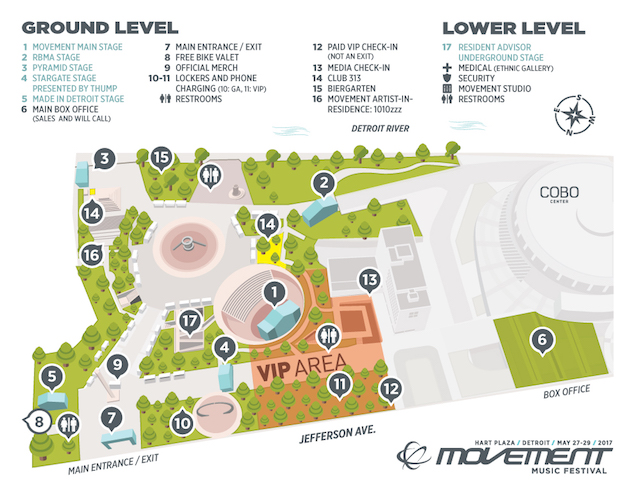 To conclude our guide to the Motor City's craziest party, Detroit Music Magazine has highlighted the best performances to help you navigate this final and crucial festival day.
---
Monday | May 29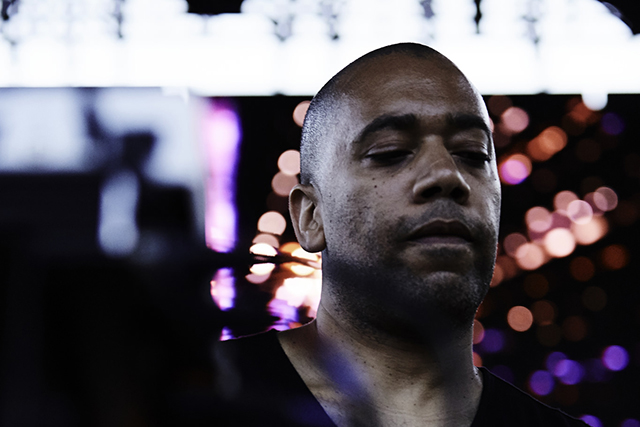 Carl Craig
(Nick Kassab | Detroit Music Magazine)
Monday — Key Detroit Artists:
Keith Kemp
Made in Detroit Stage
6:00 p.m. – 7:00 p.m.
Keith Kemp is an underground house and techno producer and the resident DJ for Paxahau who's known for being a vinyl junkie and technology enthusiast.
Ataxia (Live)
Made in Detroit Stage
7:00 p.m. – 8:00 p.m.
Ataxia, who are known for making party music, are signed to Seth Troxler's Play It Say It label and have had a longstanding residency at TV Lounge.
Barclay Crenshaw
Movement Main Stage
7:40 p.m. – 8:45 p.m.
Barclay Crenshaw is also known as Claude VonStroke, a house and techno producer who emerged in 2006 with "Who's Afraid of Detroit?" and became a well-regarded remixer and label operator.
Terrence Parker feat. Merachka
Made in Detroit Stage
8:00 p.m. – 9:00 p.m.
One of the prime producers of soulful house music with an edge, Terrence Parker started out a hip-hop DJ but later blended a wealth of influences to give his recordings a unique flavor midway between hands-in-the-air house and the more sublime sound of Detroit techno.
Carl Craig presents Versus Synthesizer Ensemble
Movement Main Stage
8:55 p.m. – 9:55 p.m.
Carl Craig is a supremely artistic and wide-ranging producer, DJ, and label operator who led Detroit's second techno wave.
Terrence Dixon as Population One (Live)
Made in Detroit Stage
9:00 p.m. – 10:00 p.m.
A low-key but notable part of Detroit's underground techno scene since 1994; has released his intense material on revered local and European labels.
Danny Brown
RBMA Stage
10:00 p.m. – 11:00 p.m.
Danny Brown is a unique Detroit rapper whose hood/hipster personality, embrace of social media, and prolific mixtape output fostered an underground phenomenon.
Other Detroit artists to check out on Monday: Asher Perkins, Dru Ruiz, Project 313, Remote Viewing Party, Sheefy McFly, Twin Cousin
Monday — Key National/International Artists:
Teklife: DJ Spinn & DJ Taye
RBMA Stage
4:00 p.m. – 5:30 p.m.
DJ Spinn and DJ Taye are prominent Chicago footwork producers and part of the Teklife collective.
Mount Kimbie (Live)
RBMA Stage
5:30 p.m. – 6:30 p.m.
Arguably responsible for the birth of the term "post-dubstep," U.K. duo Mount Kimbie combine familiar beats and otherworldly productions.
S U R V I V E
RBMA Stage
6:45 p.m. – 7:45 p.m.
S U R V I V E are an Austin-based synthesizer quartet who provide a fresh, creative update of vintage horror/sci-fi soundtracks, electro, and ambient music.
Thundercat
RBMA Stage
8:00 p.m. – 9:00 p.m.
Thundercat is the project of acrobatic bassist Stephen Bruner, with a repurposed take on '70s-inspired fusion.
The Gaslamp Killer
RBMA Stage
9:00 p.m. – 10:00 p.m.
The Gaslamp Killer is a Los Angeles-based DJ and producer whose eclectic style ranges from psychedelia and world music to dubstep and left-field hip-hop.
Carl Cox
Movement Main Stage
10:00 p.m. – 12:00 a.m.
Carl Cox is one of the premiere DJs of England's acid house movements in the 1980s, who became an icon of various styles in the '90s electronica boom.
Chris Liebing
Pyramid Stage
10:00 p.m. – 12:00 a.m.
Active in Frankfurt's dance music scene since the early '90s, techno DJ Chris Liebing released productions for a number of labels throughout the late '90s and early 2000s.
Monday After-Parties:
The Blu Party
DJ Sneak, Christian Martin, Gene Farris, Sydney Blu, The Saunderson Brothers, Dopekatz, Soul Goodman, Derek Specs, Miz Megs, Blu 9, Sonya Alvarez, Marletta
Exodus Rooftop | 9:00 p.m. – 4:00 a.m.
$15.00+ via Ticketweb
The Electric Pickle Co. & Marble Bar present Where Are My Keys: A Tribute to Wax
RED AXES (Israel) | YOUNG MARCO (Amsterdam) | TIM SWEENEY (NYC) | HONEY SOUNDSYSTEM (SF) | RICH MEDINA (Philadelphia) | ELI SOUL CLAP aka BAMBOOZLE 45s set (Boston) | DELANO SMITH (Detroit) | KEITH WORTHY (Detroit) | HAZ MAT *live (Detroit) | TAIMUR AGHA (NYC) | CONNIE (NYC) | WILLIAM RENUART (Miami) | TOMAS C (Miami) | LAUREN RITTER (NYC)| CRY BABY (NYC) | TED | KRISKO/JOHN JOHR/E SPLEECE (Detroit) | KAMPALA (Dallas) | NAVBOX (DC) | SARAH MYERS (DC) | JEREMY ISMAEL (Miami)| LOREN (Detroit) | MIRA FAHRENHEIT (NYC)
The Marble Bar | 9:00 p.m. – 4:00 a.m.
$20.00+ via Resident Advisor
Memo presents Loefah, Hops, and Monty Luke
Loefah, Hops, Monty Luke
El Club | 9:00 p.m. – 4:00 a.m.
$15.00+ via Ticketfly
Carl Cox b2b Joseph Capriati – Official Movement Closing Party
Carl Cox b2b Joseph Capriati, Stone Owl
The Masonic Temple | 10:00 p.m. – 4:00 a.m.
$25.00+ via Seetickets
Movement Detroit & Paxahau present Repopulate Mars – Official Movement Detroit After Party
Lee Foss, Shiba San, Kenny Glasgow, Mind Against, Golf Clap, John Johr
The Magic Stick | 10:00 p.m. – 4:00 a.m.
$20.00+ via Ticketweb
The END. Sect. 2
John Bender [Record Sluts] Charles Manier aka JTC / Tadd Mullinix [Bopside] Stallone The Reducer [FIT Detroit] SSPS [Excepter, Ecstatic Peace] Gramma [Excepter, Ecstatic Peace] Interval featuring Todd Sines and archetyp [Ghostly, HELIC.AL, Suction] Soren Roi [Ascetic House] 51717 [Jealous God, Opal tapes] FBI Warning, Richard Fearless [D____ IN V*GAS] Bill Converse [Dark Entries] Ed Luna [ele_mental] Egill
Russell Industrial Center | 10:00 p.m. – 5:00 a.m.
$10.00+ via Resident Advisor
Interdimensional Transmissions presents: The Bunker
Hot Mix (Mike Servito, Justin Cudmore, Gunnar Haslam) Eris Drew Antenes Israel Vines + surprise international headliner closing each room
Tangent Gallery / Hastings Street Ballroom | 10:00 p.m. – 6:00 a.m.
$10.00+ via Interdimensional Transmissions
HWP & Mioli Music Present: Move It Or Lose It – The Close-Out Party
Emanate, Stacey Hotwaxx Hale, Max Gardner, Nick J, Pershan, Twitchin Skratch, Special Guest, Marissa Guzman, Darryl G, DJ Deb, Gia B2B Lone Wolf
Grenadier Club | 11:59 p.m. – 8:00 a.m.
$5.00+ via Resident Advisor
---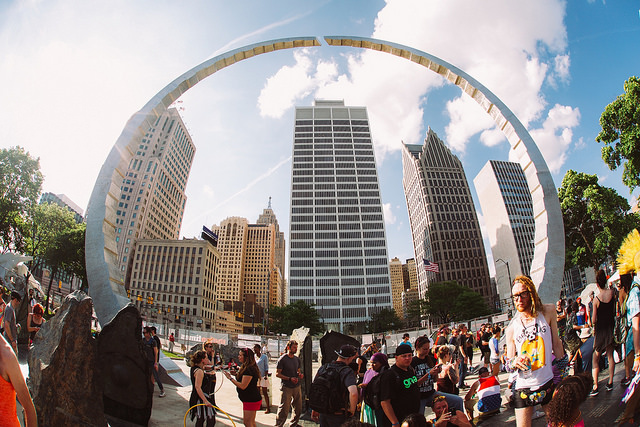 Movement 2015
(Nick Kassab | Detroit Music Magazine)
Check out the rest of our guides to Movement Electronic Music Festival, with installments for Friday, Saturday, and Sunday. For more information on the event, including tickets, full schedule, and frequently asked questions, please visit the official website. Detroit Music Magazine wishes everyone a safe and enjoyable time at this year's fest; head back here during Memorial Day weekend for our complete coverage of Movement!
Comments