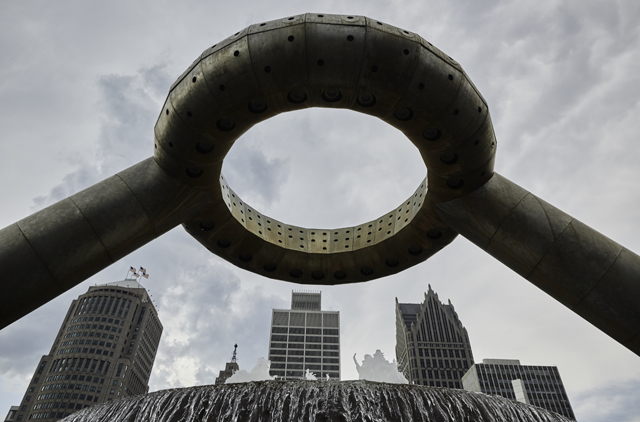 Movement 2016
(Nick Kassab | Detroit Music Magazine)
Last year, Movement Electronic Music Festival marked its tenth anniversary — a considerable milestone for an event that has both bona fide local cred and undeniable international appeal. But as a festival that celebrates one of Detroit's most forward-looking imports — the mechanical grind and skeletal beats of techno — even when taking a moment to honor its legacy, Movement always keeps its eyes on the future.
So here we are a year later, and Movement 2017 promises to continue upping the ante, with six full stages of music spanning three days. And that's only if you're counting the official festival itself. Ask any Movement veteran and they'll tell you that the many pre- and afterparties contribute to the general spirit of the weekend as much as what goes down in Hart Plaza.
To help you sort out your plans for Memorial Day Weekend, Detroit Music Magazine has once again compiled a set of guides with all the info you need. Stay tuned as we highlight artists to watch, parties to attend, and other essential tips to keep you on track as you fest away. We begin with the opening events before Movement itself kicks off.
---
Friday | May 26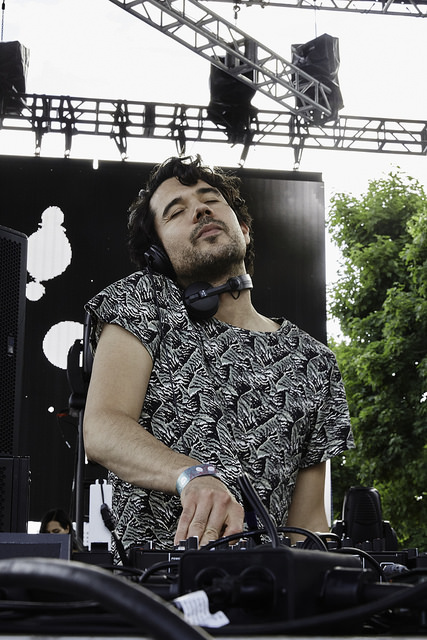 Matthew Dear
(Nick Kassab | Detroit Music Magazine)
Friday Pre-Parties:
Rocksteady Disco and MotorCity Wine present ¡Viva La Resistance!
Mark de Clive-Lowe, John Morales, Edseven, Peter Croce, Lafleur, Jefferson Davidson
MotorCity Wine | 6:00 p.m. – 2:00 a.m.
$10.00+ via Resident Advisor
Freakish Pleasures presents Physical Therapy 3
Matthew Dear, ADULT., Mike Servito, Carlos Souffront, TNT, Todd Osborn, Tadd Mullinix, Laurel Halo, Maria Minerva, Shigeto, Charles Trees, Ritual Howls, Bill Spencer, Ryan Spencer, Ben Mason
The Marble Bar | 6:00 p.m. – 4:00 a.m.
$20.00+ via Resident Advisor
Smartbar Movement Opening Party & BBQ
Bruce Bailey, Chrissy, Delano Smith, Derek Plaslaiko b2b, Jason Kendig, DJ Heather, Loren, DJ Minx, Mr. Joshooa, Olin, Remote Viewing Party, Savile, Sevron, sold
TV Lounge | 6:00 p.m. – 4:00 a.m.
$10.00+ via Resident Advisor
Redux presents Fix
Karsten Sollors, Shmoo, Wyser, Ran
The Menjos Complex | 9:00 p.m. – 2:00 a.m.
$5.00+ via Resident Advisor
Movement Electronic Music Festival & Paxahau present Black Flag vs Vatos Locos — Official Movement Opening Party
Stacey Pullen, Hector, Cocodrills, Harvard Bass, Rooz, Keith Worthy, Mike Brown, Sakro
The Magic Stick | 9:00 p.m. – 3:00 a.m.
$15.00+ via Ticketweb

Modern Cathedrals presents Eden III
SHXCXCHCXSH, Phase Fatale, Patricia, Umfang, Volvox, Jasen Loveland
Tangent Gallery / Hastings Street Ballroom | 9:00 p.m. – 4:00 a.m.
$20.00+ via Resident Advisor
Blank Code + System + Communion present a Movement Opening Party
Alessandro Cortini (live), Black Asteroid, Audio Injection, Jay Denham, Surachai (live), Hypoxia (live), Belief Defect (live) , Mike Gervais, Joel Morgan, Joe Sousa, Centrific, Christian James, Monostatic, Heckadecimal, Dani Lehman, Jobot, Andy Fitton, Rachel Palmer
The Works | 9:00 p.m. – 6:00 a.m.
$30.00+ via Resident Advisor
---
Stay tuned for our guides to each day of Movement Electronic Music Festival. For more information on the event, including tickets, full schedule, and frequently asked questions, please visit the official Movement website. Detroit Music Magazine wishes everyone a safe and enjoyable time at this year's event; check back during Memorial Day Weekend for our coverage of the festival!
Comments