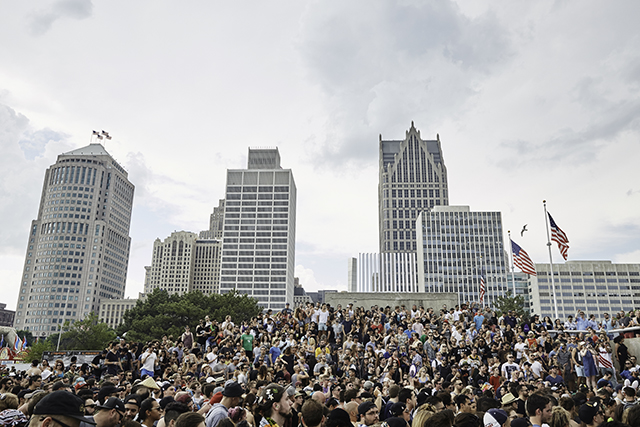 Movement 2016
(Nick Kassab | Detroit Music Magazine)
Whether you fancy the original titans of Detroit techno or your tastes run more toward the latest trends in dance music, the 2017 edition of Movement Electronic Music Festival is sure to have something to fit the bill. And even if you're simply a casual fan, there's plenty of pleasures to be found between the people-watching and the local food vendors.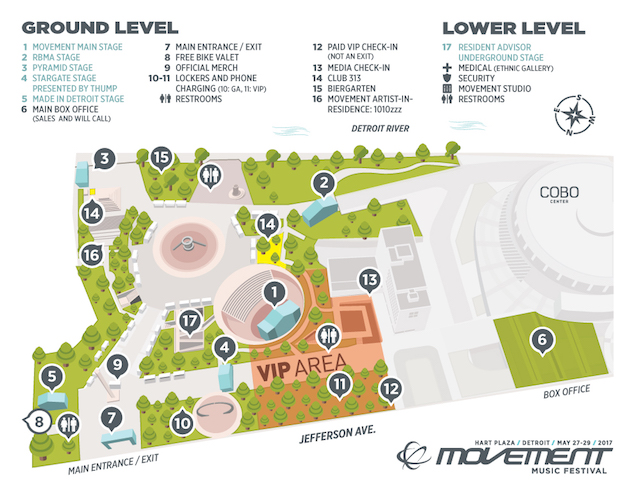 For our official guide to the fest, Detroit Music Magazine has pointed out the sets you won't want to miss, and we've highlighted all the hottest afterparties to keep the fun going throughout Memorial Day Weekend. Make sure to keep coming back for future installments of our Movement guide so you don't miss a beat!
---
Saturday | May 27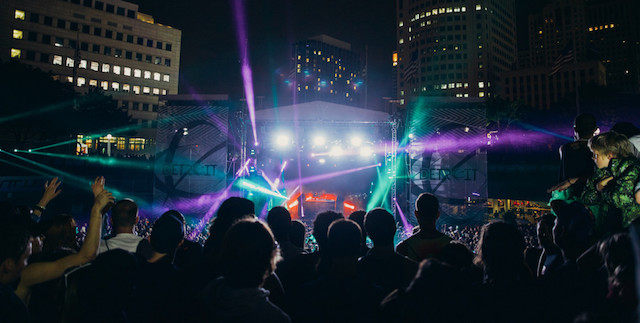 Richie Hawtin
(Nick Kassab | Detroit Music Magazine)
Saturday — Key Detroit Artists:
Stacey Pullen
Stargate Stage
7:30 p.m. – 9:00 p.m.
Despite a paucity of output, second wave techno artist Stacey Pullen has become one of Detroit's most vaunted contemporary musicians, as he has bridged the gap between the classic, soulful sound of the city's early electronic pioneers and newer developments, such as tribal house, garage, and hardcore techno.
DJ Minx
Maid in Detroit Stage
8:00 p.m. – 9:00 p.m.
DJ Minx refuses to be put into a box. The CEO of Women on Wax Recordings has played in packed venues from Seattle to Spain and numerous points in between,
and will be bringing her funky vibes to Movement for another year.
Kai Alcé
Made in Detroit Stage
9:00 p.m. – 10:00 p.m.
Kai Alcé is a New York-born, Detroit-reared DJ and producer who initially got schooled at the Motor City's infamous (and short-lived) Music Institute as a teenager before relocating to Atlanta in the early '90s.
The Belleville Three
Movement Main Stage
9:00 p.m. – 10:30 p.m.
The Belleville Three are Juan Atkins, Derrick May and Kevin Saunderson, three Detroit-based musicians credited with inventing the musical style known as Detroit techno. May famously described the Detroit sound he helped create as being "like George Clinton and Kraftwerk stuck in an elevator."
Carl Craig
Stargate Stage
9:00 p.m. – 11:00 p.m.
The leader of Detroit techno's second wave is without peer when it comes to artistic accomplishments, influence on dance music, and range of output, having worked with distortion, beatboxing, and samples to create everything from lo-fi electro jams to indelible house anthems over the course of a two-decade-plus career.
Richie Hawtin
Movement Main Stage
10:45 p.m. – 12:00 a.m.
Better known as Plastikman, Richie Hawtin's style is a blend of the most threadbare acid house and the most rigorous Detroit techno that relies heavily on archaic synthesizers like the Roland TB-303 and TR-808, but that nonetheless has proven influential for a whole generation of electronic artists drawn to his minimalist sound.
Robert Hood (Live)
Pyramid Stage
11:00 p.m. – 12:00 a.m.
Robert Hood is an early Underground Resistance member (along with Jeff Mills and Mad Mike Banks) and pioneer of minimal techno who incorporated acid house and industrial into the Detroit sound but has always kept the focus on earnest soulfulness and complex experimentation over cheap glitz and easy glamor.
Other Detroit artists to check out on Saturday: Alton Miller, Altstadt Echo, Earl "Mixxin" McKinney, Golf Clap, John Arnold (Live), John "Jammin" Collins, Luke Hess, Norm Talley, Octave One (Live), Waajeed
Saturday — Key National/International Artists:
Larry Heard aka Mr. Fingers (Live)
RBMA Stage
6:45 p.m. – 8:15 p.m.
Larry Heard's groundbreaking work in the mid-1980s has often been credited as the single biggest influence on contemporary dance music.
Ben Klock
Pyramid Stage
8:00 p.m. – 9:30 p.m.
Berlin's Ben Klock is a techno producer who thrives most when using stripped-down tracks shaded with darker hues.
Leon Vynehall
RBMA Stage
8:15 p.m. – 9:45 p.m.
Leon Vynehall is a British deep house producer and DJ whose bright, melodic tracks pay reverence to the foundations of house and garage, while keeping up to date with the underground dance music scene.
Pan-Pot
Pyramid Stage
9:30 p.m. – 11:00 p.m.
Pan-Pot are a German minimal techno duo associated with Mobilee Records who made their acclaimed album debut in 2007 with Pan-O-Rama.
Function (Live)
Resident Advisor Underground Stage
9:30 p.m. – 11:00 p.m.
One of techno's true underground heroes, Function (whose real name is Dave Sumner) has been DJing and making music for more than 20 years.
Factory Floor (Live)
RBMA Stage
9:00 p.m. – 10:45 p.m.
Combining post-punk, industrial, and dance in equally hypnotic and abrasive ways, London's enigmatic Factory Floor garnered comparisons to greats like Joy Division and Throbbing Gristle soon after they formed in 2005.
Earl Sweatshirt
RBMA Stage
11:00 p.m. – 12:00 a.m.
Born Thebe Kgositsile, Earl Sweatshirt is a Los Angeles-based rapper and member of the Odd Future Wolf Gang Kill Them All (OFWGKTA) crew who made his solo debut in 2013 with the album Doris.
Saturday After-Parties:
Sweat the Details Movement Afterparty
Fred Everything, John Beltran, North Lake, Procellous, So Vague
The Whiskey Disco | 10:00 p.m. – 4:00 a.m.
$20.00+ via Resident Advisor
NDATL presents Deep Detroit
Patrice Scott, Galcher Lustwerk, Kai Alcé
The Studio Detroit | 10:00 p.m. – 5:00 a.m.
$20.00+ via Resident Advisor
Discwoman Detroit III
Shanti Celeste, Mike Servito, Volvox, Umfang, Juana, ABBY, Ash Lauryn, FBI Warning (Live)
Ant Hall | 10:00 p.m. – 6:00 a.m.
$15.00+ via Resident Advisor
Tresor: Berlin/Detroit — Building Bridges
Silent Servant, Civil Defense Programme (live), Christina Sealey – Hybrid live, DJ Ron Morelli, Claude Young, Marcellus Pittman, Flowing + Terrence Dixon (live), Intergalactic Gary
Tangent Gallery / Hastings Street Ballroom | 10:00 p.m. – 7:00 a.m.
$25.00+ via Resident Advisor
Texture v10
Fred P., Mike Dunn, Lena Willikens, DJ Qu, Eric Cloutier, Jared Wilson, Olin, Kevin Reynolds (live), Stefan Ringer, Aroma Pitch (live), MK Braun, Seb Diamond + Seychelle, Shady P, Soren, Jacob Park
The Marble Bar | 10:00 p.m. – 12:00 p.m.
$20.00+ via Resident Advisor
The Belleville Three & Richie Hawtin
The Belleville Three, Richie Hawtin, Derek Plaslaiko
The Masonic Temple | 11:00 p.m. – 4:00 a.m.
$20.00+ via SeeTickets
Detroit Love – Official Movement Afterparty
Carl Craig, Moodymann, Andres, Wajeed, Al Ester
The Magic Stick | 11:00 p.m. – 4:00 a.m.
$15.00+ via TicketWeb
Soul Clap's House of Efunk Detroit 2017 —
Official Movement Afterparty
Dan Bain, Eli Escobar, Jay Daniel, Kyle Hall, Louie Vega, Laid Back (live), Mathew Jonson, Minx, Overdubs (live), Roy Davis Jr, Soul Clap, DJ Spen, Stacey Pullen
TV Lounge | 11:00 p.m. – 12:00 p.m.
$30.00+ via Resident Advisor
---
Check back soon for our guides to Sunday and Monday of Movement Electronic Music Festival. For more information on the event, including tickets, full schedule, and frequently asked questions, please visit the official Movement website. Detroit Music Magazine hopes everyone has a pleasant and safe time at this year's festivities; look for our complete Movement coverage during Memorial Day weekend!
Comments