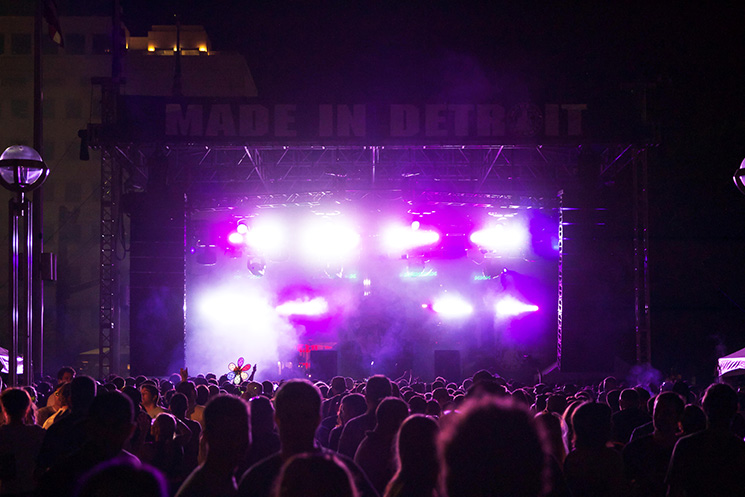 The third and final day of Movement calls for big acts and one final burst of energy from attendees, who may easily be on their fourth day with limited sleep but, luckily, still have plenty to hear. The 2016 edition promises a strong finish, as the setlist includes major homegrown and international names, in addition to another hefty list of after-parties. For those who are willing to brave the full festival calendar — we salute you.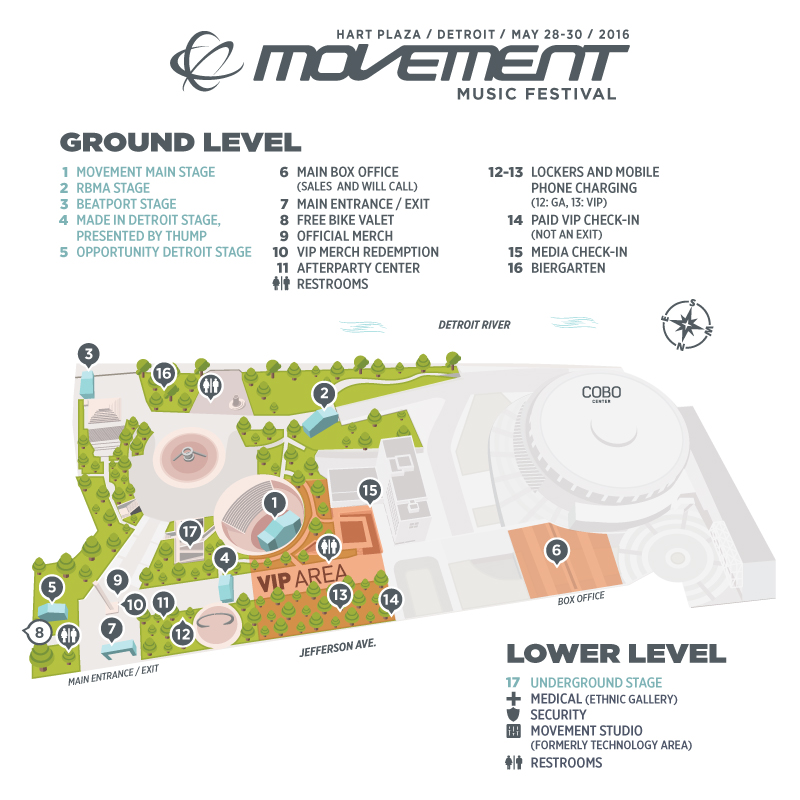 As part of our guide to Detroit's biggest party, Detroit Music Magazine has selected the best performances to help you navigate this final and crucial festival day.
---
Monday | May 30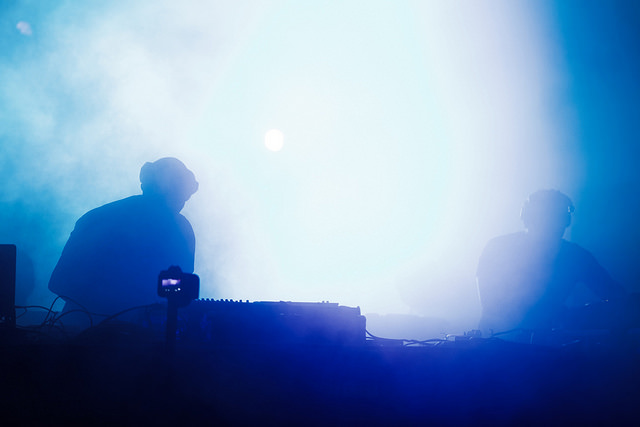 Kevin Saunderson
(Nick Kassab | Detroit Music Magazine)
Monday — Key Detroit Artists:
The Saunderson Brothers
Thump Stage
4:00 p.m. – 6:00 p.m.
Damarii and Dantiez Saunderson are the offspring of Kevin Saunderson, one of the "Belleville Three," – who along with Juan Atkins and Derrick May, is credited with pioneering Detroit techno. Together, the two brothers are following in their father's footsteps and carrying on the legacy of the city's rich musical legacy.
DJ Godfather
Red Bull Music Academy Stage
4:30 p.m. – 5:30 p.m.
DJ Godfather has demonstrated throughout his two-decade-plus career an uncanny ability to integrate electro, techno, hip-hop, and booty bass into his sets without killing the fast-moving flow, a skill that many of his peers are sure to envy. Moreover, he continually adds new techniques to his repertoire and runs a label.
Marshall Applewhite
Opportunity Detroit Stage
6:00 p.m. – 7:00 p.m.
Producer and DJ Marshall Applewhite has set himself off into a journey of sonic terror reaching out to the late night, early morning, ears of exotic dance music fans around the globe. His sound, albeit jarring at times, encompasses the gritty nature of the city he was brought up in.
Delano Smith
Thump Stage
6:00 p.m. – 7:30 p.m.
Delano Smith is one of the last of the original crop of Detroit DJs, and his otherworldly sets combine the mechanical rhythms of techno with the spiritual aspirations of soul and the sensual groove of disco.
ZelooperZ
Red Bull Music Academy Stage
6:30 p.m. – 7:00 p.m.
21-year-old Detroit rapper ZeelooperZ is a member of Danny Brown's Bruiser Brigade who is known for pushing the boundaries of conventional hip-hop.
Calico
Opportunity Detroit Stage
7:00 p.m. – 7:45 p.m.
Calico got his start as a promoter before moving into full-time music-making himself, taking the sounds of Detroit's techno, house, and electro and putting his own spin on them by injecting industrial's grit, dubstep's wallop, grime's lurch, and garage's shuffle into the mix — in the process becoming one of the city's most distinctive DJs.
MK (Marc Kinchen)
Thump Stage
7:30 p.m. – 9:00 p.m.
Although best known as a house producer, Marc Kinchen balanced the style with the spirit of New York garage and the intensity of Detroit techno, the latter of which he picked up from his time working with Kevin Saunderson at KMS Studios, before eventually moving to Brooklyn to form his own label, Area 10 Records.
Richie Hawtin
Beatport Stage
8:30 p.m. – 12:00 a.m.
Better known as Plastikman, Richie Hawtin's style is a blend of the most threadbare acid house and the most rigorous Detroit techno that relies heavily on archaic synthesizers like the Roland TB-303 and TR-808, but that nonetheless has proven influential for a whole generation of electronic artists drawn to his minimalist sound.
Get Real: Green Velvet & Claude VonStroke
Movement Main Stage
10:00 p.m. – 12:00 a.m.
Green Velvet is an outlet for Curtis Jones, aka Cajmere, veteran supplier of lean and often-humorous house tracks. Claude VonStroke is owner of the Dirtybird label and the house and techno producer behind the hit single "The Whistler." Together they are Get Real.
Kevin Saunderson
Thump Stage
10:30 p.m. – 12:00 a.m.
Kevin Saunderson is one of the most prolific of the original Detroit techno icons, having also recorded with Inner City and the Reese Project. Between his own name and his aliases, he has appealed to both the mainstream and the underground.
Other Detroit artists to check out on Monday: 2AMFM, Abbe & Toth, Art Payne & Keith Martin, Brian Gillespie, Bruce Bailey, Dilemma, Fit Siegel, Jared Wilson, Mark 8en Moss, MC Bombscare, Stacey "Hotwaxx" Hale, Stone Owl, The Friend, Wheez-ie
Monday — Key National/International Artists:
Big Freedia
Red Bull Music Academy Stage
5:30 p.m. – 6:30 p.m.
Big Freedia is flamboyant diva and winner of MTV's "Too Much Ass for TV" award who helped popularize the sound of bounce music.
Joseph Capriati
Beatport Stage
6:00 p.m. – 8:30 p.m.
Joseph Capriati is a prolific Italian techno DJ and producer known for his 12-hour marathon sets.
John Digweed
Movement Main Stage
6:30 p.m. – 8:30 p.m.
John Digweed is a top UK DJ whose name is synonymous with intelligent, progressive house and trance music.
J.Phlip
Red Bull Music Academy Stage
7:00 p.m. – 8:30 p.m.
J.Phlip, aka Jessica Philippe, is best known for her association with the Dirtybird crew, but her fearless production style stands on its own.
Boys Noize
Underground Stage
8:30 p.m. – 10:00 p.m.
Berlin-based producer Alexander Ridha is primarily influenced by Daft Punk and began releasing electro music as Boys Noize in 2004.
Justin Martin
Red Bull Music Academy Stage
8:30 p.m. – 10:00 p.m.
Justin Martin is a San Francisco house DJ and producer who co-founded the Dirtybird gang.
Chris Liebing
Movement Main Stage
8:30 p.m. – 10:30 p.m.
Active in Frankfurt's dance music scene since the early '90s, techno DJ Chris Liebing released productions for a number of labels throughout the late '90s and early 2000s.
Guy Gerber
Thump Stage
9:00 p.m. – 10:30 p.m.
Israeli dance music producer Guy Gerber incorporates the best aspects of progressive house, trance, deep house, and techno into a unique style of his own.
Nina Kraviz
Underground Stage
10:00 p.m. – 12:00 a.m.
Nina Kraviz is a Siberian producer, vocalist, and DJ who became increasingly well-regarded through releases on Naïf, Underground Quality, and REKIDS.
Modeselektor — Live
Movement Main Stage
10:45 p.m. – 12:00 a.m.
Modeselektor are a Berlin-based duo known for their rowdy, genre-bending approach to hard techno.
Monday After-Parties:
Repopulate Mars Detroit with Lee Foss, Kenny Glasgow, Golf Clap, and more
Exodus | 10:00 p.m. – 4:00 a.m.
General Admission 21+: $20.00 Early Bird | $25.00 Second Release | $30.00 Third Release
Dirty Epic Productions and Aphotic present Anthology 2016 featuring Truncate, Joey Anderson, FaltyDL, Phon.o, Axkan, Dani Lehman, Ajhenda, Paul Fleetwood, Steofan, R. Gamble, and Aaron Davis & Tahl K.
The Works | 10:00 p.m. – 6:00 a.m.
General Admission 21+: $20.00 Early Bird | $25.00 First Release | $30.00 Second Release | $30.00 Regular
Interdimensional Transmissions presents The Bunker with Mike Servito & Derek Plaslaiko, Romans, Mark Verbos, Bryan Kasenic, Jason Kendig, Bill Converse, Gay Marvine, and Justin Cudmore
Tangent Gallery / Hastings Street Ballroom | 10:00 p.m. – 6:00 a.m.
Admission 21+: $10.00 Limited Release | $15.00 General Release | $20.00 Door Release
The Official Movement Closing Party with Tale of Us, Âme, and Keith Kemp
Masonic Temple | 11:00 p.m. – 4:00 a.m.
General Admission 18+: $20.00 Tier 1 | $25.00 Tier 2
Paxahau and POPULUX present TRIP 2 DETROIT: An Official Movement Afterparty with Nina Kraviz, Bjarki, Terrence Dixon, DJ Stingray, K-Hand, and Luke Hess
POPULUX | 11:00 p.m. – 4:00 a.m.
General Admission 21+: $20.00 Early Bird | $25.00 Second Release | $30.00 Third Release
---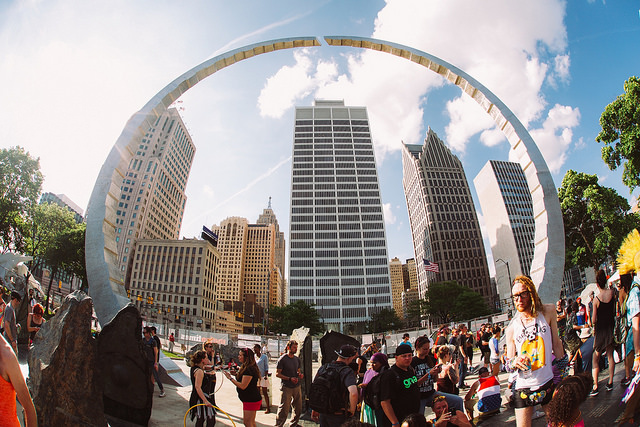 Movement 2015
(Nick Kassab | Detroit Music Magazine)
Check out the rest of our guides to Movement Electronic Music Festival, with installments for Friday, Saturday, and Sunday. For more information on the event, including tickets, full schedule, and frequently asked questions, please visit the official website. Detroit Music Magazine wishes everyone a safe and enjoyable time at this year's fest; head back here during Memorial Day weekend for our complete coverage of Movement!
Comments