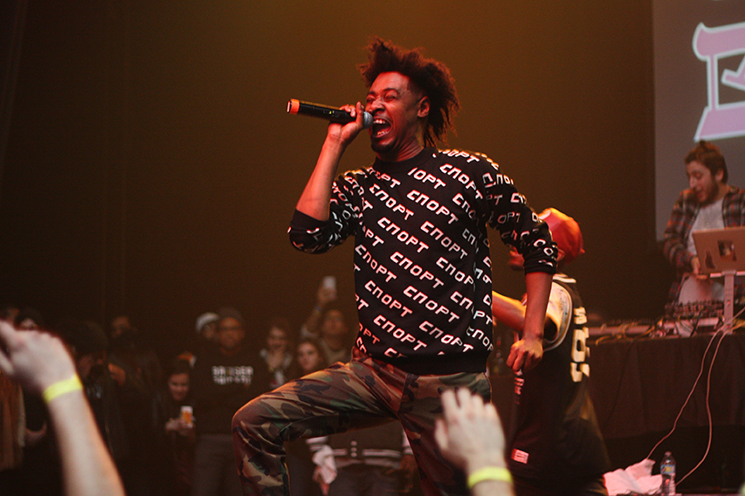 If Danny Brown's announcement of The Exhibition Tour left you puzzled about why a Detroit date was left off the itinerary, then wonder no more. The hometown hip-hop hero recently revealed the return of his Bruiser Thanksgiving event, and this year the action will move from the Majestic Theatre (where it had taken place for two years running) to The Detroit Masonic Temple.
Joining Danny Brown and his Bruiser Brigade will be Pro Era front man Joey Bada$$, as well as Zgetoboyz, a duo comprising rising rapper ZelooperZ and producer/drummer Shigeto. Promotional materials for the event also promise appearances from other friends of the Brigade, so expect the Fountain Ballroom to be even more turned up than previous editions. There's no word yet whether Brown will partner with another nonprofit, as he did last year with InsideOut Detroit's City Wide Poets Project (CWP).
Anticipation for Brown's fourth full-length has steadily been building, with the rapper having already shared three tracks from the upcoming album: "When It Rain," "Pneumonia," and "Rolling Stone." Today, Hot 97 premiered another new song from Atrocity Exhibition, due out September 30 via Warp Records. The Black Milk-produced "Really Doe" features Kendrick Lamar, Ab-Soul, and Earl Sweatshirt and can be heard below.
Bruiser Thanksgiving 3 will take place on Wednesday, November 23, 2016 at 8:00 p.m. in the Fountain Ballroom at Detroit Masonic Temple. For more information or to purchase tickets, click here. View photos and recaps of the inaugural Bruiser Thanksgiving here and its follow-up here.
Comments