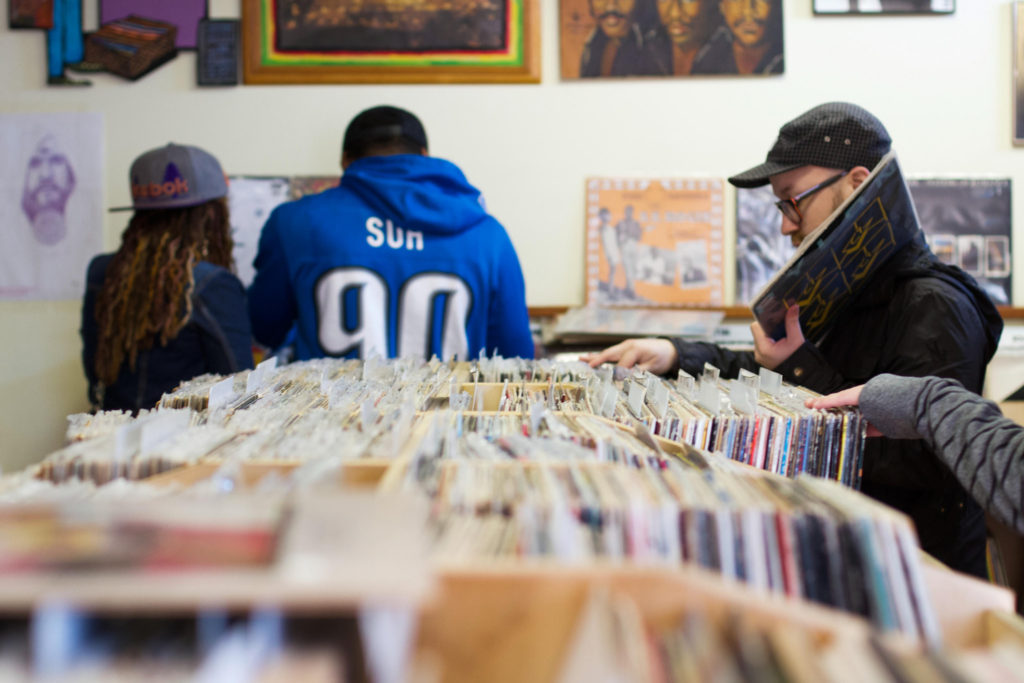 Founded in 2007, Record Store Day is an annual event held on the third Saturday of April to bring recognition to independently owned record stores. In the digital era, it's a rare opportunity for music-lovers to congregate en masse at their favorite shops and line up to try and nab one of many exclusive releases prepared just for the occasion. Since its inaugural edition, the event has only grown in popularity, coinciding with the burgeoning sales of vinyl in recent years.
As with all things music-related, Detroit has a wealth of shops participating in Record Store Day. Here is DMM's guide to this year's edition. Happy shopping!
---
Dearborn Music
22501 Michigan Avenue
Dearborn
313-561-1000
8 a.m. – 9 p.m.
Dearborn Music is opening more than an hour early for Record Store Day and offering a sweet deal for vinyl lovers. In addition to the additional morning hour, the downtown Dearborn shop is taking 20% off on all vinyl and used media products all day. The store has been supplying the Detroit area with music since 1956 and keeps more than 50,000 titles in stock daily.
---
Detroit Threads
10238 Joseph Campau Avenue
Hamtramck
313-872-1777
2 p.m. – 10 p.m.
Hamtramck's favorite vintage clothing store/record shop will celebrate Record Store Day 2016 with an all-day, live broadcast on Detroit's electronic music station Burst Radio with the help of Detroit Techno Militia. The family-friendly event will offer a storefront BBQ and feature live performances from Annix, Neil V, DJ Psycho, Brent Scudder, and eight others, in addition to members of the Detroit-Berlin Connection being on-site all day.
---
Flipside Records
41 E 14 Mile Road, Clawson
Clawson
248-585-4090
9 a.m. – 8 p.m.
Clawson's one-stop shop for vinyl, CDs, cassettes, DVDs, retro video games, and more will open their doors two hours early in honor of Record Store Day. Flipside specializes in classic rock titles due to their knack for public buying, so don't forget to bring titles to sell or trade for in-stock RSD releases.
---
Found Sound
234 W 9 Mile Road
Ferndale
248-565-8775
11 a.m. – Midnight
This Ferndale shop does Record Store Day the right way, with free live performances from 8 p.m. to midnight. In-store performances will include Prude Boys, The Cheetahs, and Devious Ones. Shoppers will also enjoy limited RSD releases and Found Sounds' usual stock of… everything. Collectors looking for new local titles—this is your spot.
---
Hello Again Records (Hello Records)
14401 East Jefferson Avenue
Detroit
313-499-1540
11 a.m. – 7p.m.
Hello Again Records, sister store to Corktown's Hello Records, will celebrate its inaugural Record Store Day with a day of in-store performances and a whopping 50% off discount for all used products. Live music will begin around 2 p.m. and feature sounds by The Cowards, DAS, Especially Good, and Colorwheel. Hello Records will not stock official RSD releases but promises its own "brand of fun which invites that unique element of chaos that you crave." (Hello Records Corktown will also offer a 50% discount on all used products on Record Store Day.)
---
Melodies & Memories
23013 Gratiot Avenue
Eastpointe
586-774-8480
9 a.m. – 7 p.m.
Melodies & Memories will offer shoppers a unique Record Store Day experience by hosting an in-store performance and meet-and-greet with legends of Detroit's historic rock regime—Frijid Pink. The '60s rock group associated with MC5, The Stooges, and other Grand Ballroom veterans will be on-site starting at 1 p.m. and selling merchandise in honor of the Grand Ballroom's 50th anniversary. In addition to Frijid Pink, the Eastpointe shop will host 94.7 WCSX's Doug Podell from 10 a.m. to noon, offer shoppers exclusive RSD releases, and push their updated stock of used vinyl records.
---
Paramita Sound
1417 Van Dyke Street
Detroit
313-423-6844
11 a.m. – 8 p.m.
West Village's famed record shop will open an hour early for Record Store Day. The space is known for stocking new and reissued vinyl as well as in-store performances and live DJ sets. Stop by for a small-shop vibe and a staff who remain on the forefront of Detroit's independent music community.
---
Peoples Records
1464 Gratiot Avenue
Detroit
313-831-0864
11 a.m. – 7 p.m.
Known as Detroit's destination for rare soul, jazz, R&B, and rock gems, Peoples Records stays true to its name by only stocking used vinyl. As such, it will not be carrying any new Record Store Day releases and will keep regular hours. Cratediggers looking to avoid long lines at other shops should head here.
---
Stormy Records
13936 Michigan Avenue
Dearborn
313-581-9322
11 a.m. – 8 p.m.
To thank their loyal shoppers for supporting Stormy Records through 17 years of business, store owners and space rock duo Windy & Carl are holding a special sale on vinyl, CDs, and tapes. They will also have a few new Record Store Items on hand and will be open normal hours.
---
Street Corner Music
26020 Greenfield Road
Oak Park
248-967-0777
9 a.m. – 8 p.m.
Hidden away in a nondescript strip mall next to Book Beat, one of the best independent bookstores in Metro Detroit, Street Corner Music offers a wide array of CDs and vinyl, but specializes in jazz, R&B, rock, and dance. For Record Store Day, the shop has recruited John Olson (Wolf Eyes/Violent Ramp/Universal Indians) and Tyler Hicks to regale early birds waiting in line with "a musical invocation to ward off evil vinyl spirits and bad record juju." Late arrivals will be treated to DJs spinning the best records around. To get through the day, shoppers can help themselves to fresh java from Chazzano Coffee Roasters and cookies from Sugar Kisses Bakery, and if you need more sustenance, the Shredderz food truck will be parked out front. If you miss out on the special RSD releases, you can console yourself with one of the 1,500+ fresh used records the store will be adding to their bins. Street Corner Music is truly pulling out all the stops for this music-lovers' event.
---
Third Man Records Cass Corridor
441 West Canfield Street
Detroit
313-209-5205
10 a.m. – 6 p.m.
Not even six months after the grand opening of the Detroit outpost of Third Man Records, the location will see another influx of visitors for Record Store Day, and Jack White's label is sure not to disappoint. In addition to the previously announced exclusive releases, the Rolling Record Store will be parked out front offering more merchandise you can't get anywhere else. The location will also be serving hot dogs and cold drinks. And for those who want to make an entire trip of it, there will be DJs, bands, and John Olson readings all day. Acts include Tommy Spaghetti & Coconut, Jenny Junior and Jackie Rainsticks, Casual Sweetheart, Birdcloud, Liquor Store, and DJ Jordan Bronk. The store has also teased "an out-of-this-world surprise," so hit up Cass Corridor if you're ready for something that redefines "exclusive."
---
UHF Records
512 South Washington Avenue
Royal Oak
248-545-5955
9 a.m. – 8 p.m.
UHF Records may just be the ne plus ultra for Record Store Day in Metro Detroit. Not only does the store carry tons of exclusive RSD releases available on a first-come, first-served basis, but it also re-stocks the bins with lots of new and used vinyl. As an added bonus this year, there will be in-store performances from Bastardous at 2 p.m., John Krautner at 3 p.m., and 4 p.m. at Voyag3r at 4 p.m. Head up to Royal Oak as early as possible if you're serious about scoring something on your must-haves list!
---
Weirdsville Records
61 Macomb Place
Mount Clemens
586-468-2665
9 a.m. – 8 p.m.
Don't count Macomb County out when it comes to Record Store Day. Weirdsville Records in Mount Clemens is holding a 20% off sale on all used vinyl, CDs, cassettes, and DVDs for the event. In addition, the first 15 people in line will receive RSD promo swag bags. To sweeten the deal for shoppers, Minha's Coffee Haus will provide free coffee and donuts while supplies last. Plus, if you drop more than $75, you will get a free 2016 Weirdsville Record Store Day Shirt. If all the complimentary goods weren't enough to entice you, then come on up for the entertainment. Those Hounds and Emily Rose will be performing live in-store.
---
Comments