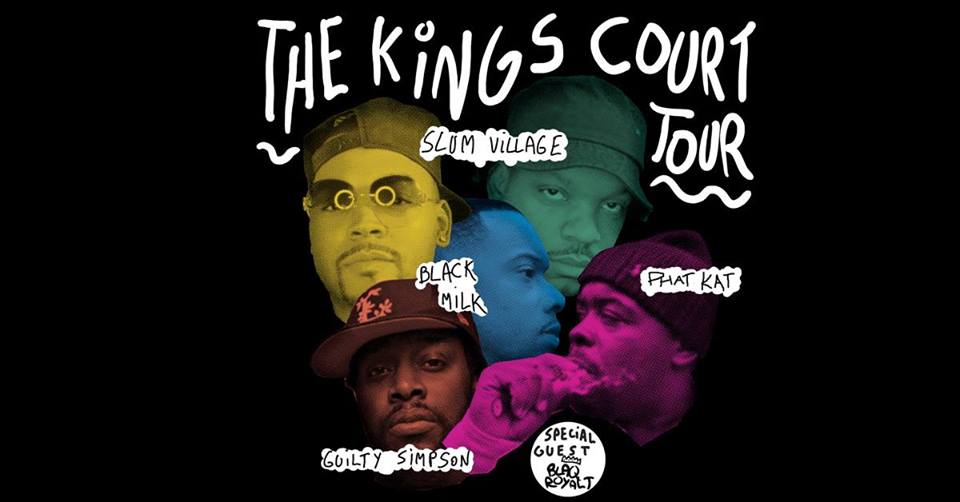 Slum Village will return to their old stomping grounds for the Detroit stop of The Kings Court Tour on Sunday, April 17 at The Majestic Theatre. This tour has gathered the best in underground and left-field hip-hop, and in Detroit it's a homecoming not to be missed. Producer Black Milk will bring his legendary live performance as well, and Guilty Simpson will get on the mic with Phat Kat and spit some classic, raw Detroit bars. It's sure to be a night that will be talked about for months—maybe years—where many local musical figures, both new and old, will come together in celebration of the city's spirit and its rich history.
Both Guilty Simpson and Slum Village dropped spectacular albums last year, showing that old dogs don't necessarily need to learn new tricks, as the old tricks are still stunning. Black Milk released his most recent album in 2014 with If There's a Hell Below, lauded by fans and critics alike. He just completed a collaboration with Nat Turner, which we've had on heavy rotation, and is sure to spin some of his new material alongside fan favorites. Not to mention, Phat Kat is making an appearance in a rare opportunity to see the prolific emcee in action.
Tickets are still available online, but it might be wise to snatch them early as this is sure to sell out. The party starts at 7:00 p.m. with openers BayBro, Laronn Anthony, Blac RoyalT, and more, all at The Majestic Theatre.
Comments