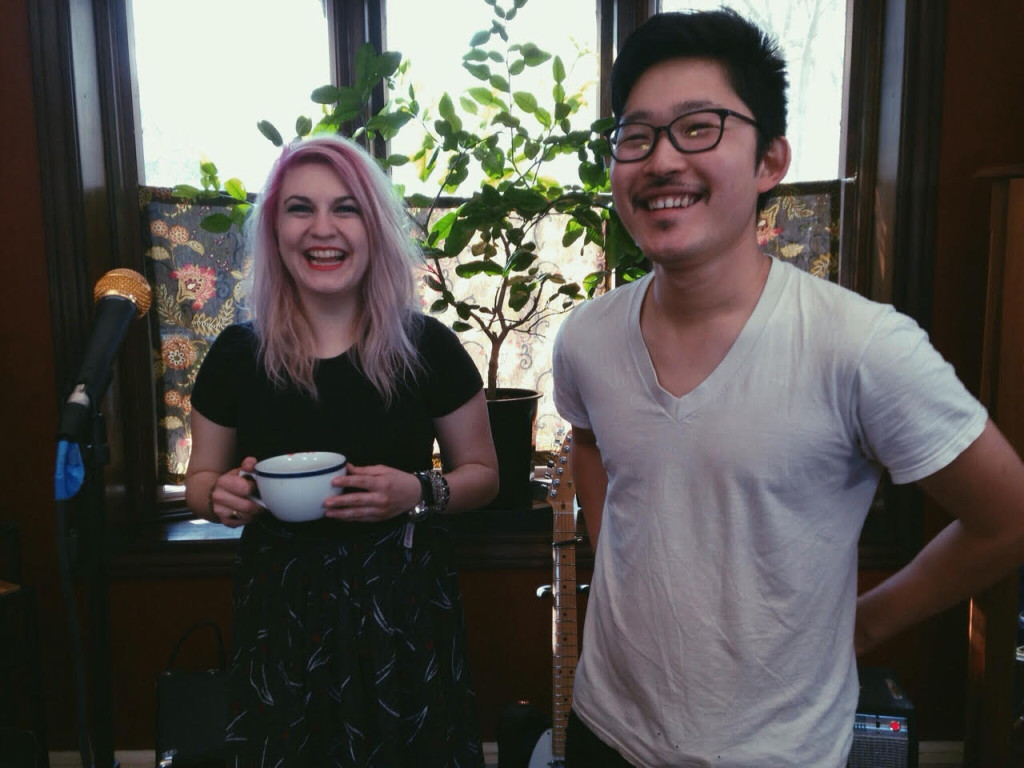 Vocalist Zee Bricker and instrumentalist Adam Michael Lee Padden are Tart, a Detroit-based duo making songs that are a unique union of sultry blues and shiny electro-pop.
After their debut, 2014's Knots and the single "Rabid Dogs," the pair have kept busy writing, recording, and playing, and now they're back with a brand new EP, These Are Not Love Songs. The perfect combination of bite and soul, this five-song record packs a serious punch.
Detroit Music Magazine spoke with the duo ahead of a record release show to learn more about what makes Tart's sound so electrifying and yet so satisfying.
---
If you wouldn't mind starting off just telling me a little about yourselves? How did you guys meet? How long have you been working together, and how did you decide to start making music together?
AP: Yeah, totally. Well, I'll let you take it, Zee.
ZB: Well, we met a long time ago. We were actually really good friends who became roommates who then started dating each other. We've been dating for a little over four years now.
AP: We've been living together since '09 though.
ZB: Yeah, we've been living together for about six years now.
Wow, that's a long time!
ZB: We met through friends in college, like freshman year of college, and we started playing music together… We really started that two summers ago? Summer 2013.
AP: Yeah, we just started playing. I've played in bands for quite a long time, and I don't know, we just started to jam around, and apparently Zee could sing and write good songs?
ZB: And no one knew it!
AP: And that's kind of where we're at now.
That's awesome. Adam, you said you were in other bands. Were they similar to this project or different?
AP: Kind of way different. For the most part I've been a bass player. You know I started playing bass in middle school and sort of became a bass player. And I kind of played guitar along the way a bit, and then this is the first project where I've been playing guitar, and I've totally immersed myself in that thing I guess.
And Zee, you didn't know you were into singing and songwriting?
ZB: Well I've done theatre since I was very small, and I actually went to Wayne State and have a BFA in acting, but I always did straight plays. I did a couple musicals in high school, but I was always backup or chorus, and I was never in musicals in college. I just didn't have that kind of voice, and I just thought I couldn't sing at all really, so I just never considered that. Originally when Adam and I were going to be playing together, he was going to teach me bass, and I was just going to play bass for him so he could do whatever he wanted on top of guitar. And one day I started singing over something that he was playing, and we found out that I was probably better at that than I would be at playing bass. So I kind of moved more into that role. But I never really considered music before, but always performance. I've been on stage for a really long time, so that feels good.
It's funny that you have a background in acting but didn't feel like you had the singing voice, because as soon as I started listening to your stuff, I was like, "This girl sounds like she belongs on Broadway." You have a very theatrical presence that's cool to hear, especially in a contemporary electro-pop band. So that's pretty funny because I feel like you should have been singing for a lot more time than two years!
ZB: Thank you! It's definitely fun now that I'm doing that, and I think that a lot of the performing stuff comes through in the way that I deliver stuff and performing live too, of course.
So how often do you guys play? I see that you are around a lot in Detroit. Is there a particular place you enjoy playing?
AP: We don't really play one particular place more than the others.
ZB: We've only been playing out as the duo for a year, so there's not really a place that's our "favorite place," but we're definitely trying to get out of the city a little bit more. We're hoping to get out of town in August, actually.
AP: Yeah, we're actually in the middle of booking four or five dates at the end of August on the East Coast, so we're definitely looking forward to that.
If you could play any place in the whole country, where would you want to play most? A city, a particular venue, wherever you want. Or is there anywhere that you haven't been that you want to go and try out and see if people like what you're throwing down?
ZB: Definitely, we really want to get to New York, and of course we would want to get to LA. I would like to go to Nashville at some point, but I'd also really like to go to Seattle. And honestly, I'd really like to go overseas at some point, and I know that sounds super ambitious, but I think that would be really fun.
Absolutely. Who are some of the people you would call your influences, or is there any particular direction you saw yourself heading when you started this band?
AP: When I first bought the drum machine and started playing with that, I was listening almost exlusively to Daft Punk's first record. It was kind of random for me to get into it in the first place, but I kind of fell in love with that, and I feel like that really set the tone for how the drums were going to sound and for these first two EPs, these first 8 songs, that was super influential. And then apart from that, my influences are all over the place. The Kills are a big influence for us. It's funny because they're so similar in set up.
Yeah, you can definitely hear that in your stuff.
AP: I don't know, The Smiths?
ZB: Yeah, we listened to a lot of The Smiths when we were starting out.
AP: That sounds so cliché.
I don't think The Smiths are cliché; I think they're rad. So you guys mentioned that you were booking a couple dates on the East Coast, and we have this new EP, which is awesome by the way. What else do we have to look forward to? Are you still writing, or are you more focused on touring to support this EP?
ZB: We're definitely looking at playing more shows with this EP in mind, but we have not stopped writing. Honestly, some of the stuff we're already playing isn't even on the new EP.
AP: I think we're both already kind of bored with some of the songs. Like the five songs that are on that new EP, we've been playing those songs for a while now, for at least a few months, so we're already kind of like, "Oh, we're done with those, let's make some more."
That's awesome, I love that constant drive and push to create something new. Is there anything about the Detroit scene that you find particularly engaging, welcoming, or awesome?
AP: I think for me, it's just the sheer talent. There are just so many amazing musicians and artists and everything.
ZB: I feel like there are some really good places to be making music, and I agree with you Adam, that there are a ton of really good bands. There's a lot happening that I don't even know is happening, and I find out this band so-and-so is doing this really awesome thing! And that happens all the time. Definitely a big scene, there are a lot of people doing some really cool stuff here, and that's exciting to be a small part of anyway.
---
Tart officially present their new EP, These Are Not Love Songs, on July 11 at the New Dodge Lounge in Hamtramck at 8:00 p.m. Full details can be found here. You can stream the album below and watch an exclusive video of the band playing "Stasis" live at a Never Say Die Living Room Session after the jump.
TART "Stasis" (Live: Living Room Sessions) from Never Say Die on Vimeo.
(Photo of Tart courtesy of Never Say Die.)
Comments