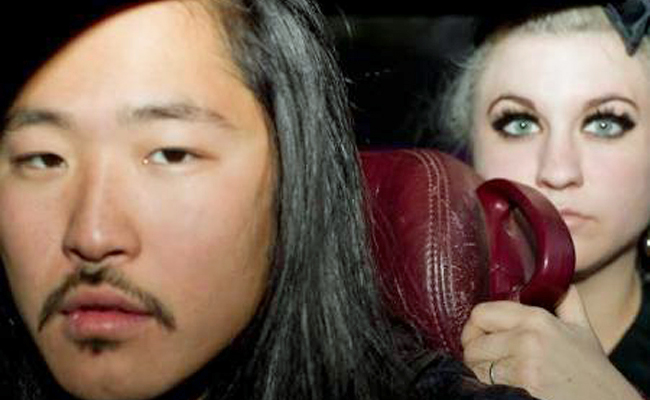 Popular wisdom holds that electroclash was supposed to have crashed and burned about a decade ago, at least as a going concern for most sonic connoisseurs. But Detroit has always hewn to its own rules, and as recently as last year, acts the likes of ADULT. were releasing work that reveled in turn-of-the-millennium dance-punk tropes such as retro techno warble, Vocodered vocals, and Atari-era aesthetics. Add to these groups the duo of Adam Michael Lee Padden and Zee Bricker, better known as Tart, who have just released a new single — "Rabid Dogs" — which shows without a doubt it's not quite time to put this scene to sleep.
"Rabid Dogs" opens on a drum vamp borrowed from some unwritten synth-pop hit from the 1980s, before kicking into overdrive with an amped-up hair-metal guitar riff that feels equally of a piece from the Greed Decade. When Bricker starts to croon about the titular canines, there's no need for Vocoders; her delivery is both icy and intense, like a modern-day Siouxsie Sioux. The song takes a breather about a minute in before taking on a spy-movie tilt with arpeggiated guitar notes and a maternal plea; as the track nears its end, espionage turns to action. The arrangements build to a frenzy as if Tart are trying to find a hidden escape.
"Rabid Dogs" closes on a cliffhanger, and on the whole, the song raises questions of influence: are we hearing some touch of Daft Punk's French fever dream of days gone by? Rustie's day-glo synth stabs and prismatic soundscapes? With its allusion to David Bowie's song of similar name and the polish that Tart bring to the Motor City's long-standing style, it seems that Detroit's new breed of garage rock is a diamond in the ruff. Who says you can't teach an old genre new tricks?
Listen to "Rabid Dogs" below:
Comments