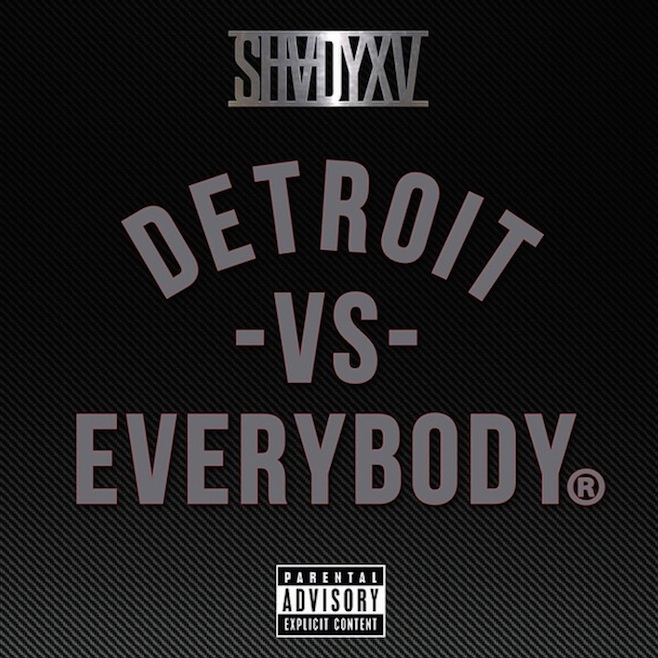 Given some of the troubling lyrics in the recently released "SHADY CXVPHER" that Shady Records released in support of the upcoming Shady XV compilation, it may seem like Eminem vs. the World right now. But on the final track of the album, which hit the Internet today, the Motor City's resident bad boy shows it's always been "Detroit Vs. Everybody."
To prove his point, he's joined by a veritable who's who of rappers from the 313: Danny Brown, Big Sean, Dej Loaf, Royce da 5'9″, and Trick Trick. The six-minute track arrives just two weeks before the full album release, which marks the fifteenth anniversary of Eminem's imprint.
"Detroit Vs. Everybody" opens with recent Columbia signee Dej Loaf singing the four-line hook, which ends with the battle spelled out in the track's title. From there, versus turns to verses — traded between the rest of Em's posse.
Each artist gets a chance to demonstrate his talents and different facets of the city they've come together to rep. Local figures and institutions that get name-checked include J. Dilla and 8 Mile, and when Eminem spits "I can't never leave this bitch," a shouted vocal calls out "Detroit!"
It's enough to make you forget that the piano-driven backdrop was supplied by an outsider — Boston producer Statik Selektah.
Listen to "Detroit Vs. Everybody" below:
Comments