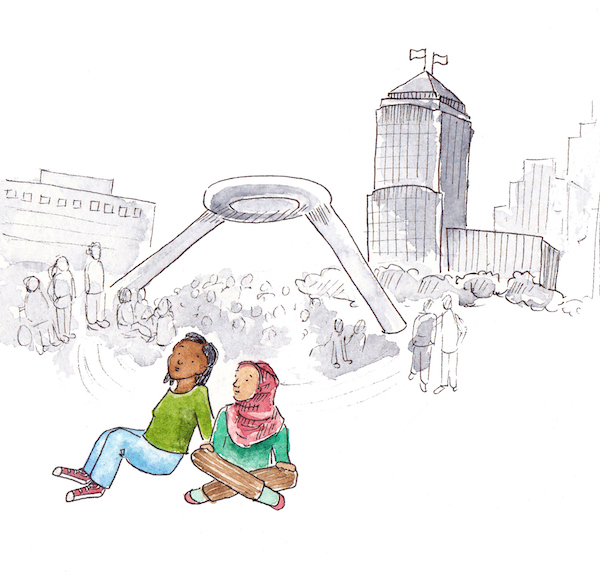 It's easier than ever to catch a live music event in Detroit, and with more venues opening regularly and festivals popping up everywhere throughout the city, you often have to make the tough decision of what to see and what to skip. But this bounty of choice also means it's harder for any one performance to stand out from the pack. From musical homages to fallen heroes and cross-genre collaborations, to long-awaited homecoming shows and scene-stealing opening slots these events brought us the best of music in our favorite ways — live and in the flesh.
---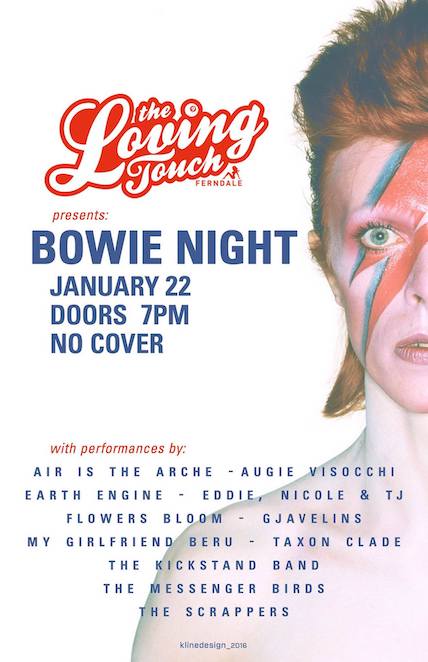 Bowie Night
The Loving Touch
January 22
The death of David Bowie on January 10 was the first of many celebrity losses in 2016. The thought of a world without the English art-rock kingpin, who had just released his brilliant record Blackstar, caused real panic in Detroit. In addition to putting out album after groundbreaking album during his 1970s prime, Bowie launched Iggy Pop's solo career and was deeply indebted to our city's Motown heritage.
Detroit wasted no time organizing events to glorify and celebrate this late god of popular music, one of which took place at Ferndale's Loving Touch. Over a dozen local artists covered a couple of Bowie tracks each, from some of his most commercially successful singles to several deep cuts. While these groups' interpretations were consistently rousing, even more moving was the size and diversity of the crowd, which was likely the largest some of the artists had ever played for, extending to the very back of the venue and forcing many others to wait in line outside.
A majority of the audience and performers must have been born around the time Bowie reached middle age; the youthfulness of those gathered was a powerful testament to the timelessness of his art. Of course, a large number of the musician's fellow baby boomers was present as well. In the dead of winter, Bowie Night warmed hearts young and old as a poignant farewell was bid to rock's original cosmic chameleon. —Theo
---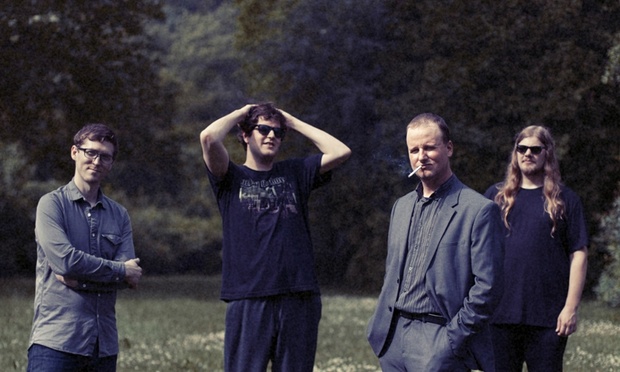 Protomartyr
Blind Pig
January 29

It was about halfway into the show; the perspiration from bassist Scott Davidson's beer had effectively melted the center of the setlist, leaving only the words "DEVIL" and "YOUTH" legible from where I was standing. It was discernibly the next song on the docket, and when the syncopated guitar lead of the song blasted in — backed by Joe Casey's croon — a super-fan, front row, adorned in a red Thrasher rain coat with a pentagram firmly planted on the back looked to me. We smiled, we jammed, devils in their youth. —Justin
---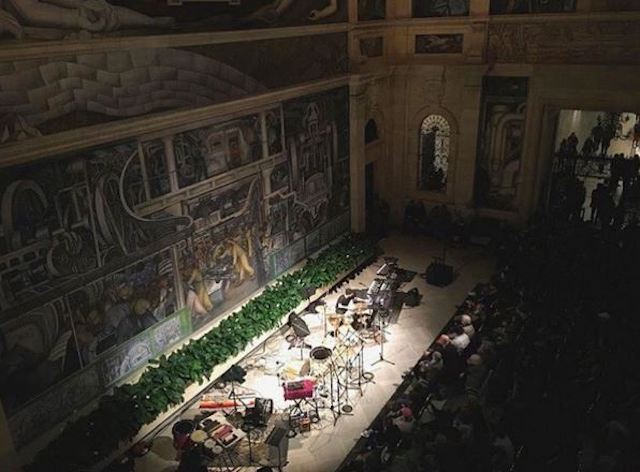 Shigeto and Zac Brunell
Detroit Institute of Arts
March 25
Living in Detroit, we are fortunate enough to have artists such as Shigeto performing on the regular. It's almost hard to go a week without seeing him at Motor City Wine, Flowers of Vietnam, or just hanging out around the city. So when I heard Zac Brunell booked him for the Detroit Bureau of Sound launch party, I'll admit I wasn't overly excited. I genuinely wasn't prepared for this performance.
Upon arriving at the DIA, it seemed a little crowded. DBS put this event on for free, and it was well worth it. When I walked into the Rivera Court, it was so full that the museum had to start denying entry. Luckily, I was able to sneak in and secure a seat before Zac's performance. Watching my friend play a set against the backdrop of Diego Rivera's classic mural was memorable, but I'll never forget when Shigeto joined him on stage for a heartfelt percussive set.
I'd seen these artists before, but the energy and passion at this event was unparalleled. Everyone in attendance was silent and intently focused on the performances. The artists introduced their pieces, speaking intimately with the crowd. After the set, I walked out proud of my city. I don't know if I'll ever experience something like that at the DIA again, so thank you Zac, Shigeto, and the DBS. —Inchaus
---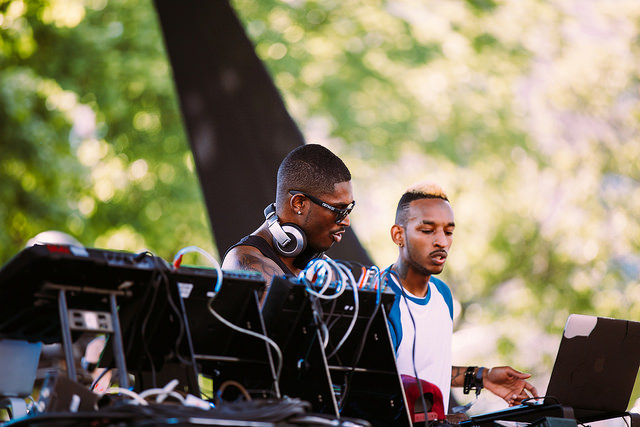 The Saunderson Brothers
Movement Electronic Music Festival, Hart Plaza
May 30

The Saunderson Brothers' set on the last day of Movement Electronic Music Festival was arguably one of the most genuine performances of the entire weekend. Although the brothers are relatively new to DJ'ing, they were absolutely immersed in the experience, creating a highly energetic dancefloor vibe that encouraged all within earshot to really let loose and feel the music in their shoes. Dantiez and Damarii closed their two-hour slot with some funky, hip-hop infused techno, which provided a nice musical transition from day to night as the general energy level began to increase on Movement's final day. All in all, the Saunderson Brothers made Movement weekend complete and really opened my eyes to some incredibly diverse techno from Detroit. —Zack
---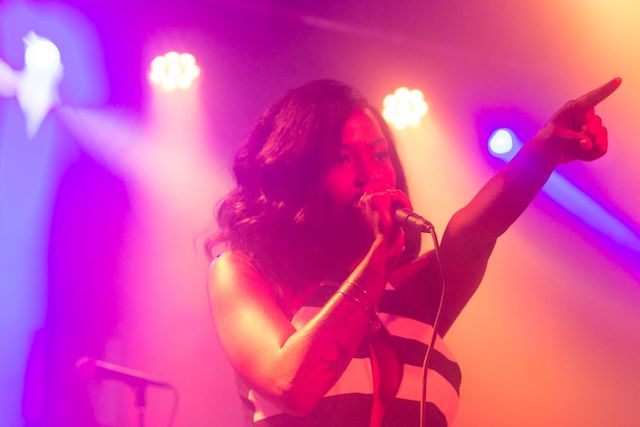 Bevlove
BFF Fest, El Club
July 29

Part of the magic of a live performance is that the music is placed into a specific context. You had to have been there to get the full picture. Play an artist's records at home, and the tracks bend to your will, serving whatever utilitarian purpose you had in mind. Hear the same songs at a club or festival, and the public atmosphere and communal vibe contribute to a shared experience that can never be repeated. And if your phone's camera happens to be facing the wrong way, well, that's part of the magic, too.
"I took a snap of an amazing musician and I accidentally put the backwards filter on it so you can't even tell how great she is :(" So read a tweet from an expat friend back in town from Buenos Aires on July 30. He had met up with me and some of my other friends the night before at El Club on the first day of this year's BFF Fest. The event's name couldn't have been more fitting, as I spent most of the evening hanging out on the Mexicantown venue's outdoor patio chatting with friends. In fact, I wasn't even there with the intention of staying for any of the musical performances; I was burned out on going to shows, having spent the last two weekends at outdoor music festivals. My body and mind were craving a weekend night in, alone, with air conditioning.
But after a few cold brews, I started warming up to the occasion, and soon I was pratiquant mon français with a new Gallic acquaintance I had met at Mo Pop, catching up with some friends who were exhibiting at the fest's art show, and discussing ad agency life with my aforementioned tweeting pal. He and I soon ventured into the venue itself, where a dynamo of a voice filled the air. I looked over at my friend, and it was as if he had stepped into a dream. He asked me about the artist, and with a dazed tone let me know that for all his concertgoing, he never gets to hear music quite like this in Buenos Aires. That's another power of the live show: so much of the beauty can be found through the eyes and ears of another beholder.
My friend may have flubbed the snap he meant to share, but a follow-up tweet gets close to the greatness of the experience: "her name was bevlove and she had me like heart eyes emoji the whole time". To that, I say "#same". —Khalid
---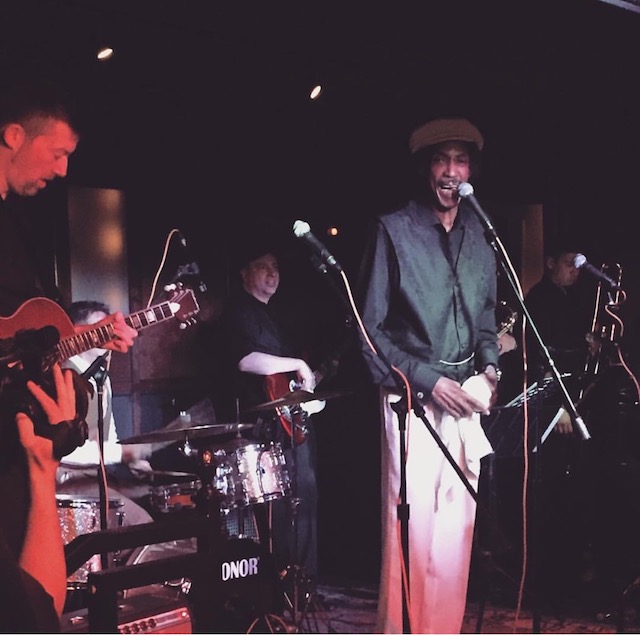 Soul Fest (Melvin Davis, Pat Lewis, Carolyn Crawford, Joe "Pep" Harris, Leroy Emmanuel)
Northern Lights Lounge
August 29

Detroit's music history, specifically as the birthplace of Motown, has become a contentious topic for up-and-coming musicians. The proverbial "filling of shoes" for new artists has been a strange phenomenon for acts spanning many eras and genres since Berry Gordy moved to Los Angeles from the face-melting rock of The Stooges and MC5 to Juan Atkins and the great '8os techno innovators. Even hip-hop's current reign has struggled to differentiate itself from the legends of Detroit music. Though beyond the bright-light familiarity of Marvin Gaye, The Temptations, The Supremes, and other headliners are the lesser-known champions of Detroit's soulful legacy. For those who haven't dug deep enough for soul 45s at People's Records, Soul Fest 2016 at Northern Lights Lounge was this summer's best showcase of Detroit's talented — and somewhat overlooked — past.
The meager $10 ticket granted attendees an intimate production featuring some of Detroit's most legendary soul talent, including Melvin Davis (who celebrated his 74th birthday that evening and has worked with countless Detroit musicians, including Wayne Kramer to Dennis Coffey and Smokey Robinson), Carolyn Crawford (whose rendition of Smokey Robinson's "My Smile is Just a Frown" rose to #39 on the R&B charts of 1964), and Joe "Pep" Harris of The Undisputed Truth (whose hit single "Smiling Faces Sometimes" landed at #3 on the US charts and can be heard regularly on 104.3FM WOMC). One by one, the performers took the stage and afterwards assimilated into the crowd to cheer on their colleagues. It was an evening marked with powerful voices and meaningful friendships.
Not only was Soul Fest 2016 a wonderful reunion of seasoned veterans, but it was also a glimpse into the local music circuit at a time when Detroit's creativity, beautiful vocals, and rich melodies were in plentiful supply. —P.Y.
---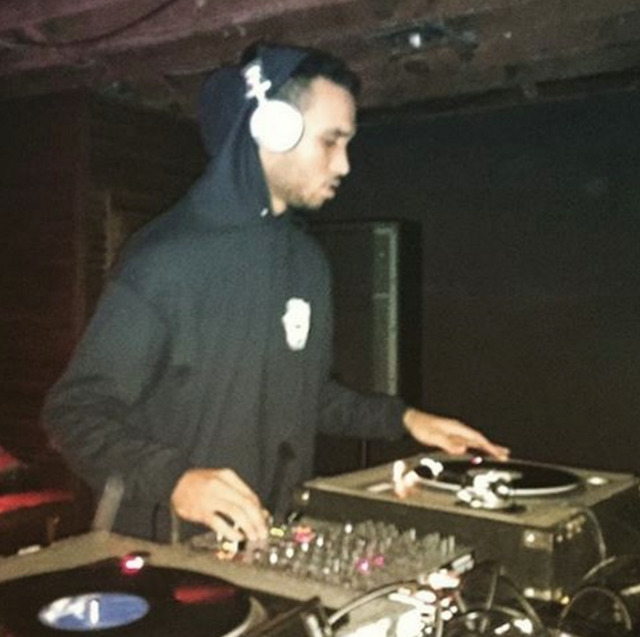 Black Noi$e
Russell Industrial Center
September 9

The mood was one of anticipation, as tons of kids made the pilgrimage from the various Detroit 'burbs to catch a glimpse of their new-age, Auto-Tuned trap messiah Travis Scott. The show was announced just a week or so before the performance date, switched up from a day show with BBQ (ages 16+) to a night show (18+), and the entry line was clogged with up to a half-hour wait. The late summer Michigan humidity was in full effect, and it only intensified as I entered the building. I heard skateboards slapping plywood. I heard people yelling drink orders at the makeshift bar. I heard fans complaining about the expensive Travis Scott merch they had to buy. I heard 808s and hi-hats, warped vocal tracks, hip-hop instrumentals boiled down to their most percussive and pulsating. As they entered the massive venue, I saw sweaty fans of trap music stop and stare, to catch a glimpse of the hands making these other-worldly sounds. If I had to pick one artist whose music is most appropriate in a 10,000+ square-foot warehouse with a skate ramp at the back, it would be Black Noi$e. —Joe
---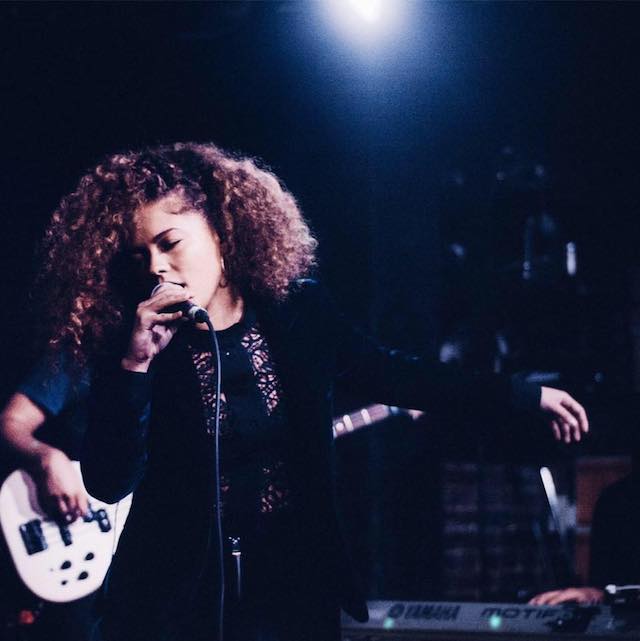 Eryn Allen Kane
Masonic Temple
November 23

At this point, it's probably no secret that my fan-girl love for Eryn Allen Kane knows virtually no limits, so it should come as no surprise that she hands down gave my favorite live event of 2016. The performance was held at the Masonic Temple on the same night as Danny Brown's annual Bruiser Thanksgiving show, but the legions of neon-clad bros yelling obscenities to all passersby couldn't have seemed farther away as soon as we entered the Chapel.
This was the best show of the year for four reasons. First, the Chapel is an amazing venue acoustically, architecturally, and historically. The intimate space made it easy for Kane to engage with her audience throughout her set and provided the perfect backdrop for a night of unsurpassed talent. Next, Detroit R&B songstress Bevlove absolutely killed the opening slot. Her performance was both polished and powerful, demonstrating her promise as an artist.
Third, Eryn Allen Kane is kind, funny, and undeniably adorable. Her homecoming show felt more like a reunion than a concert, in part because she literally stopped her set to ask where her Grandma was and then brought a lifelong friend onstage to sing with her. Finally, Eryn Allen Kane is one of the most talented soul singers around today. Her voice, impressive through tinny computer speakers, is mind-numbingly amazing in person and seemed to constantly evolve stylistically. My one and only complaint is that it didn't last longer. —Meta
---
Our end-of-year coverage continues this week with Detroit's Best Videos, Tracks, and Albums of 2016.
Illustration by Kelly Zechmeister-Smith.
Photo credits: Bree Gant [Bevlove], Nick Kassab [The Saunderson Brothers], Kevin Kline [Bowie Night poster design], P.Y. [Melvin Davis]. All other photos from artists' promotional materials.
Comments