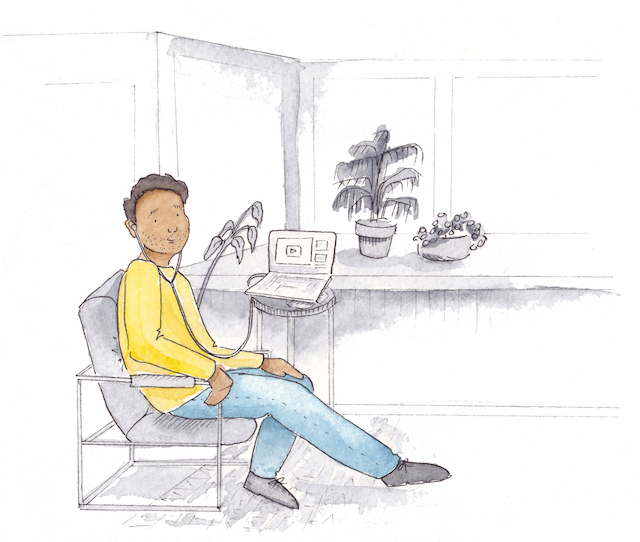 Detroit's artists have always been keen on working together — regardless of medium — and nowhere is this clearer than in the collaborations between musicians and filmmakers. The ten videos that follow are just a cross-section of the best of 2016, but they run the gamut from stripped-down performance footage to effects-laden visual extravaganzas. Our advice? Skip the Netflix tonight and binge on these clips instead.
---
10. JMSN: "Most of All"
Director: Alex Petek
Preceding the May 5 release of JMSN's It Is, the Eastpointe R&B artist shared his '90s-inspired anthem of loss "Most of All" and its subsequent visuals. The nearly five-minute video is directed by Alek Patek and features a supporting cast of ballerina dancers, a sting quartet, and a big, empty white room. The minimalist imagery and JMSN's intimate performance emphasize the song's subject matter. This is, undeniably, a track about being alone and missing what was once togetherness. JMSN looks tired. He also looks kind of dirty. He looks sincerely vulnerable. His dancing and gesticulations, as always, are unrestricted and open to ridicule. As JMSN fades from view, viewers are left with a cool down — an instrumental that allows the entire video's message to sink in. The contrast between JMSN's unshaven face and tattoos peeking out of his yellow raincoat with the imagery of ballerinas dancing in unison somehow makes sense for lyrics that begin with "I miss the pleasure, I miss the pain…" —P.Y.
---
9. Passalacqua: "At the Party"
Directors: GOOD PALS
Passalacqua's "At the Party" is catchy, fun, and an all-around good time, so it makes sense that the visual accompaniment would be equally as adorable. The track, off of last year's Banglatown EP, details the apprehension and discomfort we all face from time to time when we find ourselves in social situations that we're too tired, bored, or hungover to deal with. The tightly framed SnorriCam setup follows Blaksmith and Mister as they wind through a bumping house party, giving an all-too-relatable first-person perspective of attempting to navigate a small house filled with too many people without getting bathed in beer. Combine this perspective with a handful of cameos from Detroit's music scene regulars and you have the recipe for a true Motor City house party. —Meta
---
8. DeJ Loaf: "Goals"
Director: CJ South
DeJ Loaf continues her hip-hop ascent with "Goals." When I first watched its video, I couldn't help but recall the episode of Noisey on Viceland featuring Detroit. DeJ had an appearance, although it seemed spontaneous, as the show caught her right before a performance. She spoke on the death of Dex Osama and the importance of looking beyond Detroit. While it was flattering that Noisey chose to showcase our city, their analysis of the local hip-hop scene was somewhat reductive, focusing heavily on the violence and urban blight our city has faced over the past several decades. "Goals" is a refreshing change of pace from that played-out narrative. The video, much like the track, is minimal with DeJ all decked out in white and spitting verses in front of her pianist. It's empowering and uplifting — something we could have used more of in 2016. Dej Loaf is a homegrown success story who is on her grind and proof that Detroit hustles harder. —Inchaus
---
7. Mayer Hawthorne: "Love Like That"
Director: Y2K
When Ann Arbor crooner Mayer Hawthorne dropped the single "Love Like That" off of his latest album Man About Town, the track exploded on college radio. With an infectous groove, yacht-rock–style keyboards, and an earworm of a hook, the music video's director Y2K placed a cherry on top of the offering with a perfectly rendered a tribute to California noir. Drenched with West Coast sun, bourbon, cigarette smoke, and the requisite femme fatale, Hawthorne cuts a perfect figure in a post-war suit as he injects his Motown flavor into more genres than seems reasonable. The result is pure enjoyment. —Dan Jones
---
6. Doc ILLingsworth: "Everhard"
Director: B. Damon
The video for Doc ILLingsworth's "Everhard" serves as such a fitting supplement to the accompanying music in more ways than one. The simplicity of the rough color outlines around key elements of each frame complements the laid-back, smooth flow of the beat. Objects such as cars and signs in the street are scribbled out to suggest a life free from worrying about the little things. "Everhard" reminds us that we are in control of our own destiny, and that to a certain extent, we choose how we perceive the world around us. This video is a must-watch for those seeking a memorable sensory experience, as the soulful musical composition is greatly enhanced by meaningful animation. —Zack
---
5. ZelooperZ: "ISBD"
Director: Ruffmercy
As a member of Bruiser Brigade, the 21-year-old Detroit rapper ZelooperZ has always been a worthy protégé to the crew's leader, Danny Brown. But it wasn't until the release of his debut studio album, the electrifying and engrossing Bothic, that the student finally broke free of his master's orbit. Advance single "ISBD" takes the ever-popular "born to die" trope and flips it on its head top. So too, does Ruffmercy subvert the traditional tight-focus performance shot, layering on psychedelic animation that evokes everything from the rabid sprawl of Jean-Michel Basquiat's graffiti work to the dreamlike abstract art of contemporary Australian aboriginal painters. Even behind an IMDb's worth of trippy allusions, though, it's ZelooperZ's unrelenting intensity that sticks with you. This kid's a savant, and only an idiot would write him off as dead. —Khalid
---
4. Big Sean: "Bounce Back"
Directors: Glenn Michael and Christo Anesti
Ice-cream–colored mountains juxtaposed with pastel palette cities and aspect-to-aspect'd with crying shots of the Virgin Mary. Like a Lars Von Trier approach to gaudy, the video for Big Sean's "Bounce Back" is excellence turned to 12: pink, bold, bright, and beautiful with that thick veneer of cheese to sell it all as a cohesive package. —Justin
---
3. Stef Chura: "Spotted Gold"
Directors: Fidel Ruiz-Healy & Ambar Navarro
Play with fire and you'll get burned, it's been said. But we'd gladly let Stef Chura give us the third degree again and again, because this shit is en fuego. The Detroit indie rocker has been setting the underground ablaze for years, and with the impending release of debut LP Messes, Chura is primed to break wide. "Spotted Gold" goes by fast but leaves a lasting impression with lyrics that reference the tarnishing of a long-standing relationship. Despite the scorched earth theme, Chura and her bandmates Cy Tulip and Ryan Clancy keep things moving — even in the face of bad luck omens and Darwin Award-winning mishaps, as they do in the song's video. The bright hues, formal composition, lo-fi title cards, and Chura's droll but buoyant vocals may recall the '90s, but "Spotted Gold" is exactly the video we need after what's easily been a trash fire of a year. —Khalid
---
2. Iggy Pop: "Sunday"
Director: Andreas Neumann
In the video for "Sunday," the fifth track off Iggy Pop's recent LP Post Pop Depression, we glimpse the artist in a robe making coffee, then doing tai chi — lizard-like — on his Florida property. The man we see certainly seems a far cry from the "streetwalking cheetah with a heart full of napalm" who appeared on Raw Power over forty years ago. If Iggy's career is to be likened to a weekend of debauchery, then it is now Sunday, and a bit of introspection is in order. As the rock instrumental fades out and weird strings take over at the end of the video, we are presented with a series of objects indicating the imminence of post-Pop life: a couple of Iggy's possessions, from the mundane to the eccentric, and finally some empty beer cans and cups being removed from the floor after a show. The effect of this metonymy is quite poignant, concluding the video on a beautifully bittersweet note. With rock's first-gen giants starting to bow out one by one, our only consolation may lie in moments like these. —Theo
---
1. Danny Brown: "When It Rain"
Director: Mimi Cave
There were signs. Coming off of the future classic XXX, Danny Brown left behind the skeletal instrumentation and turned to full-bodied electronica. The resulting Old played out more like a how-to manual for making genre-bending rap music, a textbook for the new generation of MCs. With the announcement that Brown would be moving to Warp Records (home to Aphex Twin, Flying Lotus, Hudson Mohawke) for his latest project, it wasn't surprising in the slightest. A label know for its electronic experimentation paired with an artist as eclectic and charismatic as Brown was a match made in heaven. Finally, we got our first taste: "When It Rain." Brown emerges from his cocoon as a metallic butterfly and keeps spitting as if his life depends on it. Mixed with the skittering VHS glitch-art, found footage, and new footage meant to look like found footage, the video is a mind-boggling piece that serves as the perfect preview for Atrocity Exhibition. This is circus freak as auteur. We'd tell you to avert your children's eyes, but we can't look away. —Joe
---
Our end-of-year coverage continues this week with Detroit's 10 Best Tracks and Albums of 2016.
Illustration by Kelly Zechmeister-Smith.
Comments