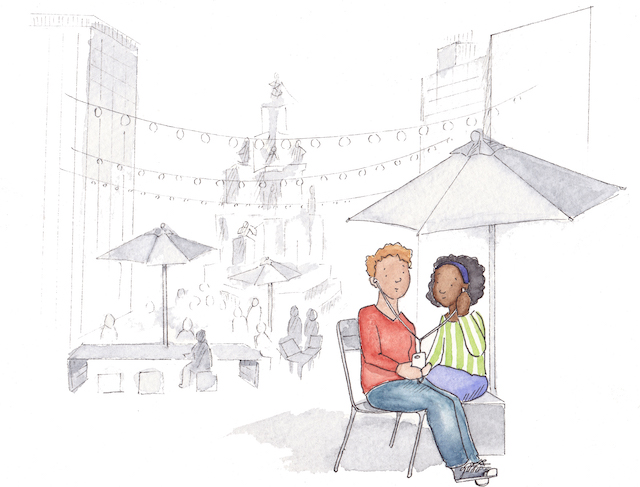 Despite the tumultuous mood of 2016 — or perhaps in response to it — Detroit artists released a wealth of tracks that broke new sonic ground, bridged past and present, or simply brought people to the dance floor. In short, they continued doing what they've always done: make great music, no matter the circumstances. With so many treasures to choose from, narrowing it down to 10 was no easy feat. But consider what follows a starting point in exploring the year that was.
---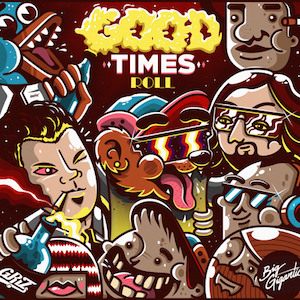 10
GRiZ [ft. Big Gigantic]
"Good Times Roll"
"Good Times Roll" is arguably the most fitting anthem for 2016, as GRiZ and Big Gigantic certainly made a statement with this release. The song builds up into a heavy-hitting saxophone riff with a booming trap beat that nicely complements GRiZ's explosive energy as a performing artist who takes every opportunity to make people dance out of their shoes. This track provides such a great vibe overall that it would be a task to feel anything but hopeful for the future, despite the trials and tribulations of this past year. —Zack
---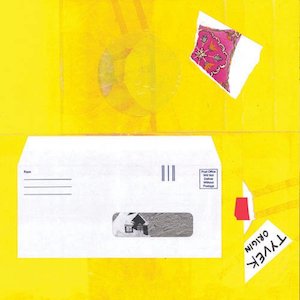 9
Tyvek
"Tip to Tail"
In November Detroit garage heroes Tyvek released their excellent new album Origin of What. The first track off the LP is two-and-a-half minutes of scuzzy, shambling perfection that draws heavily from British art punk, down to singer Kevin Boyer's faux accent. The weird, reverb-y guitars set against those crunchy, Wire-esque chords generates a fascinating dynamic as Boyer freaks out over various personal tribulations. The chorus is a sublime moment of air-punching punk in which the song title is shouted as a means of catharsis rather than a resolution of the singer's ills. It's a great track, tip to tail. —Theo
---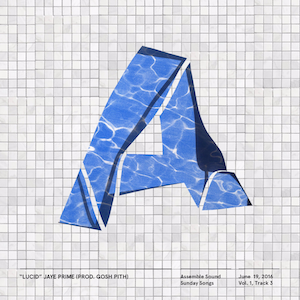 8
Jaye Prime
"Lucid"
"Lucid," one of the first Sunday Songs released by Assemble Sound, came out in June and quickly became a contender for song of the summer. The languorous track is a joint effort between producer/rapper Jaye Prime and Gosh Pith's Josh Freed, who recorded at Assemble Sound's Corktown cathedral digs. The combination of Freed's slinky production and Prime's melodic, soothing voice makes this song the perfect soundtrack for hanging out by the pool, late night drives, or just vibing out. —Meta
---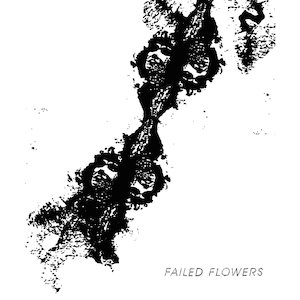 7
Failed Flowers
"Supermarket Scene"
"Supermarket Scene" is the most infectious song off of Failed Flowers' self-titled debut album, and that's saying something. It's also one of the longest, but the band's deceptively simple guitar hooks feel like they could go one forever, keep evolving and transforming, and no one would mind. Failed Flowers do more in under three minutes than some popular rock bands with expensive studios do on a whole album. The songwriting finesse is what drives this track home and invites listeners to replay as soon as the last chords are struck. —Joe
---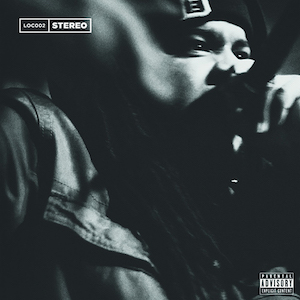 6
Nolan the Ninja
"pennie$"
As a new Detroit favorite, Nolan the Ninja has reintroduced the golden sounds of hip-hop in an era of numbed-out substance and repetitive themes. His latest release [he]art contains some of the young rapper-producer's best work, borrowing a sample from Inspectah Deck's "Elevation" for his gritty, get-money anthem "Pennie$." Nolan debates turning to crime but ultimately keeps himself focused on his quest for the almighty million dollar mark in this instant classic. —P.Y.
---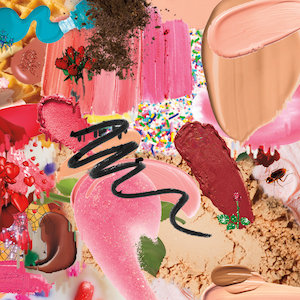 5
Stef Chura
"Slow Motion"
Stef Chura is living proof of how far you can go if you can DIY. Each track she's shared in advance of her upcoming debut album Messes is a jam, but "Slow Motion" is definitely the standout. Chura's vocal inflections sound fresh, and the unbridled energy behind her sound is contagious. The raw emotion in her lyrics floats perfectly over the lo-fi garage rock riffs. Chura is very open about her subject matter, having described her work as an "emotional collage." It will definitely be interesting to see what else she has in store for us on the rest of the album. —Inchaus
---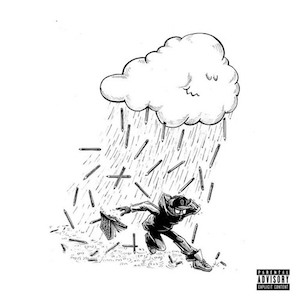 4
Elzhi [ft. Smitty Soul]
"Alienated"
After a highly publicized bout with depression and a near falling out with Kickstarter backers, Elzhi dropped one of his most poignant tracks to date as a preview of his long-awaited project Lead Poison. That track, titled "Alienated," provides a focused narrative of stressful times and an uncertain future, woven with woeful vocals from Smitty Soul. Elzhi's narrative is susceptible to scrutiny; it's honest and unabashed. The former Slum Village rapper responded perfectly to the commentary from those on the outside looking in — he gave them a true look inside. —P.Y.
---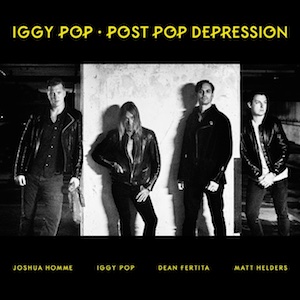 3
Iggy Pop
"Gardenia"
Iggy Pop didn't need to make a new record; after all, he's long been firmly ensconced as the Godfather of Punk. But with the late stage of his career marred by two poorly received Stooges albums, no one could fault Iggy for seeking redemption. He found it in the hands of Queens of the Stone Age frontman Josh Homme, and the resulting LP Post Pop Depression more than shores up the legend's belatedly tarnished reputation. Lead single "Gardenia" blends creeping menace with feral charm, as Iggy sings with one-pointed focus about the title subject, of whom all he wants to do is tell her "what to do tonight." Like a take on the Stones' "Under My Thumb" but reimagined in tones borrowed from dream pop and shoegaze, "Gardenia" manages to update the restless creativity of Iggy Pop's '70s solo masterpieces for today. Who says you can't teach an old dog new tricks? —Khalid
---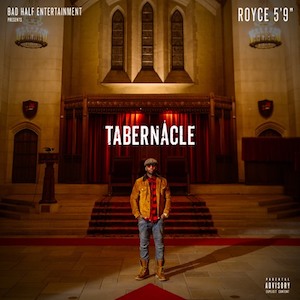 2
Royce 5'9″
"Tabernacle"
"Tabernacle" is the lead single off Royce 5'9″'s first album in five years, Layers. The name of the track is fitting, as the release finds a 39-year-old Royce reinvigorated, newly sober, and approaching the music as something nearly devotional in its own way. The balance of the universe is on display as Royce steps into the pulpit and raps with a purpose about his son's birth, his grandmother's death, the turning point of his career, and God. The drama and energy of the track is heightened by J. Rhodes and S1's suitably reverent production. It's hard not to believe Royce when he tells the listener "I promise not lie on one of these verses." —Dan Jones
---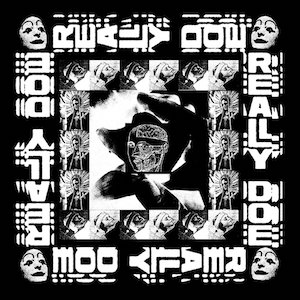 1
Danny Brown [ft. Kendrick Lamar, Ab-Soul, and Earl Sweatshirt]
"Really Doe"
Take the post-apocalyptic power and mood of System of a Down and place four of the most genre-bending rappers in the game spitting over the satanic skeletal beats of Black Milk and you have a hit. Like a sacrifice at the altar of hip-hop, Danny Brown holds together this caustic collection of artists as he compares himself to Johnny Mac. "Really Doe" really does have the same power and fury. —Justin
---
Our end-of-year coverage continues this week with Detroit's 10 Best Albums of 2016, beginning with Honorable Mentions.
Illustration by Kelly Zechmeister-Smith.
Comments