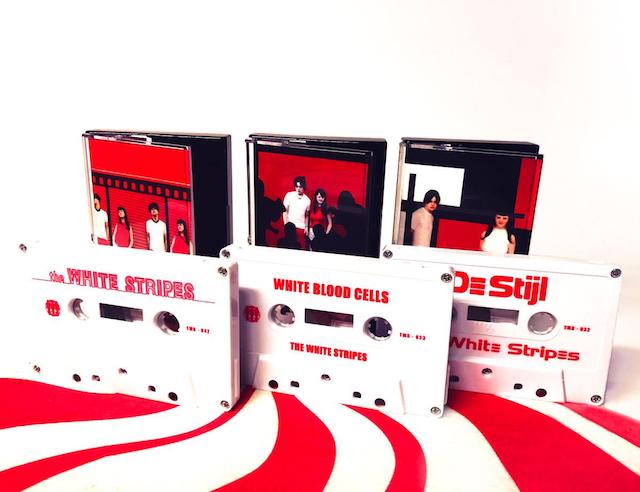 Break out your old Walkman… The White Stripes have announced the release of their first three albums — The White Stripes (1999), De Stijl (2000), and White Blood Cells (2001) — on limited edition white cassettes, exclusively for Cassette Store Day 2017 this upcoming Saturday, October 14. According to Third Man Records, the reissues coincide with the band's 20th anniversary.
You can pick up a set of the tapes this Saturday at Third Man Records in Detroit, Found Sound in Ferndale, and Street Corner Music in Oak Park. If you miss out on the limited edition white cassettes, don't fret; Third Man Records says all three albums will be released on standard black cassettes in the future.
This announcement comes just a week after Third Man Records announced the release of Vault Package #34 — The White Stripes Live in Detroit: 1999 – 2000 – 2001, which features three previously unreleased live performances of the duo from The Magic Bag in Ferndale (1999), The Magic Stick in Detroit (2000), and the now closed Gold Dollar in Detroit (2001) — where The White Stripes played their first live show in August 1997. The Vault Package includes all three performances pressed on 180 gram red, white, and black vinyl, show poster reproduction prints, and a custom slipcase.
In other Third Man news, the Cass Corridor location will be hosting a Devil's Night Party to celebrate the 20th anniversary of Italy Records. The event will feature limited edition releases of seven records from the label, including pink vinyl versions of albums by Rocket 455, The Dirty's, The Hentchmen, The Fells, Soledad Brothers, Greenhornes, and Whirlwind Heat. They'll also be selling Italy Records t-shirts, pins sets, and posters.
Along with the merchandise, the store will showcase live performances by Keep on Trash DJs, Soeldad Brothers, Rocket 455, and The Hentchmen. Doors open at 7:30 p.m., and costumes are mandatory for entry. Tickets can be purchased here.
Comments