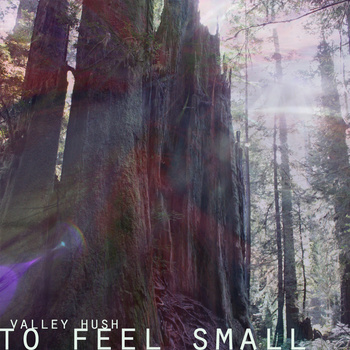 Without knowing where you're headed, this music takes you exactly where you want to go.
Detroit electronic duo Valley Hush create a sound that's completely their own, though it's certainly possible to hear influences as far-flung as indie-pop, trip-hop, and experimental rock. Lianna Vanicelli's hauntingly beautiful vocals harmonize with Alex Kaye's smooth guitar riffs to produce evocative melodies that not only engage and awaken the senses, but something deeper within. This is not music to get lost in; rather, it is music where you can find yourself.
To Feel Small, Valley Hush's first EP, is composed of an abundance of eclectic sounds carefully placed within each song, belying the free spirits of the record's creators. First single and opening track "Bedrooms" begins on an eerie note, though Vanicelli's gently powerful voice offers comfort. It makes for an enticing intro to the EP, which moves into warmer territory on "Journey into Golden" — a song that showcases the duo's talent for stirring harmonies.
"Waves" adds a soft rock flair and electro-pop edge; it is perhaps the act's most emotional song and amounts to an auditory epiphany for the duo. In just one track they are able to convey the permanence of love and the promise of more to come. The same holds true for "While We're Here," which is the perfect culmination for To Feel Small. The only thing that could be better, in fact, is to watch these songs performed live, with the intensity amplified tenfold.
The passion and power Valley Hush bring to bear on To Feel Small is one-of-a-kind and larger-than-life.
Comments