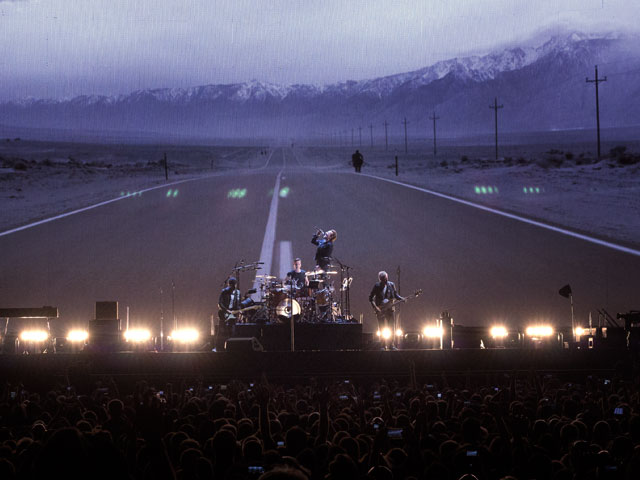 Pity the hardcore U2 fan; despite their idol's unflagging ability to command blockbuster ticket sales and stay atop the Billboard charts, recent years have also found the Irish quartet dogged by lukewarm reviews and a flailing public image. From Bono's much-parodied savior complex to the snafu over the band's iPhone "release" of 2014's Songs of Innocence, U2's last decade has been marked more by misses than hits. In their increasing bids to stay relevant, the group were inching closer to undoing a legacy that once seemed bulletproof.
U2's performance at Ford Field Sunday night proved that their music is as timeless as ever, and it took a move that the band had long avoided: building a tour around the anniversary of one of their most beloved albums. 1987's The Joshua Tree heralded the moment that U2 went from a respected rock act to international superstars unlike any the world had seen then, or since. The record sold more than 25 million copies, but the epic sweep of its political anthems still feels urgent and personal to this day. You could argue that songs like "Exit" are even more pressing in Trump's America than they were in Thatcher's England.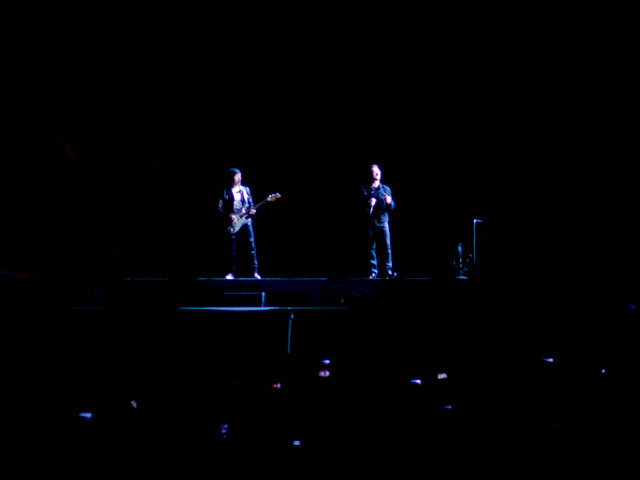 The group leaned heavily into those associations — at one point playing an eerily prescient clip from the 1950s television show Trackdown that featured a con man named Walter Trump — but they also knew when to let the music speak for itself. Bono's normally impassioned rhetoric was dialed back in favor of vague bromides and feel-good remarks, including some directed at Detroit, which he referred to as "a city of invention, city of reinvention. A city of history, city of the future."
As well-known as these songs were to the adoring crowd, the night still managed to bring forth surprises. Biggest of all was the onstage appearance of former Detroit resident Patti Smith, who joined U2 in a stirring rendition of "Mothers of the Disappeared." Bono credited the High Priestess of Punk with being integral to the group's success, stating that "We wouldn't have written The Joshua Tree without her."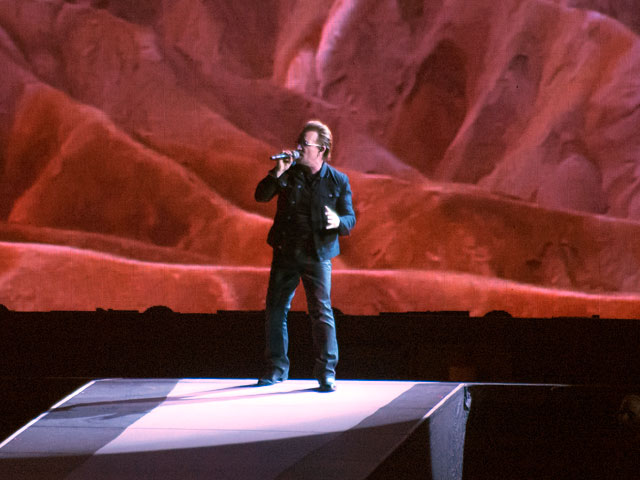 Smith's incantatory power and ecstatic delivery can certainly be felt in U2's music, but only one band has consistently married the widescreen scope of the American cultural/geographical landscape with the introspection of Irish troubadours. That juxtaposition was made visible as the group walked out one-by-one to the opening chords of "Sunday Bloody Sunday" onto a small stage modeled after the Joshua trees that dot the Mojave desert. It was as if, for a moment, U2 were playing an intimate club set for a crowd of thousands.
Then some songs later, U2 withdrew to the main stage to perform their landmark album from start to finish. Backed by a massive video screen projecting empty highways and barren deserts, Bono and company filled the arena with the familiar strains of "Where the Streets Have No Name," "With or Without You," "Running to Stand Still," and "I Still Haven't Found What I'm Looking For." They were perfectly in sync, as you'd expect for an act who've been together nearly four decades, but U2 also managed to inject their performance with all the energy of musicians just starting their career.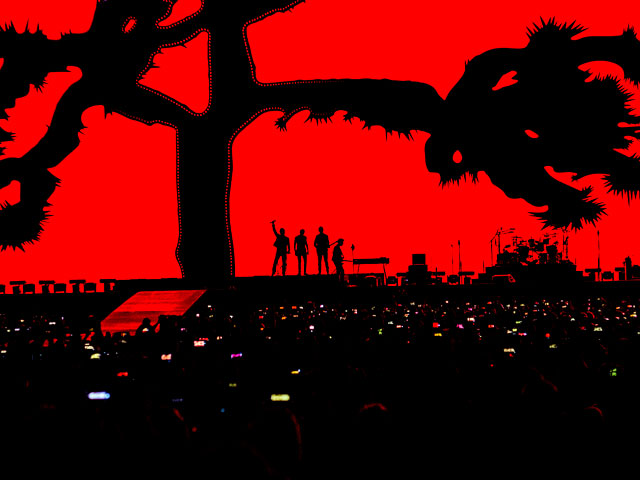 U2 closed the night with a succession of fan favorites from the aughts, including "Beautiful Day," "Elevation," and "Vertigo." It was a reminder that the group could still summon much of the excitement from their salad days when they put their minds to it. As the band prepares to release their next album, Songs of Experience, the night also proved that sometimes the best way forward is to look back.
All photos by Brandon Hopkins for Detroit Music Magazine.
Comments