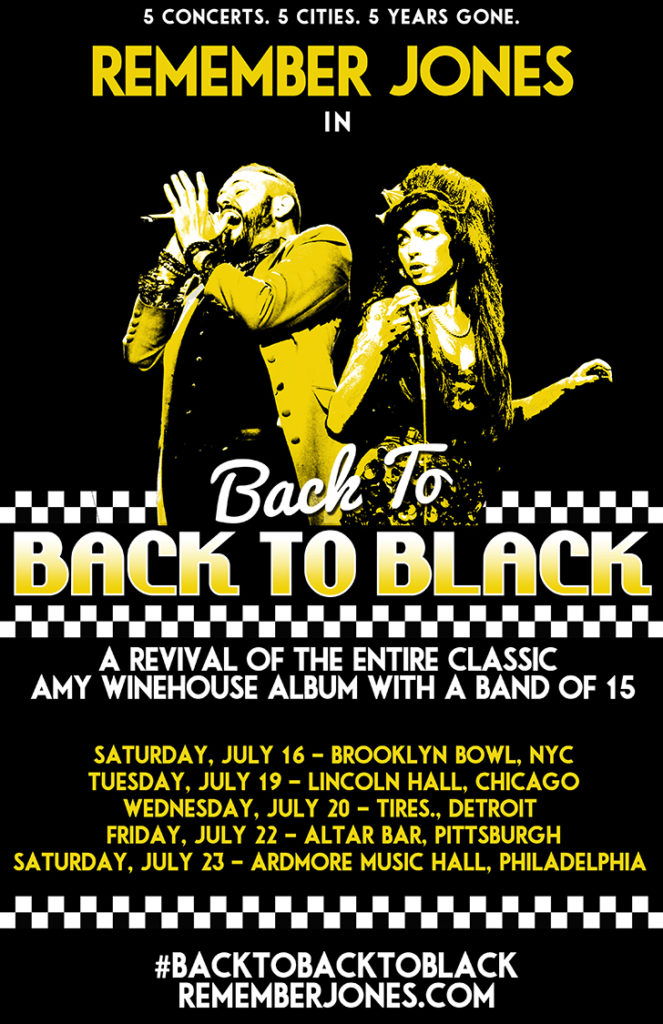 This week marks five years since the death of acclaimed English neo-soul singer Amy Winehouse. In that time, her legacy has reverberated not only in the documentary films and longform features about her life, but also in the many artists who have been influenced by her distinctive sound. Most of all, however, is the body of work Winehouse herself left us with, including 2006's Back to Black, which will find new life in a revival show this Wednesday at the warehouse venue Tires.
back to BACK TO BLACK features national soul sensation Remember Jones fronting a 15-piece orchestra, as they recreate the critically acclaimed, Grammy Award-winning album in a one-of-a-kind event. Detroit is one of only five stops on this limited-run tour, which also spans dates in New York City, Chicago, Pittsburgh, and Pennsylvania. Previous engagements in Asbury Park, New Jersey, all sold out, where the group has a stronghold on their thriving music community.
The show comprises 17 songs, including the hit singles "Rehab," "Tears Dry on Their Own," "You Know I'm No Good," "Love Is a Losing Game," and the title track, "Back to Black." Backed by an ensemble consisting of a horn section, strings, choir, and other guests, Remember Jones will bring his notoriously bombastic soul vocals and persona to the Tires. stage in what promises to be an unforgettable evening, both for the venue and for the show's run.
Tires., which generally plays host to concerts from genres known more for their DIY aesthetics, will get to demonstrate its already impressive production values ahead of some planned upgrades. For back to BACK TO BLACK, which is playing more traditional venues in the other cities on its tour, this stop is a chance to adapt the concert for an unconventional setting. In any case, it's a testament to Winehouse's music that it suits so many different spaces. As Michael Lapp, founder of Tires. puts it, "Amy's back."
back to BACK TO BLACK will be presented and hosted by Tires. (6541 E Lafayette Street, Detroit, MI 48207) on Wednesday, July 20. Doors are at 7:00 p.m. with the show beginning at approximately 9:00 p.m. Pre-show entertainment will be provided by DJ Thornstryker. Tickets are $15.00 in advance and $20.00 at the door. For more information, visit the event's official Facebook page.
Comments