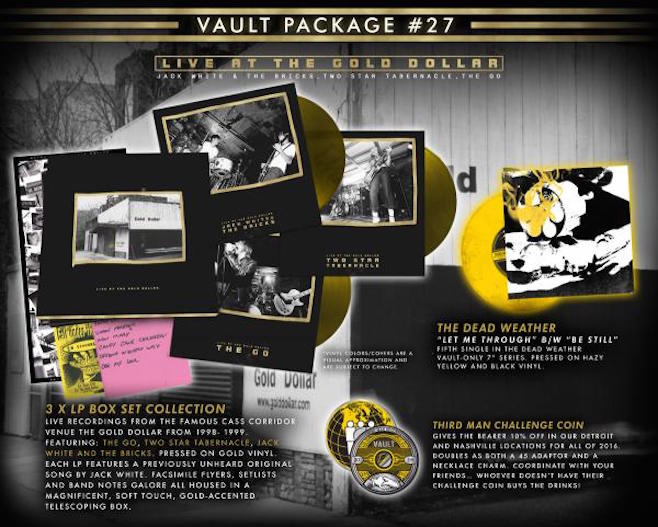 Jack White has dug into his seemingly bottomless vault of recordings and come up with some live performances with pre-White Stripes bands Two Star Tabernacle, The Go, and Jack White and the Bricks. Three LPs will be released in the latest installment of Third Man's Vault subscription series, with each album dedicated to one band's performance at Detroit's Gold Dollar venue in 1998 and 1999.
These nostalgic releases will include early versions of White Blood Cells classics "Hotel Yorba" and "Dead Leaves and the Dirty Ground," among other future White Stripes tracks. In typical Third Man fashion, the records will come packaged with plenty of additional goodies, including Dead Weather 7" single "Let Me Through" b/w "Be Still," as well as a coupon for the label's shops that doubles as a 45 adapter.
To get your hands on these records you'll have to subscribe to the Vault package on the Third Man Records website by January 31. You can listen to snippets from each of the albums below:
In other Jack White-related news, Third Man Books — the publishing imprint of TMR — will be presenting an evening of live music, poetry, and drinks at Third Man Cass Corridor in Detroit on January 14, 2016 at 7:30 p.m. This free event will feature award-winning poetry readings from Detroit's own wordsmiths Tarfia Faizullah, Jamall May, and Jennifer Nelson, plus the book launch for Life Is a Rip Off: Part One by John Olson (of Wolf Eyes). Patrick Pantano (of Dirtbombs) will also show his new book of photos, and there will be music by Todd Albright.
Comments