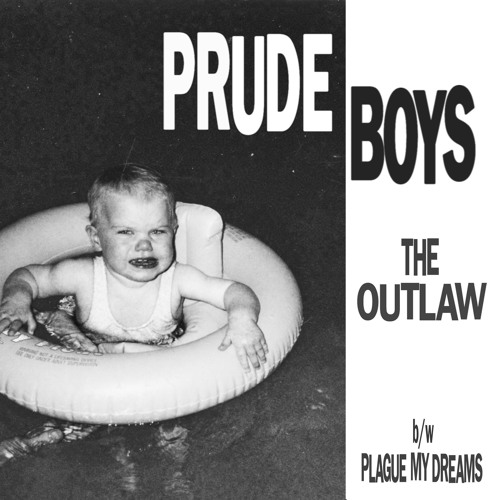 You read the song titles — "The Outlaw," "Plague My Dreams" — and your initial thoughts turn to a forbidden romance. Your first listen confirms this notion, that it's two sides of the same lovelorn coin, especially when the female lead provides backup vocals for her male counterpart on the B side. Oh, and aren't they a real-life couple, anyway? Bad boys, femme fatales… it's all of those perennial American archetypes. You think you've got it all figured out.
But then you pay attention. What once scanned as a tale of star-crossed lovers now feels burdened with the weight of trauma. It's actually sorrow, not desire, that permeates the atmosphere. The dreamer is afflicted by loss, not longing. Now you begin to realize the sleight-of-hand Prude Boys have performed, but this was no smoke and mirrors. Rather, what you witnessed was real life — and death — set to tape.
Prude Boys are a Hamtramck-based trio who formed in 2013 as The Lost Boys. After being approached by Ben Blackwell (Cass Records) to put out a new single, the band quickly went into Molten Sound to cut "The Outlaw" b/w "Plague My Dreams" with Derek Stanton. Both sides were recorded in a one-day session employing almost exclusively vintage gear.
Though the equipment certainly had a hand in the classic sound Prude Boys were aiming for, the group have to take the lion's share of the credit. The single hits a sweet spot between the cascading, reverb-drenched guitar riffs of surf rock or hot rod music, the syncopated bounce of psych pop, and the raw power of garage and proto-punk. It's deceptively sunny, with an ominous undercurrent — Laurel Canyon by way of Cass Corridor.
Those downcast vibes are explained by guitarist/vocalist Quennton Thornbury: "Both songs were written shortly after two of our closest friends suffered really terrible familial tragedies, and I think the songs naturally captured that darkness." Nowhere is this more plain than when bassist/vocalist Caroline Myrick sings of "cemeteries white with crosses". Only Connor Dodson's propulsive drumming saves "The Outlaw" from lapsing into a dirge.
That's the thing about death — it flips the script and robs you of what you cherished, including longstanding ideas. Pop can eulogize, and a serenade can morph into a requiem. Prude Boys' new songs will haunt you, causing you to rethink what you believed to be true about music and the world at large.
Prude Boys aim to tour on their single in the spring and sold out the limited run of clear vinyl at their New Year's Eve show opening for The Dirtbombs and Soledad Brothers. Vinyl copies will be available through Cass Records and upcoming Prude Boy shows. Stream the exclusive Detroit Music Magazine premiere of "The Outlaw" b/w "Plague My Dreams" below:
Comments