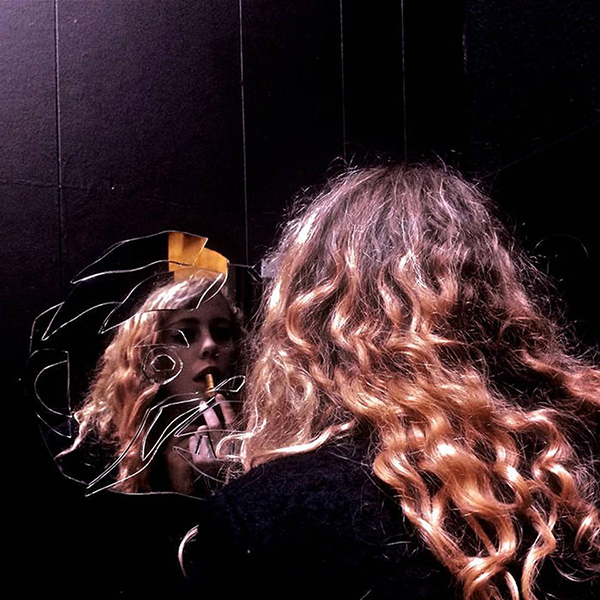 Though Lunar Phases is Moonwalks' debut full-length, the band are far from a newcomer to the Detroit music scene. From playing regularly at PJ's Lager House, UFO Factory, and nearly every other live music venue in the city, they have amassed an impressive group of dedicated fans. When you attend a Moonwalks show, you can expect a unique level of panache and theatricality, along with a healthy number of reverb-drenched jams. You'll find more of this on Lunar Phases, which blends bits of pop and psychedelia to craft compelling songs that will delight and intrigue.
The album opens with "Spiller's Return," a track seemingly inspired by a mix of film noir and spaghetti westerns. The skeletal song is the kind that would emanate from the darkest corner of an abandoned house. It's eerie and gives off a sense of anticipation and slight unease, making it that much more gratifying when "UFO Factory" swoops in with lush instrumentation. This is where the group's pop sensibilities are showcased beautifully, with catchy verses nestled in between tight jams and that reverb fans love. "Dwana" continues this vibe, bringing in some surf and garage rock elements as well. It's catchy and toe-tapping like the previous track, and then dives head-first into a steaming pool of swirly psych rock goodness.
The end of "Dwana" is an appropriate warm-up for the crux of Lunar Phases: the heady, scorching "Cream Cheese Ashtray" and the pedal-heavy "Humbler." This is where Moonwalks differentiate themselves from contemporaries like Grand Rapids-based Heaters or psych vets Bad Indians. The band go to a darker place, where their sticks, strings, and pedals do the talking. Sometimes the guitar tones and drumming create moody environments reminiscent of post-punk or darkwave acts. The songs confront you head-on and never become self-indulgent or monotonous; instead, they sound refreshing to both experienced and new listeners alike.
"I wanna scare people," guitarist Tyler Grates said in a past interview. Grates may have accomplished just that. The guitars and pedal-work are the star attractions on Lunar Phases. When vocalist Jake Dean does choose to sing, his incantations don't blend with the raucous guitar parts the way some psych or shoegaze bands do. He lets the instrumental breakdowns have their own spotlight, and this is what elevates Moonwalks from simply "good" to intriguing and exciting.
This past summer, Moonwalks joined fellow psych rockers Heaters for a couple brief tours of the East Coast. In addition to their frequent local dates, it's a safe bet the band will tour behind Lunar Phases a healthy amount. You should definitely go out of your way to attend one of their performances, as the energy in crowd is palpable and encourages the group to scale new heights every time. Similarly, Lunar Phases takes you to a dark, secluded place, inviting you to join in Moonwalks' catharsis as their guitar riffs reach toward the stars.
---
Lunar Phases will be available November 6 via Manimal Vinyl. Listen to "Minding Light" below:
Comments