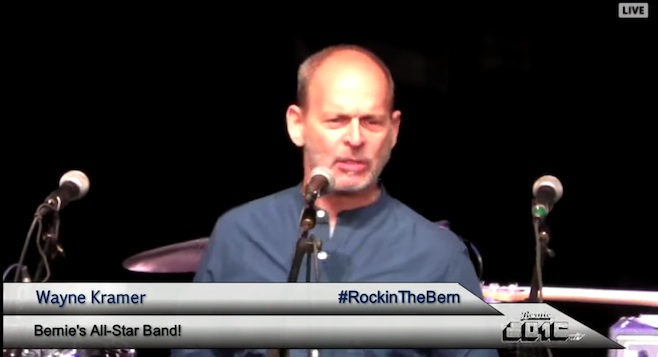 Members of MC5 appeared at a fundraising event for Democratic presidential candidate Bernie Sanders in Des Moines, Iowa this past Saturday. Among the Detroit proto-punks present was guitarist Wayne Kramer, who declared that "Bernie does kick out the jams."
The Motor City 5 started playing together in 1964 in Lincoln Park, Michigan, and would become known for the revolutionary fury they brought to live performances like the one captured on their 1969 watershed debut, Kick Out the Jams. Along with their fellow Southeast Michiganders The Stooges, MC5 established a raucous sound that would prove key to the rise of punk rock in New York City and London in the late 1970s.
At Saturday's event, "Bernie's All-Star Band" — led by Kramer — covered "Jail Guitar Doors" by like-minded rockers The Clash, a song written about Kramer's arrest for selling cocaine. Also played was Irish ballad "The Auld Triangle," which describes the suffering of prisoners.
Kramer sought to contrast the music of his band from that of Katy Perry, who performed for Sanders's opponent Hillary Clinton. "If you look at Katy Perry's music, she's Auto-Tuned and about as unauthentic as it's possible to be," he told The Guardian. "We, on the other hand, are sometimes out of tune, sometimes we sing flat, but we're doing this with all our real heart and our minds."
Comments