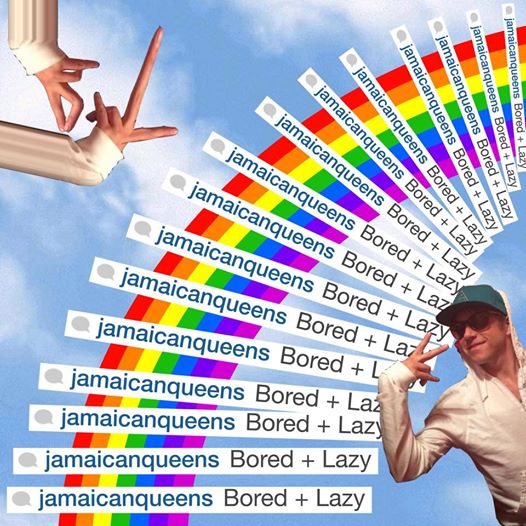 Unlike the steady but assured ascent of their career's trajectory over the past few years, the latest single from Detroit "trap-pop" group Jamaican Queens begins in fits and starts, as if trying to find its footing. The track's title, too, indicates some degree of uncertainty — "Bored + Lazy" — with the punctuation a (plus) sign that there's a lack of commitment to real words. And when Ryan Spencer's dispirited vocals come in, he sounds somehow sick and tired of the real world as well.
But anyone who's been following this trio lately can tell you that this equation doesn't exactly add up. Jamaican Queens may sing about lethargy, but a relentless tour schedule (including two recent trips to Europe) is just one indication that they are anything but apathetic. This is a group that has seen le monde; mundane is the last word to describe their music. At the same time, travel hasn't allowed these boys to escape the exurban ennui that informed their first project, Prussia.
"Bored + Lazy" builds on the collision of Southern-fried trap beats with sad-eyed indie pop songwriting that made their debut album Wormfood such a welcome respite from winter's cold last year. But now the synths rattle a little harder, the drums show their debt to the club a little more, the guitars creep and crawl, and the vocals come smeared in Auto-Tune. On the whole, the production is caked with a layer of soot, and the lyrical material has gone from melancholy to morose.
It's a subtle but satisfying shift from Spencer, Adam Pressley, and Ryan Clancy, and it arrives right in time for the change of seasons. Let it score your Halloween party, but don't be surprised if "Bored + Lazy" lingers long after as a promise of more music to come. Listen to the track here and check out tour dates below:
October 23 – DMNDR CMJ Showcase – NY
October 24 – NYLON CMJ Showcase – NY
October 24 – Slumbo Loft Party – Brooklyn, NY
October 25 – TicketFly CMJ Showcase – Brooklyn, NY
October 25 – Saffron City Gym – Brooklyn, NY
October 31 – Emporium – Chicago, IL
November 8 – Old Tavern – Kalamazoo, MI
November 15 – Mahall's – Lakewood, OH
November 16 – Phog Lounge – Windsor, ON
November 21 – MOTR Pub – Cincinnati, OH
December 5 – Blind Bob's – Dayton, OH
December 6 – Double Happiness – Columbus, OH
December 8 – Rough Trade – Brooklyn, NY
December 9 – Black Cat – Washington, DC
December 11 – Palisades – Brooklyn, NY
December 12 – Strange Matter – Richmond, NC
December 15 – Pilot Light – Knoxville, TN
Comments