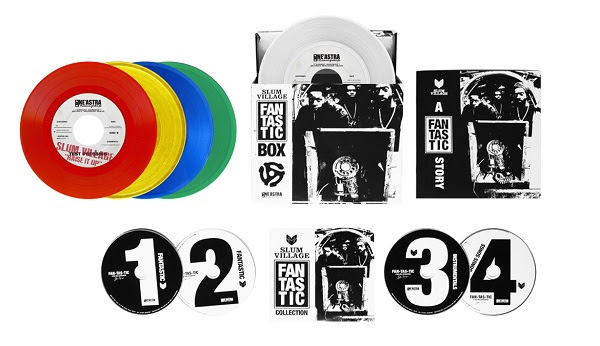 In the universe of Detroit hip-hop, the orbit of Slum Village swings wide. Made up in its prime of the late producer J Dilla and the heavy-hitting rappers Baatin (d. 2009) and T3, this incarnation of the group released two albums — Fan-Tas-Tic, Vol. 1 (1996) and Fantastic, Vol. 2 (2000) — to broad acclaim, before Dilla left both the city and the Village to pursue a major-label career.
Now, the Get On Down imprint plans to release The Fan-Tas-Tic Box: A Jay-Dee Production as a monument to this important legacy. The box set will include the original cuts of both aforementioned LPs, as well as two more discs that include selected instrumentals and some rare bonus tracks. Additionally, five 7″ records are rolled into the set featuring the singles "I Don't Know" and "Raise It Up" from Vol. 2 and the three exclusive singles "Fall in Love," "Fall in Love Remix," and "Players."
All of the material is bundled up with affection in a handsome flip-top 7″ box with rare photos and liner notes by music journalist Martin Caballero and contributions from the group's only surviving member, T3. Look for it in May or pre-order from Get On Down.
Comments