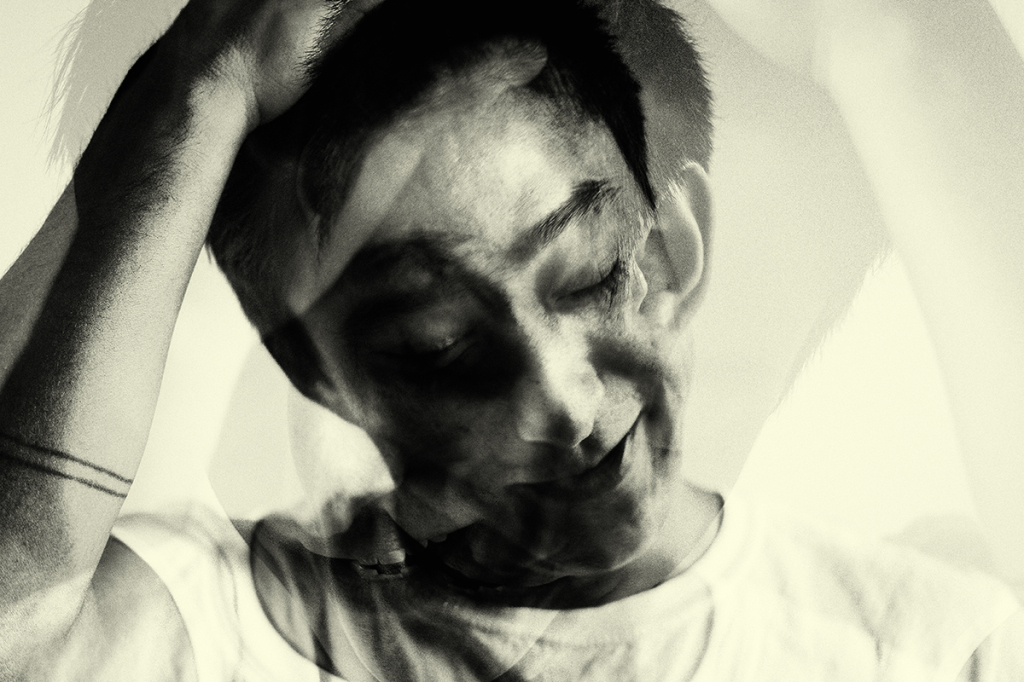 An Ann Arbor-native, but longtime Detroit resident and musician, Shigeto is one of electronic music's most intriguing figures.  
Shigeto (born Zachary Shigeto Saginaw) is able to practice musical exploration freely at his Rivertown Detroit, in-home studio. His label, Ghostly International (which has origins in Ann Arbor), boasts a long list of experimental, influential and pioneering artists, and a label-wide fondness for Detroit techno.
A regular consumer of Detroit enterprise, Shigeto eats at Supino Pizzeria, fuels-up at Astro Coffee and celebrates at Donovan's Pub. His favorite record store: Hello Records in Corktown.  
Shigeto's recent combinations of electronic elements and live instrumentation have cast his music towards the arena of composition, in its classic sense, and less towards techno. Shigeto's on-stage presence is distinctive, as he usually appears as a one-man-show. This challenging demonstration showcases any musician's discipline, confidence and ppreparedness
However, unlike most performances by Shigeto, his upcoming concert hosted by the Detroit Symphony Orchestra will be filled with improv, collaboration and organic proximity. It is only one example of Shigeto's relentless interest in broadening his musical reach.
Shigeto spoke with Detroit Music Magazine prior to his October 23 performance at the Detroit Symphony Orchestra's Max M. Fisher Theatre regarding Detroit's influence, writing a documentary soundtrack and his foundation rooted in jazz music. 
________________________________________________________________________
How is Detroit responsible for helping to shape the music you make?
Oh, man. So much. You know, I'm not from Detroit originally. I grew up in Ann Arbor as a kid, but my father is from Detroit. My grandfather also made his home there, so I was constantly there growing up. Whether it was family or something else. All of the major kinds of bands and stuff, if they weren't at the Blind Pig in Ann Arbor, they were in Detroit. The whole scene in general, I guess.
At first it was the jazz scene for me. I grew up in high school studying with Vincent York, who was based in Ann Arbor, but had a lot of ties with Marcus Belgrave, and Dwight Adams, and Rodney Whitaker, and all these Detroit-based jazz artists. Then, you know, the hip hop scene and growing up and listening to jazz, late 90s hip hop. Early 2000's hip hop. In high school I was super influenced by Athletic Mic League and Binary Star and a lot of these local kind of Detroit-centric scenes. There were different scenes. You know, Ypsi, Ann Arbor, Detroit… They were a big influence to me. They went off to, you know… 14KT is now a big producer. Mayer Hawthorne was their DJ… I just grew up surrounded by music, basically.
Ghostly, the label that I'm on, was kind of born in Ann Arbor, being mainly influenced by Detroit techno at the beginning. My biggest influence was my environment and my friends. Just as a young musician, growing up in Michigan, Detroit has been a huge, huge influence outside of just the family ties.
For a period of time you were living in Brooklyn. Obviously, there is a lot going on right now in the city – outside of music. Was there anything that stood out, or surprised you, when you came back to the area?
Oh, yeah. I mean, I was kind of watching the change the whole time. One, just because I was interested in it, but also because my brother had moved here. So every time I came back to visit him I would be in Detroit.
I remember going back when Slows was the first and only thing on that Michigan Ave. strip. It was like Chris Koltay's studio across the street, and he had been there. So, Slows is open, and like the one thing. My friend Daisuke Hughes, who runs Astro [Coffee], and my brother, ended up working at the Mercury Bar that opened for like four months. You know, like the first attempt at making that… The change is just crazy. [Laughs] It's exponential.
I just read that article about that guy in Berlin, who made Kraftwerk Berlin, may do Kraftwerk Detroit. It's like so fast. I am a part of it. I'm just kind of hang out. I'm at my studio doing my thing. I don't want to push anyone out of their homes and stuff. I've had ties here for a long time, but it's hard. You've got to see the good and the bad in it, I guess. It's changing so quickly, you know?
You last album, No Better Time Than Now, was recorded at your studio in Rivertown, and it was even mixed-down at Chris Koltray's High Bias [Studios]. So this album really introduced us to the heavy emphasis on a lot of your live elements, especially the drums. What can you tell us about stepping away from the in-the-box sounds, and transitioning to this live-centered setup? I'm assuming its also some of what we'll see at the DSO. 
Yeah, I mean… I guess what we're going to try to do is take that even further, to the point where we're just taking it backwards. [Laughs] I wanted to do something that was very specific for that setting, which is a setting where people are sitting. People aren't partying. They're there to have fun, but they aren't there to, you know… chat with girls, dance and get wild. They're only there to experience an hour and a half of music. And it's something that I really miss.
I grew up just playing jazz mainly, and I loved not being alone. I loved interacting with other people. And I liked the safety blanket that the spontaneity would carry. If you messed up, the crowd would see that the people on stage were smiling and interacting with each other. You know? I just wanted to recreate these ideas and these songs of mine… interpret them like a jazz quintet, essentially. It's going to be a mix of electronic and organic, but with no electronic clocks tying us. There's no Ableton or software running. There's no midi clock, or playing to a click. It will be a lot of electronic elements, but just played by people and live – with each other. So the tempos will fluctuate. It will get… it will be different. [Laughs] It will be different.
What will be the biggest difference for your setup during the event? 
It will be extremely stripped-down. It will just be drums, but it will be a lot more drums. Like, I usually just have a four-piece kit and this will be that with a lot of other percussion. Cymbals, chimes… basically all the stuff that I'm sampling in the studio. Kind of conducting. [Laughs] Then all these other elements will be played by these friends of mine.
It's crazy because it was a really sporadic idea. The DSO didn't approach me with this idea, they just wanted me to play. Then I was like, 'This would be the best time to do this.' So, I got these guys from high school, essentially. These guys I played with for years and years when I was younger. They are all musicians currently. They're still playing, but we're all in completely different scenes.
It will be extremely stripped-down. There's a chance I might have the MPD just to be triggering little things, but mainly that setup is within Ableton. So, it's all synced and everything is mapped out and all the tracks are there… and I guess the whole point is to like, strip that limitation away.
How does that compare to what you are working on in the studio? Is there anything we should be looking for in the future specifically?
So, the last year since the album came out was just a storm of shows and touring. I wasn't home very much. The last couple of months I've been back and I have been writing, obviously, the whole time. But I think I'm going to be taking my time for a next proper release. It will probably be the middle of 2015 or something. I might release a little 12-inch before the end of the year, or a digital something, honestly.
But I'm mainly working on a soundtrack, actually… It's a Detroit-based documentary. I think when you say that to anyone in Detroit there's a little bit of 'Oh, okay.' [Laughs] And I felt the same way when I was approached for it. But I really believe in this film. I really believe it's a special film. It's called Street Fighting Man. It's directed by this guy named Andrew James. We're shooting to hopefully do Sundance [Film Festival] and it's going to be finished up within the next month. I'm just finishing the soundtrack. I've been working on it consistently, when I have time, for the last year or so. So, it's been a really big project, which has taken up most of my writing time, but I don't really mind. It's a great thing to be a part of.
Also, there is a chance that the soundtrack will be released as a proper release. And then I recently recorded in New York with Dave Douglas. He's quite the incredible jazz trumpet player… an inspiration of mine. I'll be a member of his new album doing electronics and we'll be touring that group next year in the spring.
So you'll have some time before you begin that rigorous tour schedule again? 
Yes. [Laughs]
My time has been spent between all that and making a new album, but not rushing it, you know? There's a lot of pressure, because so much music is coming out at every moment. You feel like you've got to somehow keep up with it, but I think I'd rather just take the time and make some shit I'm proud of, I guess. [Laughs]
Comments