While I wait for my food and my dinner companion at the Cass Cafe, the soundtrack for our meeting is remarkably appropriate. Whoever's turn it is to pick the tunes is a massive J Dilla fan, cycling through Slum Village tracks and instrumentals from the prolific producer's wide array of projects. "Raw Shit" by Jaylib, one of my favorite cuts, emanates from the weathered speakers just as my guest walks into the restaurant. Perfect timing.
Nolan Chapman, a.k.a. Nolan the Ninja, has all the makings of a skilled and successful emcee. He's got braggadocio on the mic, selecting equally hard-hitting beats (often self-produced) to complement his swagger. He's a frequent collaborator, working with diverse creative minds to keep himself fresh and his fans intrigued. He's a great self-promoter, attracting an ardent fan base and coverage from the Internet's most respected hip-hop tastemakers. Above all of these things, he is wholly and unabashedly himself.
With a critically acclaimed EP from 2015, and the highly anticipated he[art] LP due this year, it's a surprise he had anytime at all to sit down and chat with Detroit Music Magazine. But Nolan the Ninja is just that kind of dude.
---
As far as being an emcee, because you're both a rapper and a producer, who are some people that you admire and look to for inspiration?
My music interest definitely started with my mom. She wasn't big on hip-hop…. She liked the, y'know, the clean rap. The Heavy Ds, like radio-friendly shit, but her interest lied more with R&B and neo-soul. So when I was a kid, I'm talking D'Angelo, Erykah Badu, Brandy, Heather Headley, Jill Scott, etc. So that's where I gained my musical interest in general. My cousin from California stayed with us when he was a teenager and his mom got into an accident. He was into hip-hop. He stayed in the basement, and I remember going down there, and his room was like decked out. He had the Lil' Kim poster with her kneeling for [her debut album] Hard Core, the Wu Tang video game on PlayStation, so he got me into the hip-hop realm. And I come from the West Side of Detroit, y'know in an urban environment, so you just embrace hip-hop by default. Growing up with your friends you would just rhyme while you playing basketball and talk about what's going on in the hip-hop world. I remember I'd seen dudes like fistfight over Jay-Z and Nas. [Laughs.] As I got older, I just got more into it. When I was younger, I played a lot of sports, but coach was frontin', so I was just like, "Man, fuck sports. I'mma do something else."

It seems like for you it was more of a social thing, like that's just the scene you gravitated toward and where you hung out. Some rappers come into hip-hop as a more introspective thing, like it's all they have, but you connected to the people around the scene first and got more into the art form.
Right, right.
I feel like most people trying to come up these days are putting out mixtapes like every three months or hopping on a bunch of features. Even the most popular artists right now, like Future or Young Thug, there's so much material coming out all the time. You've been active online for just about two years now, and you've got he[art] coming out as your proper debut album. How does your process of making material differ?
I just found an alternate way of going about things. Guys like Drake and Young Thug can drop a surprise album, and it goes platinum. But I don't have the juice, so it's like I have to be more strategic. You may not get a tape from me every three months, just one album a year or an album and a beat tape. It's just all about not over-saturating myself but still showing that I'm persistent.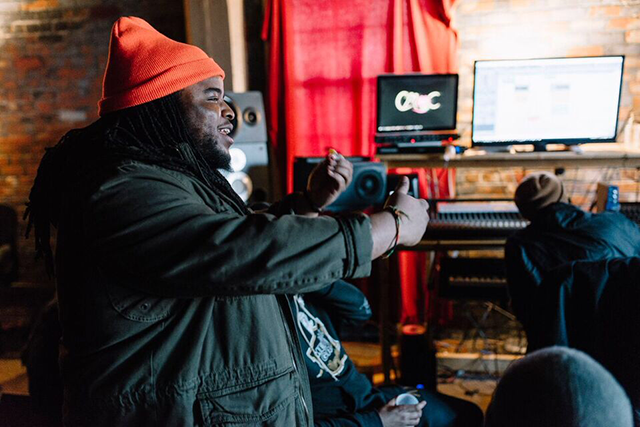 So it's more about creating something that worth sitting down and listening to, versus just shit that's already getting old because you have new shit coming out. What I see happening a lot is people putting out a mixtape or a song and it doesn't hit or go exactly where they want it to go. They have to try again right away.
I feel like people like that are just not in pursuit of the right thing, that are just seeking to be popular or get some quick fame. But I dedicate a lot of time to this, so if it hits, I want it to hit right. I don't want to sacrifice my morals just to get some quick instant fame, 'cause fans change every day. Especially nowadays when everything is so rapid, there's so much music coming out. It can be fun, because I like to listen to everything. And to be quite honest, sometimes it works for people like that. You've got the Desiigner kid who was like, "'Panda' is my first real song." Same thing with Post Malone. A lot of guys are coming out like that.
It's like they usually have some sort of gimmick though. Like Post Malone's got the white boy cornrows, Desiigner is like a mini Future that Kanye randomly put on his new album…
And I feel like sometimes people see that, and they feel pressured like, "I gotta make this shit happen."
Yeah, so I find it interesting when you come along, someone from the same era, but you don't feel that pressure or get a sense of achievement from instant fame. Rather, you get it from putting all your efforts into a more long-term project, trying to connect with listeners on a different level.
Right, I feel like it slowly pays off. Like a few years ago when I first started putting music on the Internet, I can honestly say that I've progressed. I can say that I'm able to get texts and phone calls from Royce da 5'9″ with him telling me how he appreciates what I'm doing. Apollo Brown, Guilty Simpson, Vinnie Paz, guys who I was only seeing on YouTube when I was in high school. Now I'm able to call them my associates or friends, and I can hit them up to be a part of my projects. I feel like the organic shit is gonna last, and I may not have a million fans, but the base that I have is definitely a blessing. It's a privilege. I can honestly say that Bandcamp has put money in my pocket. It's allowed me to travel a little bit and do shows. I even had the opportunity to go on tour, and even though it fell through… Just being in a position to be able to go on tour…
That's a good thing about the modern age, right? There are so many avenues and ways to make connections, to get opportunities like touring…
[J Dilla's "Alien Family" instrumental plays in the background of Cass Cafe.] I'm fucking with this place, cuz they playing Dilla, and this is one of my favorite Dilla beats. I like this joint. They were playing the live version of [Pete Rock & CL Smooth's] "They Reminisce Over You" when I came in. I was like, "What part of the game is this?!" [Laughs.]
Given your creative process, what do you say to people who think of it as a throwback, or maybe not as progressive?
Yeah, it's nostalgic, because how I do things and the music that I make is traditional, you know what I mean? But at the end of the day, I'm 23 so you know I'm not tryna be in 1994. I just make the music that resonates with me. And if that comes off gritty, raw, traditional, or some shit, or from the underground, that just what happens, you know?
Is it weird to hear someone describing your music like that?
No, it's not weird, because that's the root. I came up in like the '00s under the Soulja Boy era when the South was going on, but at the end of the day, I was that kid in middle school going on YouTube checkin' out the old Nas videos and everything like that. So that's the shit that resonated with me. And I feel like that's more of a serious route to take, you know, like I want to prove that I'm next. If you wanna be the best, you look towards the best. Like my favorite rappers are Nas, Black Thought, Redman, and A Tribe Called Quest.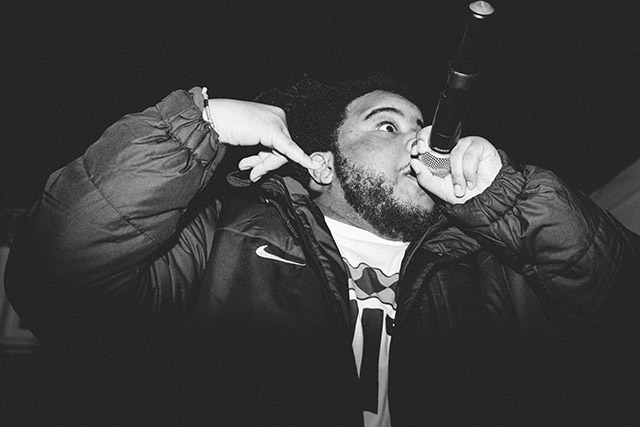 I want to talk about your production material as well. Which came first? Do you use beatmaking as more of a creative exercise when you're burnt out on rapping?
I started making beats out of necessity. When I started reaching out to producers, they was frontin'. So I learned how to make my own shit, and through that I had another creative outlet besides rapping all the time. So it's like… I drop an album, and after that moment dies down, I can hit people with a beat tape.
And you may spend a year working on material for an album, and once that's done, is it like a break [to make beats], maybe a little simpler?
True, but I bounce between both [at the same time]. Like right now I'm working on my project for next year, but in the midst of it, I'm still working on just beats. I was just on the computer randomly last night, and I ended up with something solid, and who knows where that'll end up? It's when the mood strikes. I can go weeks without writing and just makes beats, or weeks without making beats and just writing. As long as I'm creating, I'm great.
I listened to your tape lo-fi l∞ps. and a lot of your stuff is sample or loop-based. Are you pulling those from vinyl?
Yeah, I really dig at Hello Records and People's Records. Those are my two favorites. And I like Street Corner, but those two [Hello Records and People's Records] are my local stores.
Do you have a process you usually go through when you feel like making a beat?
It depends, like I haven't been digging… I can't really remember the last time I went digging. Once I started digging and going two or three times a week, shit started getting crowded in my room, so I had to slow down a bit. People call me up and give me a crate they don't want or because they're moving. If I'm driving around and see some on the curb I'll take it. I dig everywhere, man. But my process is simple. If I hear some ill shit I'll play it back and record it into the D.A.W. and just fuck around. Sometimes I lay the drums first, sometimes the chops… or sometimes I flip some shit in like five minutes because it's all premeditated.
I also wanna talk about your recent trip to Atlanta, because you were there for Dej Loaf's birthday party.
Yup, she was once part of the collective I'm in, Creative Minds Coalition, so we've been kicking it since the jump, and she's always been really talented. She still stays in contact every now and then. You know she's busy, she's on another plateau, but she reached out to invite us to this party. And it was crazy man, like that was my first industry party. I'm talking like open bar, and Jermaine Dupri is behind you trying to get a drink, or CeeLo Green just walked in, and a bunch of Love & Hip Hop: Atlanta cast. [Laughs.]
Was that your first time in Atlanta?
Oh no, no, no. It was my first time in a while. I went for A3C a couple years ago. I love Atlanta. I love the vibes and the change of scenery. I wanted to go and support Dej and celebrate her birthday and whatnot, but sometimes I just wanna get away from Detroit. That's why I love going to other cities. I just get tired of being here sometimes. I wanna go spend a week in another state, smoke some herb in a different climate.
Do industry parties like that entice you at all?
Oh hell yeah, I was mad inspired. Everyone was approachable, like Jesse Boykins was speaking to me and giving advice. Like everybody was cool, nobody was snotty, just mad inspiring. And just seeing Dej's party and the performers she was bringing out and shit… essentially made me wanna boss my life up. [Laughs.] Ever since getting back I've been writing, I've been on some new shit, the zone, you know what I mean?
Would moving someplace else enhance that sort of inspiration, or is it the short visits that get your juices flowing?
Right now I take it in doses. I'm Michigan-based, for sure. I truthfully don't see myself moving away any time soon. If I did, it might just be further north. But next year could be totally different, and I could fuck around and move to New Jersey on some other shit. [Laughs.] It's all in God's plan, I just got to be the best that I can be and figure out shit.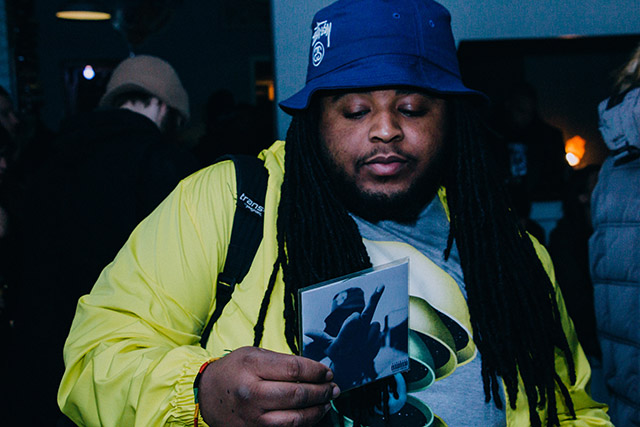 I definitely want to talk about your upcoming LP, he[art]. Is it going to be like an extension of your EP?
It's definitely an extension of the EP as far as the concept behind it, because the whole foundation is like being yourself, understanding yourself, understanding your worth, and believing in yourself to impact change. Don't be concerned with what's going on right now, don't try to make another "Panda" or "White Iverson," just do what resonates with you. You look at people like Drake or Kanye West — these people came out of the gate being themselves. Kanye always said people told him he couldn't rap, just make beats, and now people would die to have a Kanye verse.
My favorite Kanye quote is "Lock yourself in your room and make five beats a day for three summers."
And he did it. You gotta do shit like that. I'm hard on my team about that, like "Get crackin'!" A while ago a friend of mine said "Man, I don't even write no more, man…" And I'm like, "Bro, we gotta get this going! What you mean you don't write?" You don't know what opportunity could fall into your lap, and you gotta be ready and have them guards up every single time. You never know what's going to happen.
I feel like it happens like that more often these days. Like you're pretty well known locally, and you've got connections to Guilty [Simpson] or Royce [da 5'9″], but it's not like there's a ladder to climb to success. You gotta do your own thing, and maybe that Pharrell-type figure will notice.
That's why I want my album to be all about knowing yourself. Like even growing up and playing sports and shit, I was always a kid who was doubted. I had to prove myself a lot. There was one time, and I'll never forget this, it was the eighth grade and we were in like a Thanksgiving [basketball] tournament, right? So I'm on the bench because coach doesn't rely on me to be a starting five, right? Some kid gets injured or something, and so I gotta get in there because I'm next up. Throughout the game I score 17 points, and that's pretty impressive for the eighth grade! So I was just always proving myself and showing people "I can do that same shit you're doing, you ain't shit." [Laughs.] I use that same attitude towards my music. "I'm great at what I do, and if you think I'm not great at it… What you wanna do?" [Laughs.]
Right, and can you even call it success if you didn't put the blinders on and put in work, doing what you want to do?
Yeah, you gotta be confident in your own potential. And that's what he[art] is about. Ironically, he[art] was finished before f-ck the hype., so I've worked on it for a while. I feel like it's a great variety of certain shit. Essentially it all lies within that raw, underground feel, but I wanted to work with multiple producers. I only produced three out of the 16 tracks, whereas on f-ck the hype. I produced like four or five joints. So on this project I feel like I definitely focused more on rhymes. I was concerned more with the lyrics and the concept, because I knew I was gonna have this machine to back me up. And before I signed the distribution deal with Fat Beats, I told myself that I'm not gonna put this thing out until I got the right situation. And it's worth waiting. I didn't expect to put out that EP, but Left of Center, which is DJ Soko's imprint, he's a friend of mine and my DJ, was self-released. We put that out on our own. The momentum and attention it got was unexpected.
It's crazy how it happened. You get with a friend and put it out independently as a placeholder and thinking that the next thing is gonna be so much better. But then people recognize what you're doing and say "This is actually really good!"
I definitely can't be complacent, you know? I always wanna keep a level head. I definitely know some people that if they were in my shoes and saw the surprise success that EP got, they would've felt like, "Oh I'm good, I'm famous now and shit," but it's not like that, dude. You just lit the match, now it's time to put it on the stove. You gotta keep building, because like I said, all of that shit was unexpected. And again, I don't have any expectations for this album. I even recorded it before the EP, so I really don't know what's gonna happen.

Yeah… It's just crazy how shit like that happens.
It happens, man.
---
Nolan the Ninja's new album he[art] will be out July 1 via Left of Center. It will be distributed by Fat Beats on vinyl and cassette, and will also be available everywhere digital music is sold or streamed. Follow Nolan on Facebook for updates on new material and live shows.
All photos by Jack Beaudoin except final photo, which is by Trilogy Beats.
Comments