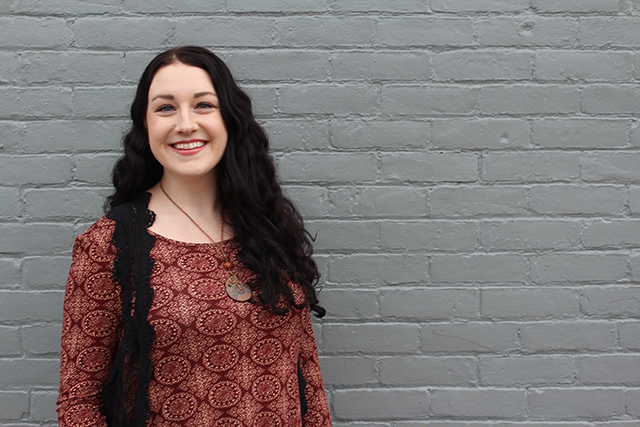 You know those people whom you meet, and you consider yourself lucky because you knew them before they were big? That's the feeling I've had about Madelyn Grant for the better part of the past decade. From watching her belt Adele covers to a sold out crowd in our high school auditorium to dancing with wall-to-wall people at a Chicago festival while Odesza performed "Sun Models," a track featuring Grant's stunning vocals, I've been lucky enough to follow her musical journey from its beginning.
In addition to working with Odesza, Grant has been featured on tracks with Emancipator and FKJ, seamlessly infusing her sultry soulfulness with their mellow electronica. Now she's embarking on a new journey, moving away from these dance collaborations and toward her first solo EP, Purpose. She previewed songs from the project at a recent showcase at Cliff Bell's, in a performance that proved that Purpose will be worth the wait.
I sat down to chat with Madelyn and managed to get through asking her about soul singers, being a woman in the biz, and her future plans before her infectious giggling derailed the conversation entirely.
---
Do you want to give us a little bit of background about yourself? When did you decide that you wanted to pursue music professionally?
I started taking music more seriously in college. I was in an a capella group, and I was gigging a lot with them. I [saw] that it's a more feasible career than people think, even when I was still kind of questioning how am I going to make ends meet if I do music? Seeing that people were supportive of me with music and writing music while it was new to me was encouraging. I think it was what I woke up every day wanting to pursue, and when you find something like that you need to keep pursuing it and keep chasing after it. Nothing in school was really clicking with me — classes were definitely not. The only thing I loved was the music aspect — improving, meeting up with other people, the feeling that you get when you're performing — was what led me to the next step of reaching out to people to pursue music further, which is how the Odesza thing came to be. That came out of nowhere.
I was actually going to ask about that. You're still so young and so green. How have you had the opportunity to work with all of these internationally known producers?
I listened to Odesza on my iPod every single day walking to class, and one day a Facebook post popped up on my News Feed saying they're looking for female vocalists. So I stayed up all night one night over Christmas break, and I recorded three little demos on GarageBand using my MacBook mic. And I sent them to them, and they responded. And I read an email at three in the morning, and I was freaking out. This was when they only had 7,000 followers on Facebook. I was like holy crap. Even though they were just starting out, and I was starting out, I knew then that my whole world was going to shift. I don't know how I knew it; I just did. It just gave me a new spark to go off of, and I feel like a lot of people get a lot of doors closed on them when they're first starting. But for me all these doors were opening, especially after the album was released. "Sun Models" was actually released as a single, and I was already working with FKJ, and it was just like all these low-key Soundcloud connections being made. Not that everything was going perfectly, but things were happening very, very fast. Things just kept happening, almost at an overwhelming pace. I would go to class, but as soon as I got done with whatever I was doing, I would be messaging people, listening to demos, listening to what people would send me, and that's kind of where I started experimenting with different sounds. That's how it all began.
What was the process like when you worked with these producers, and how does it differ from your approach now that you're embarking on a more solo endeavor?
With them, they would send me an instrumental track, and I pretty much would just produce all the vocals. I would start writing melodies and harmonies and the lyrics to it. Basically as soon as they gave it to me, I had full creative control, so I would rarely send it back and forth. I would send it to them when it was 75% done, and then they would say, "Cool, I like this section of the song. Maybe we can add a little build here?" But other than that, I would just take it and run with it. It's very different because I didn't meet any of [the producers] until I performed with them in person, so it was all done over email or Facebook. It was pretty crazy that I was building a career and a network all via social media and the internet and email. I feel like that's why technology has been such a huge part of how I've done what I've done. It's easy because you're just sending people messages. It's not like you're standing in front of them, auditioning. Producers are so chill about it because they want to make the best music possible so they'll listen to anything. There are open minds both ways. They have an open mind about working with someone who's just starting out, and I have to be open to different types of music-making.
It's different then what I'm doing now because now it's all in person. Not that I prefer one over the other, but it's definitely more of an organic process. There's something really beautiful about working with people that you're friends with. It's in the moment, and you're adding to a song or demo. And it's more fluid than when you're in a studio setting and you're recording things. It's more personal when you're creating with other people in the room as opposed to just doing it all by yourself, which I've really enjoyed, but I'm also learning how to enjoy being present and having your creative energies feed off of each other when you're working with other people.
It sounds like collaboration is something that's really important to you. It's how you've gotten this far. Have you considered working with a band instead of being a solo artist?
I've thought about it. I've been in band before, but it never really clicked because I was always matching someone else's sound, and now I'm trying to find and hone in on my own sound.
I've known you for a long time. I've heard you sing a lot of different songs, but what do you find yourself settling into now?
Now it's neo-soul, definitely. Obviously, my roots are in soul and jazz and blues, but I think I'm looking for a balance, something that's just natural. It's not me trying to be anyone else. Of course I'm influenced by classic soul, and I'm influenced by a lot of people now who are doing kind of the bluesy indie thing. Like Lianne La Havas, she influences me a lot. I would say the live instrumental thing and the post-production might have electronic components, but I don't want to be labelled as an electronic artist. That's not who I am. I'm a collaborator more than an electronic music-maker, if that makes sense. I'm a songwriter and a singer. It makes sense that people would pigeonhole me, but that's why I think that this EP is going to be really special because it's going to showcase me.
You mentioned that you have some soul influences and that you look up to Lianne La Havas. Who are some other artists that have had an impact on you?
Marvin Gaye, definitely. Especially What's Going On. Stevie Wonder, Donny Hathaway. For a while D'Angelo and Erykah Badu. Lauryn Hill. I listened to their music a lot when I was working on the FKJ tune. I think just keeping with those roots, but I'm trying to find more people I connect with that are modern. I think Eryn Allen Kane is a good example of the neo-soul genre. The music I always go back to is classic soul, so I'm trying to find my place in the contemporary music world where people are still influenced by all that music, but you still try to bring something new to the table.
Misogyny in independent music has gotten a lot of attention as of late. Have you had any experience with that now that you have been gigging and writing your own stuff for a couple of years?
Yes. I think the hardest thing for me has been people trying to take me seriously. It's been hard to gain people's respect as you're trying to juggle being a performer and an artist while also trying to handle the business side of things. As soon as people see that you're a woman trying to stand up for yourself, they try to take advantage of you. I don't want to project sexism onto myself, but I definitely think that I have been treated differently on tour and dealing with people's managers and lawyers within the music industry.
Do you think there's anything you, as an artist coming up, can do to change that?
I can respect myself and showcase that. I'm not trying to be someone I'm not. I'm trying to stick with that, and respect is a huge thing. Gaining respect by respecting yourself. That's a huge aspect of what I'm trying to accomplish.
What can we see on the horizon for you?
The music on Purpose is going to be a lot more personal. With the EP, the stories told can be subjective and relatable, but it's all very personal. These songs are my ideas coming to fruition, which I think is a very powerful launchpad. Instead of having someone produce a beat for you or have someone start with the chords, they start with me and my emotion and my mindset, and I think it's a huge deal because I'm just starting off with my own thing. I think more content and videos will start to come out. I hope to perform with more great local bands and build more of a local community. Who knows, maybe touring in the near future? It's all up in the air.
---
Photo of Madelyn Grant by Meta Stange for Detroit Music Magazine.
Comments