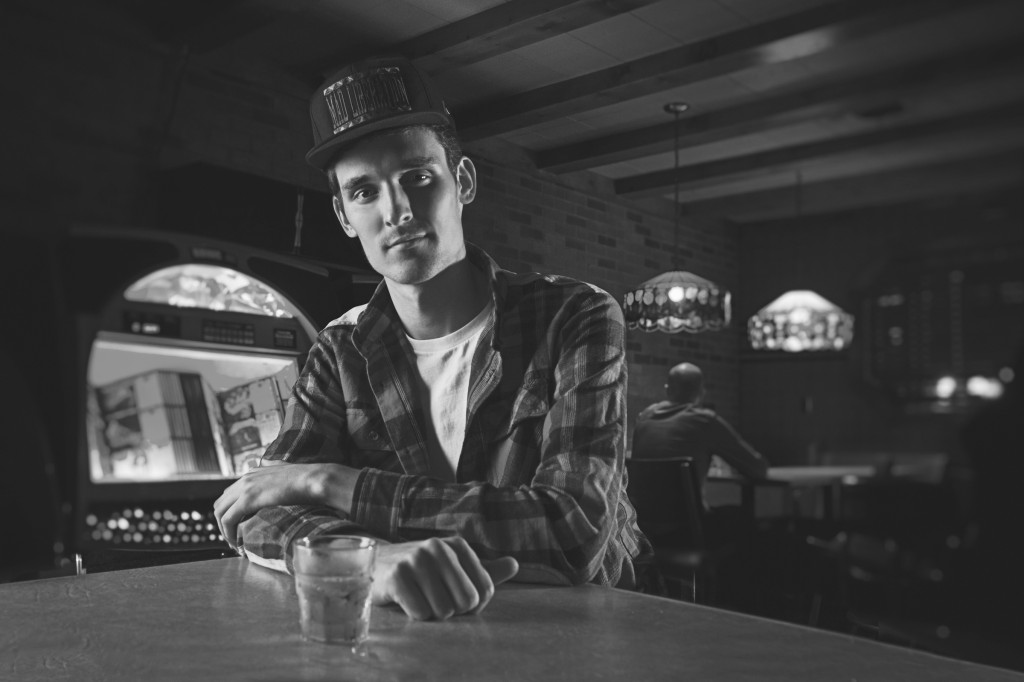 Detroit electronic artist/producer Grant Kwiecinski (aka GRiZ) is at the forefront of musical synthesis.



His mixture of electronically-produced dance music, jazz, blues, soul and rock has birthed an unrivaled signature sound, and a growing contribution to the digital-music community. The former MSU student has spent his recent years touring the country, releasing free music online and wowing audiences with his vivid live-performances.


At 23-years-old, GRiZ has become a master of electronically-inspired melodies, inventive instrumentation and circumventing the existing constraints of the music industry. In addition to manning his own controllers and computers during performances, GRiZ regularly incorporates the use of a jazz-rooted woodwind instrument – the saxophone.



Kwiecinski completed his Rebel Era tour last month, which promoted his newest online-release, and ended in Lansing, Michigan. Since that brief break, GRiZ has performed in New Orleans (NYE concert), in Colorado and at this weekend's Holy Ship!!! – a sea-dwelling electronic-music festival featuring Skrillex, Duck Sauce, Diplo, Boys Noize, Zedd, Baauer, A-Trak, Chromeo and others.



GRiZ joined Detroit Music Magazine for a discussion regarding his latest release Rebel Era, the preservation of Detroit's art community and his mantra of music-making.



__________________________________________________________________________



How was New Year's Eve in New Orleans?



It was awesome, man. I mean, there's fucking nothing like New Year's Eve in New Orleans: a place where you can take your drinks 'to-go. [Laughs]


Just before that, the Rebel Era tour wrapped-up in Lansing. Was it part of the plan to end at home, here in Michigan?
It felt like the best way to do it. I mean, it was not the biggest show on the tour, but it was definitely one of those shows I don't think I'll forget.
Absolutely. What is it, that is so special about Detroit's music community?
Well, to begin with, it was special to me just because it's home. Like I said, there's no place like home. That rings really true with me. For me, it feels like sometimes you play other places and you might be a little misheard, or people might not understand what the music's all about. Coming from a place where Motown records is from, and that whole stigma, I feel very much understood. I feel like a part of it. Maybe a new mover of it. So much of this new future-analog, you know, gritty, bass-hyper sound. I feel like we're trying to push it forward. Also, the Detroit music community as I know it as a whole, is segmented into all these different things. It's amazing that Detroit is the birthplace of, or at least the main proving-grounds for, all these types of music – one of them being Motown. Berry Gordy and all that shit. The other big one being the house movement. So, there is a lot of rich cultural-history when it comes down to the origins of stuff. Now, I don' think it's the most hopping scene as far as the current state of affairs. But at least in electronic music, which I pride myself in being very much a part of, people are taking electronic music in so many different, and amazing, ways there. There is a massive resilience that goes along with it, you know? Other scenes have so many people to go and support you and see shows. There is more of a larger thriving culture. Maybe a more successful musical culture, but the Detroit, Michigan music scene is undeniably the most rugged.
The art scene is pretty rugged too. You recently voiced some thoughts regarding the arson-attacks at the Heidelberg Project. What is your take on that whole conflict? 
Well, it's really hard to find other people's motivations behind, you know, committing arson. Especially to an artistic… what it was: protest. It doesn't seem like someone was like, 'Yeah, fuck the Heidelberg Project! Let's burn that shit down!' It just seems like it was random acts of people being stupid, and not understanding the culture that they are aptly destroying. There is this massive rift in consciousness I think I feel whenever I go home. A lot of these kids that are trying their very best to maintain and resolve culture there. Whether it be music, design culture, art, whatever it is… social. And then there are these people that don't worry about anything but themselves. Just a selfish desire to succeed. I don't know, in like a capitalistic, competitive way. I just don't know why someone like that wants to be confused and uninformed. More and more, people are taking to the streets with this shit and trying to spread awareness, so that stuff like this doesn't happen.
Where did your interest in the arts begin?
I played piano just because I liked music so much. No one in my family has a musical bone in their body, which is strange. When I was a young kid, maybe like three or four, my mom would play me this movie called Fantasia, which you probably know is Disney's, and the world's, first-ever, true visual and music combination. I watched it so many times on VHS that I burned the tape out. My mom bought me a new one. So, beginning with that, I just wanted to play piano, or play something. Then I chose to play the oboe in band. I couldn't tell you how stoked I was to choose my own instrument. It was like sex for the first time. Like, 'I can choose whatever I want.' So, I chose oboe, because I really wanted to play "Peter and the Wolf." I just wanted to play that one song. Then I found out it wasn't even the oboe. It was a clarinet. And, the oboe was an insanely-difficult instrument to learn, especially because it is a double-reed instrument. My mom was like, 'Pick a different instrument. This one sucks.' So, I chose to play saxophone, because there was a girl I had a crush on in the class. She played saxophone. And she was really good. She was in first chair, and I wanted to sit next to her, so I got pretty good. And then I got better than she got, so I sat next to her. That's the story.
What kind of saxophone do you play? What kind of reeds do you use?
I play an Andreas Eastman 52nd Street-version alto saxophone. With reeds…the 'go-to' is always the Vandorens. Their 2 1/2-weight reeds. They're made in Paris, France, and are just a really diverse-sounding reed. I have these jazz reeds. They're like V10s or some shit like that. I believe they're made by Rico. Shit man, they're the jam.
Well as far as your newest project, you gave it away for free. Is this a part of your musical philosophy?
Yeah, man. That's kind of it. I don't see why I should try to charge for music when I make enough money doing shows.
Listeners appreciate that.
Yeah, man. There are a bunch of other reasons why I do it. Reasons why it works and reasons why I'm going to keep doing it forever. Some of those reasons are, you know: you control all the content – always. You don't have to wait for somebody else to deadline. I can give it to them and they can't get it from anybody else. Like, I used to sell a bunch of weed in high school, and through college, so I could make money… to party. For alcohol and stuff. Buy new clothes and shit. It was always like, you want the person to come to you to get the weed, you know? You don't want them getting weed from anybody else. So, while I didn't always have the most competitive prices, I always had the best product. Same business model. Also, I feel like it's really strange to sell something like music. I'm sitting here working on this stuff, but it doesn't feel like work. Why should I have you pay me to do something I love to do?
Well the new album, Rebel Era, is a total hybrid. There are a ton of present musical styles. 60s, 70s, 80s, blues, rock, funk, soul and even jazz elements. Was this something that just happened, or was this something you created on purpose?
I think if I wanted to intentionally do something… I think it would have been a bit more focused. This was way the fuck all over the place. Sometimes I'm a little upset with that – with myself. I feel like maybe I should have created an album that was all one type of music, or something. It just comes man. You'll be working on some shit in one place, and you'll really be loving that. All of the sudden you add a new part and it's totally different from the first part. Then it works with a certain type of drums, like an R&B tune, but it's at 140 bpm.
The artwork for Rebel Era was done by Kilian Eng, who did the cover art for Mad Liberation. Do you two work collaboratively? How does that visual aspect develop?
The way it works with Kilian. He's just really fucking good. The texture of it. The analog-kinda vibe to it. The hand-painted look. In this escapist, dreamworld kind of thing. So, I just give him a few tips or ideas, and he gives me some drafts. It's that kind of process. Whenever you're doing a collaborative process, but you're working in someone-else's world, or someone-else's medium, it's best to let them drive and kind of watch.
Well, besides Holy Ship [Festival] with Skrillex, Boys Noize, Chromeo and all the others, what can we expect in the future from GRiZ?
Well, we've got another tour coming up this spring. Then we have a new record that will be coming out – a short one. It's more along the lines of straight-forward beats. Some more aggressive tones than we saw in Rebel Era. Some more DJ-able material, some might say. I'll be getting in the studio with some of the Daftone Records dudes. Spending more time in Detroit to write more music. [Laughs] In general, just creating more shit man. All the time.
Stream GRiZ's Rebel Era below:


Comments