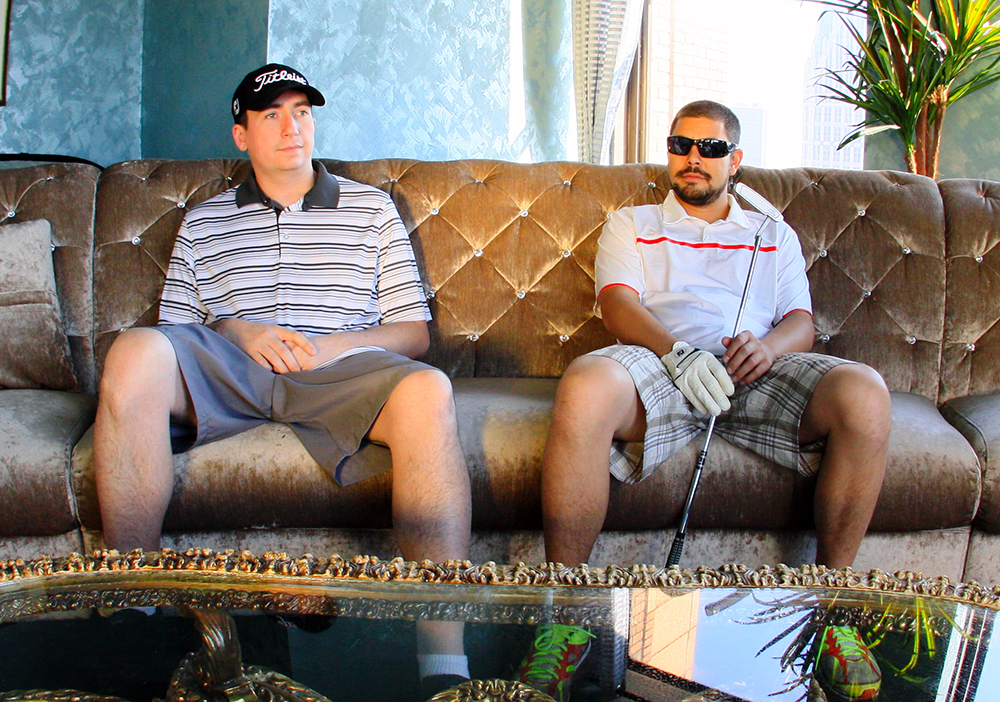 Golf Clap is a Detroit-based house duo that specializes in deep bass, after after-party soundtracks, and golf culture style.
Hugh Cleal and Bryan Jones have performed more than 150 shows within the last year, were awarded "Best Electronic Artist in Detroit" by former print-weekly Real Detroit Weekly in 2014, and are resident royalty at Ferndale's highly-acclaimed Grasshopper Underground electronic club. As the creators of "Lifeguard House" (music with 'bass so deep you might drown in it'), the two DJs/promoters are celebrating their first performance at Detroit's internationally-renowned Movement Electronic Music Festival.
In addition to their Sunday afternoon Movement set, Golf Clap is preparing to host a three-night Movement super-party at Exodus nightclub in honor of their freshly-announced record label – Country Club Disco. The label expects the release of multiple records this year, with standard and special edition vinyl pressings in-the-making.
Golf Clap spoke with Detroit Music Magazine regarding Detroit's late-night reputation, the group's signature sound, and teeing-up for Movement weekend.
___________________________________________________________________________
Golf Clap has played 100-some shows within the last year around Detroit. What makes the Grasshopper Underground venue in Ferndale, the area's local network of promoters and DJs, and the entire Detroit region such a special place to create and perform electronic music? 
Hugh: I know last year we played about 150 shows, maybe a few more or few less. I think that's just because of the long-standing tradition of the underground parties, all of the artists that have come out of Detroit, and obviously the influx of new people getting into it. It's made for probably one of the most fertile scenes of anywhere we've been just because of how many people are actually out and interested in dance music. Not just house music, but there are multiple scenes. You know, in Detroit, on any given day, there can be two to five different shows – all completely packed with a bunch of people. Also, a lot of international DJs are really interested in coming to Detroit, because it's the birthplace of techno. A lot of people will go out of there way to come to this city compared to a lot of other places. 
Bryan: As far as Grasshopper specifically, part of it's because both Hugh and I – this is what we do full time. One of the main things that we focus our efforts on are working at the clubs. There is a lot more time involved in getting the right booking and promoting properly. All those details. 
As both promoters and DJs, is it more difficult to be a DJ first and a promoter second, or the other way around? 
Hugh: They kind of go hand-in-hand. Any good DJ, at least to start-off… you don't go into this business with a manager, and an agent, and all kinds of promos. Detroit is a really grassroots type of city. The way the scene works, I feel like the people who have made it definitely have to have their hands in multiple things for a long time to have any kind of real success.
Hugh, you're from the Detroit area originally, but Bryan you're somewhat of a transplant from Indiana and you've spent a lot of time in Chicago. Being that Chicago is also deeply-rooted in electronic music, what are the major differences, in your opinion, between the two areas? Detroit and Chicago.
Bryan: Gee… I'd say Detroit is just kind of a crazier party scene as far as when the clubs close, you can find somewhere else to go. In Chicago it's like, 'Oh. The club's closed. End of the night.' And everybody goes home. Music-wise it seems like, in general, Chicago is a little bit faster. Hi-hats, Swee Lee drums and more sample-based stuff.
As far as the Golf Clap sound, it's a very sophisticated style of deep-bass. What contributes to your signature sound?
Hugh: As far as the production is concerned, it's a lot of classic stuff. A lot of Moog synthesizers, 808 kick, 909 drums, and soft chords. The real reason for the Golf Clap name and the whole switch was that we were both doing a lot of that Chicago-style, sample-based, 'house of the past,' and we wanted to have a new brand and a new identity for the deep house. At least in Detroit, there really was a big lack of what we call 'shower deep house.' There is a lot of super deep house in Detroit, but there wasn't a lot of stuff that was still really deep, but had a lot of bass, and was still really current with a lot of energy – where you could still play it at a headline spot. So, a lot of our stuff has to do with old-school UK garage basslines coming back into house. Just incorporating different kinds of flavors. I'm really happy because it's stuff I grew up on. It passed, but now that stuff is really coming back again. It's a good time in general. Everybody tries to stay true to themselves and the music that they've always loved, but it's also really awesome when the music that you love is very popular, you know?
The versatility of the Golf Clap sound is really unique. It's the kind of music you can turn way-down and just vibe-out to, as well as turn way-up and experience in a completely different way live. Is this something that you two have designed on purpose?
Bryan: Well when you play that many shows… out of 150 shows in the year, there's going to be 10 or 15 of them where it's just a bunch of kids that don't really know electronic music, and they would be listening to the radio if you weren't DJing there that night. Then 15 of them are going to be straight-up techno shows that we barely put-on, but we can make it work. We get to play all the little sub genres in there too. When it's close enough to our core style, we can kind of be a chameleon and fit in where we're at, but at the same time not totally candor to it. 
Hugh: A lot of earlier production, and the first body of work we did, was that one really deep sound. A lot of the mixes that we make are… Kind of like when you talk about DJing a room properly, a lot of the Golf Clap mixes are really deep, but when you think about most DJ mixes, most people are listening to those in their car or at their house. It's not a big, packed, screaming club. To play that room appropriately is to play deep music. We started playing all these headline spots, and promoters were like, 'Well do you play more bangin' stuff?' We kind of opened up the style of music to cater to the room we are playing to. Does that make sense? 
Yeah definitely. Whether it's the club, or the after after-party. 
Hugh: I would say the real Golf Clap flavor is the after after-party. Stuff that happens after two, three, or four in the morning. Stuff that is happening when the sun rises. That's probably our favorite stuff to play. As DJs we obviously love playing to a super-packed, crazy club too.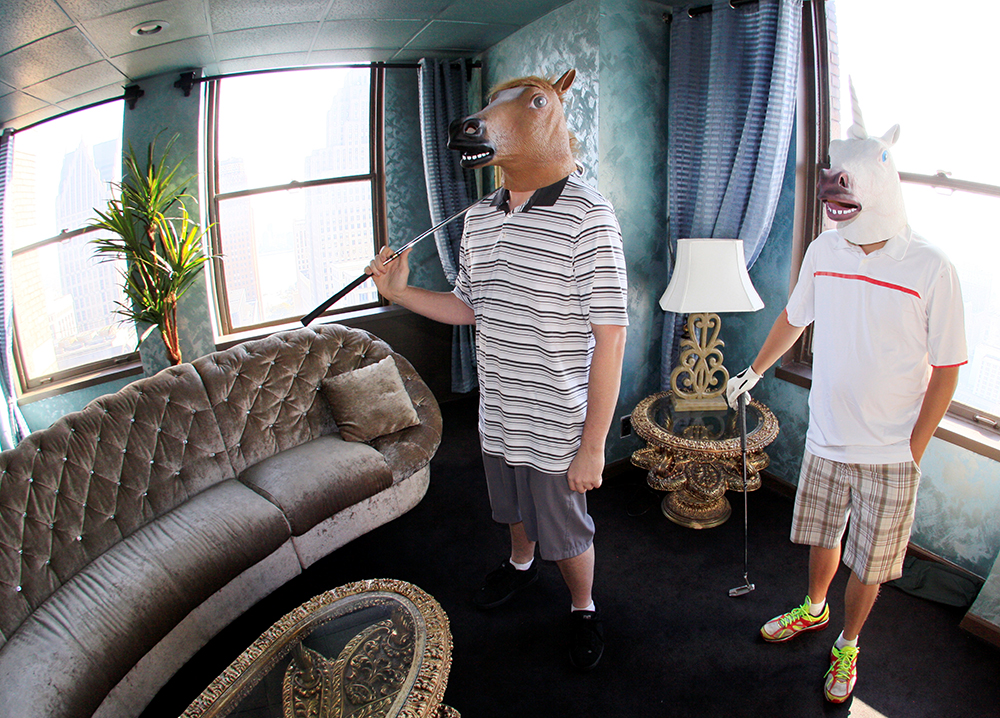 You two released a 24-hour mix in preparation for Movement Electronic Music Festival. Did this concept come from the same after after-party inspiration? 
Bryan: One day we were looking on Google to see how long [of audio] you could put on SoundCloud. It's like six hours and 45 minutes. So, we did a mix like that. It seemed to get a pretty good amount of feedback and people were into it. We were planning to do a Movement mix anyway, so we figured we'd make it even more ridiculous and see if it would catch anybody's attention.
In addition to your Sunday set at Movement, you're hosting a series of after-parties during Movement weekend – Country Club Disco & Friends. What can attendees expect? 
Hugh: We're launching our record label called Country Club Disco. It originally was an EP and then we started throwing monthly events at Grasshopper called that. When we came to the point where we were going to start the record label, it was just kind of the name that made the most sense. I'm a marketing guy, so I look at everything from a branding perspective. Even though the Golf Clap name was kind of coincidental, we've really taken it over.
There seems to be a clear theme focused on golfing culture going on.
We've tried to get everyone to dress up, named tracks after golf themes, and every time I go out golfing I post-up pictures. The whole idea for the 'and Friends' thing is throughout all the shows we've been doing at Grasshopper we've booked just about everyone under the sun. A lot of these people we've become pretty close friends with. So the last time Christian Martin came in, he was like, 'What are you guys doing for parties?' We just told him we had this idea. He was like, 'I'm down. I want to get into this.' We just started hitting-up all of our friends from out of town, started booking, and put it together where there is a family aspect to it. You know, Movement is about trying to hang out with your friends and stuff like that. We figured we'd book all these people at a party, so wherever we go and wherever we're at during the day – we all know we're going to meet up at this one spot and get to kick it for the night.  
________________________________________________________
Golf Clap performs at Movement Electronic Music Festival on Sunday, May 25, from 2pm – 3pm at the Made in Detroit Stage and Exodus nightclub May 24-26 following Movement performances.
Comments