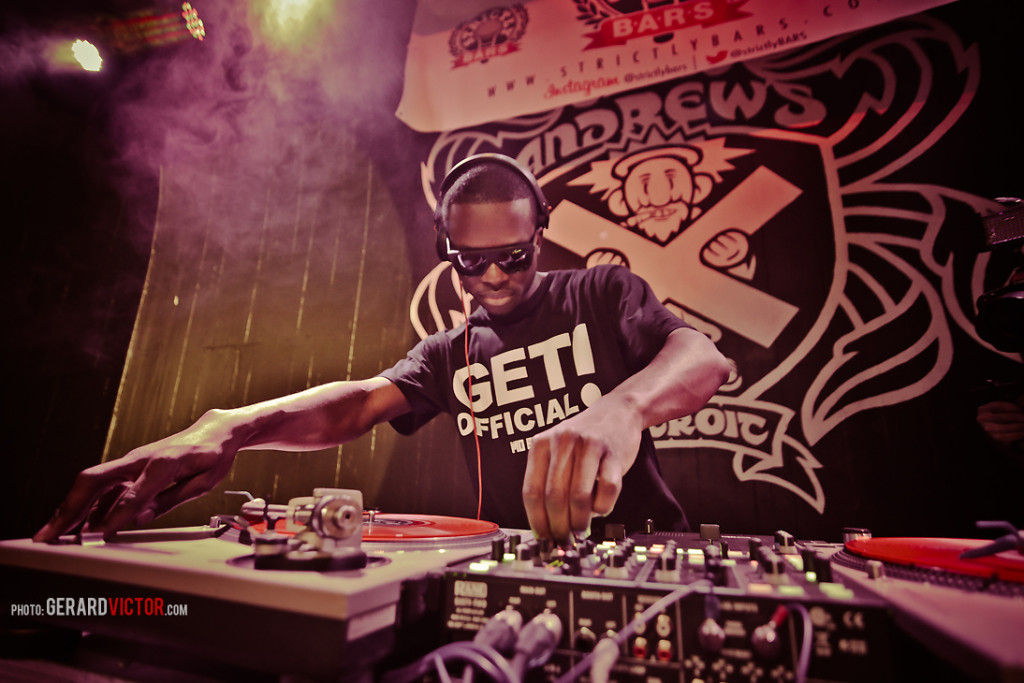 DJ Mo Beatz is Detroit's faction of the infamous Heavy Hitters DJ crew. He is most well-known for his turntable dexterity, his long-time position at Detroit radio station FM98 WJLB and his role as Big Sean's official DJ.
The well-traveled DJ's daily show on FM98 WJLB accompanies Detroit's rush hour traffic: the Free Ride At 5. Mo Beatz's participation with the station began with his high school talents and college party performances, but has produced a new leader at JLB's turntables.
DJ Enuff, Notorious B.I.G.'s tour DJ, took interest in Mo Beatz and eventually invited him to become Detroit's representation within the Heavy Hitters DJ squad. The collective includes DJ Enuff, DJ Lead "King of Japan," DJ Infamous, DJ Eddie One, DJ Precise and many other accomplished DJs wordwide.
After throwing countless events in affiliation with Detroit's Finally Famous collective, DJ Mo Beatz was appointed as Big Sean's official DJ. In conjunction with Big Sean, DJ Mo Beatz has traveled internationally: performing through North America, Lebanon, Dubai, Europe, Africa, New Zealand and Australia. 
Big Sean's Hall of Fame tour has ended after months of worldwide travel and performances. DJ Mo Beatz spoke with Detroit Music Magazine to discuss his recent tour with Big Sean, his reign at WJLB and his Michigan house-party roots.
_________________________________________________________________________
Take us back. We're at Martin Luther King High School in Detroit and you are pounding beats on a lunchroom table. You're DJing at your assemblies and school dances. Was this the time you realized you wanted to pursue a professional music career?
[Laughs] You know, man… actually, I realized that's what I wanted to do in eighth grade. My eighth grade teacher was a DJ, and back when I was in middle school I already played a few instruments. I played piano by ear, I played saxophone, clarinet, drums… so I was already musically inclined. I would see him DJing at all of the dances and I was like, 'Man, I want to try that.' Once I was in high school I pretty much begged my mom for a year straight. You know, I was really into it and really wanted to try it out. Well, she saw that I was serious and for Christmas in tenth grade she got me my first set of turntables.
Do you remember the model?
They were Stanton STR8-80s, I believe.
Not quite the same as the Stanton 1200s you use now.

[Laughs] No, no, no. Those are definitely something you graduate to… those are about $1000 apiece.
Using turntables now is almost a lost art. How does that setup contribute to the Mo Beatz sound?
Yeah, definitely man. I started on turntables and I still use turntables. I like the sound of that, because in terms of technical stuff, like scratching, there are certain things you just can't do with CDs or using solely a computer. It definitely contributes to my stuff sounding the way it does. It allows me to do some things that I wouldn't necessarily be able to do if I was using different equipment.
You spent a lot of time perfecting that sound while you were attending Eastern Michigan University. What can you say about your time DJing parties in Ypsilanti and Ann Arbor?
Oh man, yeah! Those parties and that whole scene pretty much helped to mold me. That was the place where I was doing the majority of my work at one point. I would have a Kappa house party every week, or I would do events over at U of M, or stuff in Ann Arbor or at Eastern. Then I started to branch off when I started to do stuff at Oakland University  Then it was Michigan State. So, yeah man. Those years were really when I was getting around and doing parties, getting my name out there a lot more. I had started doing work for the radio, so those years were really, really important. They really helped me out.
Well you're obviously a big part of what's going on at [FM98 W]JLB now. You grabbed the attention of Kim "The Spin Doctor" James when you were pretty young.

Yeah, yeah. Actually, it was Kim James, along with Big Dog Blast. This was back when we had a DJ battle back in high school. It just happened to work out like that because Kim James' dad is the swim coach at [Martin Luther] King High School. [Laughs] So, they worked it out so he could come through to judge the DJ battle. The day we had the battle it was Kim James, DJ Fingers and Big Dog Blast. So, Kim and Big Dog Blast kind of took notice of what I was doing, and kind of took a liking. I connected with them and stayed in touch over the next few months and ended up getting guests spots on the radio. If it was Thanksgiving, or Christmas or whatever I would come in and do an hour or so. They definitely helped me out. They looked out when I was young and coming up. Now it's like… I'm right next to them. They went from guys that I once looked up to – to being my peers.
Especially with the Free Ride At 5 being your show.

Yeah, definitely, man. I started off just doing guest spots, but then I got a spot where I was on every week. I would do Friday nights and Saturday nights after the club. I would be at the radio from like 2 a.m. to 3[a.m.]. Which, at the time, was cool, but I slowly realized I was trying to do more. They realized that I had more going on, so they put me at the bottom block and it's been great ever since.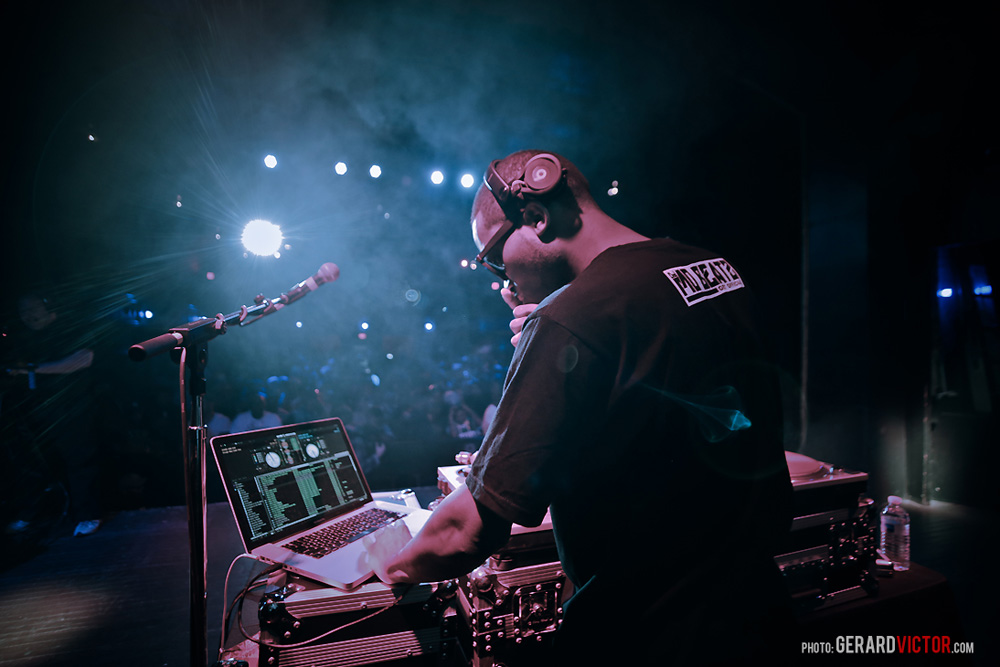 That doesn't seem like a typical Monday through Friday schedule.

It really depends. My schedule is so random in terms of traveling. If I am in the D, I may come an hour beforehand. Get there at four o'clock and just chill. Maybe hop on the computer, check my email, check out some new music… see what I want to roll with in terms of the mix. I don't have a playlist or anything at the radio station. They don't say, 'Hey, play these certain records within the hour.' I normally play the hits anyway. So, I just play a couple of new tracks within reason. They're pretty lenient in terms of what I play. Nothing is pre-planned. Really, I just go off the top. [Laughs]
During the Free Ride At 5 mix, there seems to be some very local music being showcased. You must have a strong interest in the local hip hop community, because a lot of the tracks that get thrown in there are definitely from Detroit artists.

Yeah, yeah. I mean, it's only right for me to help expose local talent. I have a big enough part at the radio station to where I can play new music, and if it's something I'm confident in and I'm like, 'Okay, this is someone from the city who is really trying to do it, or already might be doing something on a certain level,' it won't hurt for me to help it out if I believe in the process. Yeah, if I get some local music, and I really like it, I'll definitely give it a chance on air. Sometimes I'll play stuff on air at five o'clock and DJs will hit me up like, "What is that? Can you send it to me?" Just from me playing it one time.
Besides Big Sean, do you have any local favorites right now? Detroit hip hop acts have been releasing all kinds of records within the last two months.
Yeah, yeah. Definitely man – I agree. I would say, right now… Dusty McFly… A-DuB, Young Roc… SAYITAINTTONE… like I said, there's a lot coming out of the city man.  Actually, another guy who's from Michigan: JMSN. He's a super, super talented dude.
Well the Finally Famous crew has shown Michigan a lot of love with Big Sean's Hall of Fame tour. You stopped at DTE [Energy Music Theatre] in late August, had a show in Mount Pleasant last month and then, just recently, you performed at Eastern. What was it like going back to your alma mater for a show?
It was pretty cool man. The timing was interesting, because we had just recently had the show over at DTE, which was super crazy. At Eastern, it wasn't even supposed to be as big, because it was just supposed to be a college show. But with it being so close to Detroit, it was kind of different. It felt good going back to Eastern though. It made me remember going to different events and being at the Convocation Center, or being on campus, living in Putnam Hall, going to the library… it was just a bunch of memories and stuff that came back. I was like, 'Man, now I'm on stage and performing for the kids that go to this school.' It was a pretty good moment man.
Now that the Big Sean tour has come to a close, and you have a couple of months off, what can we expect from DJ Mo Beatz?
I'm just working on a lot of things man. On the production tip: I'm getting my production up. I'll be in the studio heavy, just learning…. I'm just trying to come with a whole different vibe than the hip hop/R&B stuff people might be used to hearing from me. I'm trying to tap into a whole different market. As far as production, we're putting together different tracks, in comparison to guys like Flosstradamus, DJ Slink… there's a group called TWRK… we're doing stuff like that. Trap, dance, remixes: all that. One of the guys I really look to is A-Trak. Of course, he was Kanye's DJ at one point, but now he's over at Fool's Gold Records. His story is kind of similar to what I'm trying to do. He already had is own stuff going on. He got with an artist that was doing really well, then he branded himself to do other things. That's kind of the road I'm trying to go down. I actually have the privilege of being able to call him and talk to him about different things… ask questions. But, for what I'm trying to do there is no blueprint. It's all trial and error. Just gotta do different things and see what works.
Comments