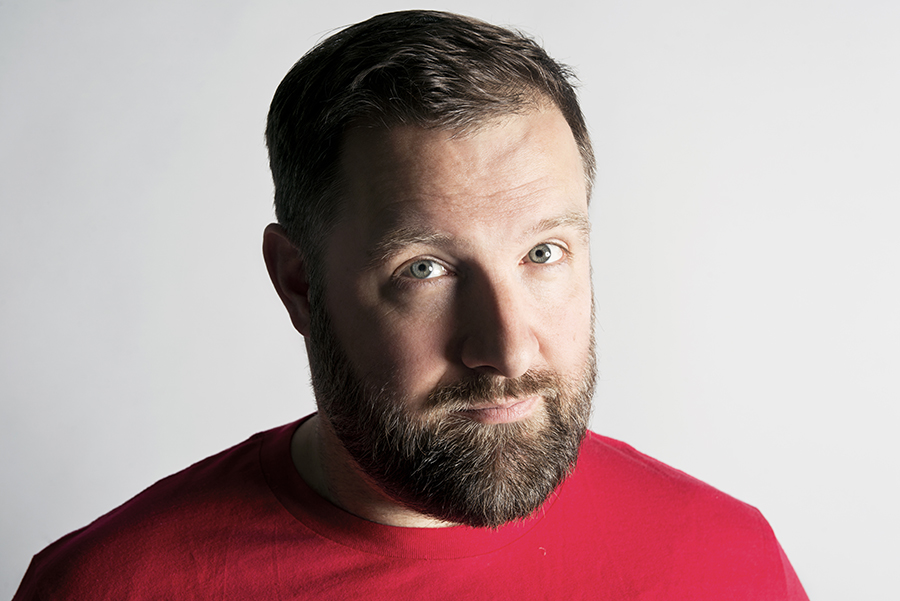 With the symbolic end of summer only one week away, a deep nostalgia sets in. One can't help but to reflect back on the start of summer and, more specifically, Memorial day weekend at Movement. The festival celebrated its 10th year as Movement (originally started as Detroit Electronic Music Festival in 2000), while Claude VonStroke and label mates celebrated Dirtybird's 11th anniversary. Billed as the "secret guest" at The Movement afterparty Who's Afraid Of Detroit? – it was no surprise when VonStroke took stage to close out the night.
Luckily, fans can relive these cherished summer moments as Dirtybird returns to Detroit for the second annual Dirtybird BBQ. After a year hiatus, the two-day BBQ takes place on scenic Belle Isle. This year's event also features some Detroit artists making a name on Birdhouse radio and beyond. Detroit Music Magazine sat down with Dirtybird boss and hometown hero Barclay Crenshaw, aka Claude VonStroke, before the "Double D BBQ" to discuss the past, present, and future of the label.
---
We're so glad to have the Double D BBQ return to Detroit this year. What made you come back to Detroit and host it at Belle Isle?
Well, this is a case where the venue was an opportunity that was too great to pass up, if you know what I mean. We were talking about which city to do it at, and we usually do change the cities around. So last year we didn't do Detroit. We did Chicago, which we had never done before. But we were talking about coming back to Detroit, and I was like, "I don't want to go back to Detroit and do it in the parking lot of the Masonic [Temple]." Then our event person said that she found the people at Belle Isle. I said, "If you get Belle Isle I'm doing it 100%." She said, "I can get it." Then we were like, "Lets do it for two days. It'd be totally insane."
Last year's Dirtybird Campout, which had an amazing response, established itself as a truly one-of-a-kind festival with field games, tournaments, and arts and crafts. Can we expect any of these side events at the BBQ this year?
Yeah, it's not gonna be the same level as that.. because I can't afford it. [laughs] There are gonna be games, like a best-in-show… Like whoever comes up with the best outfit, and there'll be like a little carnival. Cornhole and things to do. And we have real BBQ this year, so its not just like the little hamburgers we were giving out for free. We have Slows [Bar-BQ], so its a little bit more amped-up than before.
This is a very big year for you. You just celebrated the 10-year anniversary of Who's Afraid of Detroit. Over the the past decade, how have you seen Dirtybird grow?
Well especially in America, it has probably… we were really small in the beginning. We're not like the guy who just made a track and then went straight to the top, you know what I mean? So, because we had to kind of grind it out every year, like each rung up the ladder, we created a much more grassroots fan base that's more of a real fan base. If that makes any sense. So we don't just have a hit track that's on the radio, and now were playing a huge commercial festival. It's like the opposite of that. [laughs] It's like, lots of little wins for a long long period of time. That's pretty much how I see how it happened. Now we're kind of getting to the point where at least most people have heard of us. They've listened, so we're able to start doing some things that are more interesting and fun.
You guys have curated stages from Shambhala Music Festival, to Hard [Music Festival], and you were even the special guest on Holy Ship! 
Even that example is a good example of what we like to do. We'd rather do a stage like Shambhala, which is a really organic, family-vibe kind of experience.
You recently started performing as Barclay Crenshaw, your real name, can we expect anything different from this project?
Yeah, it's gonna be totally different! It's, kinda hip hop… God, what is it? I don't even know how to explain it. It's like a mixture of a bunch of influences. Maybe hip hop, jungle, to low-end theory, DJ Shadow influences. A Tribe Called Quest influences. Dilla influences. All kinds of interesting influences, but its more. It's definitely not house.
You're still playing as Claude VonStroke as well, and you have an entire new music set at the Dirtybird BBQ. Can we expect any Barclay Crenshaw tracks during that set?
No, the two names are not gonna overlap. Actually, I'm not even gonna start DJing as Barclay Crenshaw until October, because I have to create a whole show to go along with the project. Yeah, so the first day I'm playing all new music and then the second day I'm playing a history of Dirtybird recap. So it definitely won't be same thing if you go both days. I'm not just cranking out the same kind of stuff.
Is that going to range everything from 2005 to 2016?
Yeah, but there's no way I can be able to even get close [to everything]. It's like thousands of tracks I'm trying to play in an hour and a half.
How has Detroit influenced Dirtybird, and how do you think Dirtybird has influenced Detroit?
Well the first one is easier to answer. I went to San Francisco from Detroit, and I really liked the open creativity, like crazy-guy, loose vibes of SF, but what they were missing was the little bit of like gritty edge from Detroit. I actually think that's how the Dirtybird sound came out of San Francisco, because we kinda took this house that was already going on and put a little grit on it. The second part of the question is harder to answer, because I don't live in Detroit anymore. I think that people like that, the fact that it kinda started there.
You've booked artists like Monty Luke at this year's Campout. You've booked Golf Clap for the BBQ this year, who just had a mix on The Birdhouse. Are there any other artists from Detroit that you have on your radar?
Yeah, we also booked this guy Marshall Applewhite. He's playing the Double D. We just added him.
How did you find about him?
J. Phlip. She said, "You gotta listen to this. We have to have him at the BBQ." I'll tell you, we have a lot of mixes on The Birdhouse radio show. His was definitely one of the most interesting. I think he's sent us a bunch of demos, but I haven't had a chance to check them out yet.

Anything else we can look forward to in the future? Green velvet is on the Dirtybird Campout lineup. Can we expect a Get Real set or any future collaborations?
I cant talk about it we have all these restrictions. I can only talk about certain things. It's crazy! We will be back in Detroit. That's all i can say. Who knows what we're working on? But I don't think there's gonna be a Get Real set at Campout just because literally every second is accounted for on the schedule. There's no music going on in duality. You never know, though. That might not be able to continue. [laughs] If this festival keeps working, eventually we're probably gonna have to add a second stage. You never know. There's lots of cool surprises, so don't worry. I think that once people see this location, they're gonna freak out. I don't think anyone has done a party on this particular spot.
---
Two-day tickets for this weekend's Dirtybird BBQ are available for purchase at Dirtybird BBQ's official website.
Comments