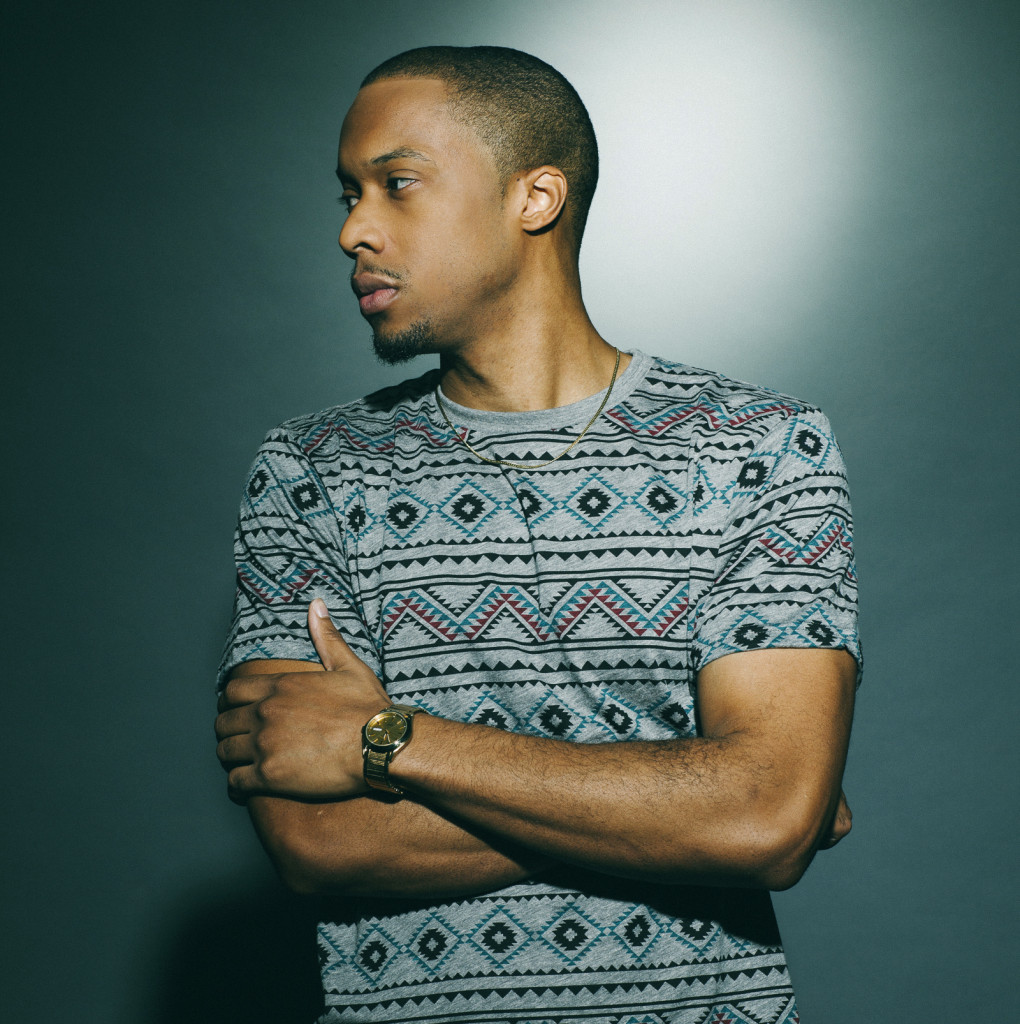 Black Milk is Detroit's super producer.
Beginning with a production credit with Slum Village in 2002, Black Milk has become an international name in the world of production, lyrical composition and artistic collaborations.  
Black has worked with Detroit artists such as: Elzhi and Slum Village, J Dilla, Nick Speed, Phat Kat, One Be Lo, Will Sessions, Guilty Simpson, Quelle Chris, Danny Brown, Jack White – and many more. His evolution of sound can be traced through his solo discography, ranging from stripped-down record sampling, to vivid live instrumentation.
Black's latest release, No Poison No Paradise, is a contemporary revisit of his earliest techniques. This unintentional "back-to-basics" features progressively-reflective production, lyrical prowess and an elemental narrative throughout.     
Black Milk spoke with Detroit Music Magazine regarding his latest release, his newly-founded label Computer Ugly Records and his upcoming European tour.
_______________________________________________________________________________ 
You recently returned home for your No Poison No Paradise performance [October 16] with Boldy James, Clear Soul Forces and Quelle Christopher. Did you plan to be in Detroit the day following your album's release?
Actually, it wasn't planned. It was just a coincidence. I definitely wanted to be in Detroit after the album. Fortunately enough, I got to do Detroit right after the album. That was perfect timing. It was a great show. Great turnout. I was a little nervous at first. I knew we were competing with the Tigers game across the street. [Laughs] I was like, 'Aw, damn. Everyone's going to either be at the bar watching the Tigers game or going to be at the Tigers game.' But yeah, everyone came out and it was so much fun to be back home to do a hometown show. I haven't done a solo, hometown show since my release for my previous album in 2010. It was good to come back.
Let's take it back to 2006. You have your MPc 2000 XL [sampler], Avid Pro Tools, the Microkorg KRK speakers – during your work with Slum Village, Pharaohe Monch, Loyd Banks and Nick Speed. What equipment do you still have in the studio, and what have you retired or changed?
It's funny man. I'm not on the [MPC 2000] XL anymore. I'm on the MP still, but I'm just on a different version. I'm on the 3000. It's funny, because it started stripped-down with records and drum shit. Then around the Tronic time, like 2008, I was doing a lot more live instrumentation and adding that to the production. More synth, keyboard… Other producers and artists were being incorporated into what I was doing. Around Tronic / Album of the Year that's when I was collaborating with a lot of people on the music and the production. Then with the new stuff, No Poison No Paradise, and even Synth or Soul, it was stripped-down like when I first started. My setup is just the MPC and the records. And a lot of that has to do with the move I made to here in Texas. You know, I left a lot of stuff at the crib. [Laughs] I was kind of forced, in a way, to create something with a more stripped-down setup. It was actually dope. I had to be a little more creative, because I didn't have as much access to the stuff I normally have access to back at home. So, to answer your question, it kind of came back around to just the drum machine and the records.
You're known for your sampling, but you're just as recognized for your collaborations, especially with fellow Detroit artists. You've worked with J Dilla, Nick Speed, Guilty Simpson, Elzhi and Slum Village, Danny Brown and countless others… including Jack White in 2011. What was it like working with a fellow Detroiter from such a different genre?
Well, he reached out and we didn't think it was him at first. Like, 'It's a prank. Jack White is not hitting me up to collaborate.' [Laughs] Once we figured out it was really real, you know, that was kind of crazy and overwhelming. We wanted to work and he was telling me he had always wanted to collaborate with a Detroit hip hop artist, but he couldn't really figure out who would be the right person. When he came across my stuff he thought it would be right, especially since I was a producer also. We could meet in the middle. So yeah, we went down to Nashville to the studio. Me and my band collaborated with them. Just got in the studio and started jamming out until I heard something I wanted everybody to keep doing. You know, I was kind of directing everybody where to go with it. I let the guys jam, and if I heard something I would tell them, "Yo, keep playing that over there. Keep that groove. Keep that bass line." Even telling Jack, like "Keep that guitar riff." It was kind of crazy man. Especially to be in control of what was going on, with a talent on his level. The tape – they jammed out a long time. They edited a lot out for the sake of the record. It was a great experience.
Detroit is a well connected music community. You would think there would be a big red phone that connects all the hip hop artists in Detroit together. How is it that Danny Brown, Boldy James, Guilty Simpson, Eminem and you – all released albums within the same month?
[Laughs] That was a first. I don't think anything like that has happened with that many artists. I mean, it was cool, because it seemed like a lot of music fans took notice to how many actual Detroit artists are doing their thing right now. Sometimes everybody gets mixed up in the bunch. There are so many hip hop artists all over. To have a group of artists from a certain region to all drop project, like you said, within a couple of months' time – I think people notice like, 'Damn! Detroit coming with the heat!' [Laughs] I think people took notice. It was a crazy coincidence. I think it's looking up for Detroit hip hop even more. I feel like this is the first time I've seen Detroit artists create a presence like this. Within the next couple of years I think we will really see it. There is a lot coming out. A lot of dope artists in "the D". Underground, mainstream – whatever.
You had a limited-supply release in April for Record Store Day, titled Synth or Soul. There were only 1000 copies produced, and the tracks were half electronic-based, half soul-inspired. What made you split the record this way?
It started with the collaboration between me and this visual illustrator Upendo [Taylor]. Him and I kind of started a group, basically, called Fuzz, Freqs and Colors. His art is influenced by what I do musically, and vice versa. I am influenced by what he does visually. So, we kept going back and forth for a couple of years. I'll send him some beat CDs to check out, or just vibe to while he does his art. You know, he'll send me some art stuff to look over. Eventually, after a year or two of stuff going back and forth like that, we thought of the concept to put this out. You know, music inspires art, and art inspires music. Synth or Soul was the first concept out of this series that we're going to continue to do. That's just the first to come out of the series.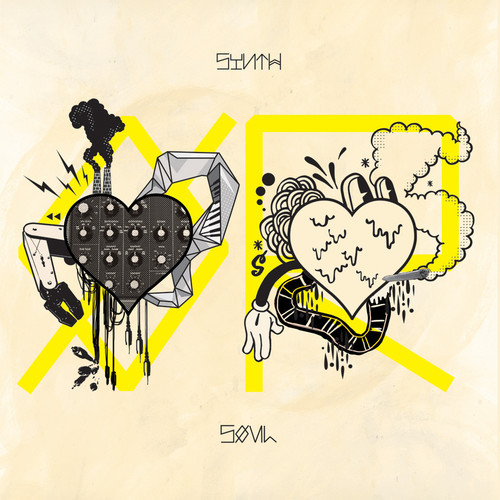 That album basically marked the birth of Computer Ugly Records.
Right. Yeah, actually that's one of the main reasons why I started it. I was like, 'I got this concept. I got this project. Do I want to take this to a label? Should I just put it out myself?' Clearly, I decided to put it out myself. That sparked the beginning of the creative house Computer Ugly. That instrumental project sparked the creative brand to put it out on, you know. Now I have a label. [Laughs] So I will continue to push some more stuff through that label throughout next year.
As far as your latest album, No Poison No Paradise, it feels like a contemporary approach to a "back-to-basics" of sorts. Is that accurate?
Yeah, kind of man. It wasn't such a conscious effort though. It was just kind of the place I was at creatively. It started off with me just making production – going back to that MP. Like I said, me not having access to the people I usually work with kind of forced me in that position… compared to the album that came out before this one, or Album of the Year. I kind of liked that after I started production and creating songs. I was enjoying creating sounds being little more stripped-down.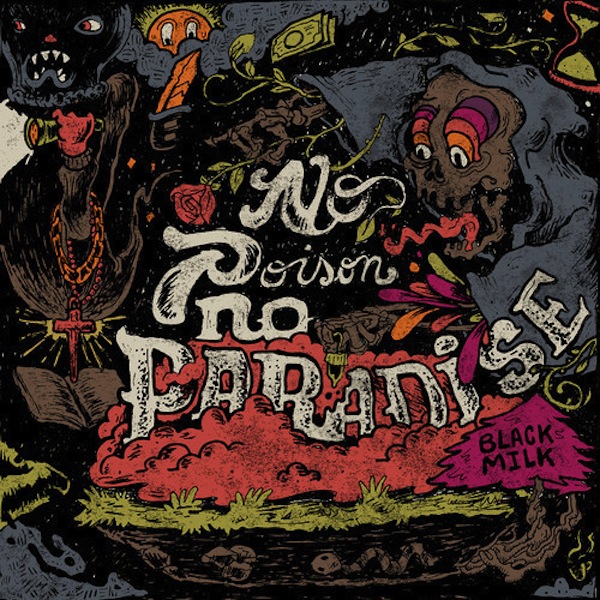 This album has some narrative and storytelling qualities. It seems like each track contributes to a underlying theme.
Yeah, that's another thing with the conceptual part of the album. That wasn't planned either at first. [Laughs] The first few tracks that I made for the album – I felt like they were already telling the story before I put any lyrics on them. The production kind of steered where it went lyrically. It pushed me to tell stories about certain things, whether it was something that happened in my life, or stuff that I'd seen or stuff that I'd made up. Like I said, the first three or four songs were recorded. "Sunday's Best" and "Monday's Worst" were the first two records that I recorded for the album. Clearly, those two songs were storytelling – all day. I was kind of put in the position of… like, 'Alright, I can't just have these two records in the middle of the album, and the other records just sounding like their own songs. I have to make this song relate to the last song, and that song relate to the song before that.' That's how it started to build. So, I took it a step further and created a character to tell that story.
Those two tracks that you just mentioned, "Sunday's Best" and "Monday's Worst," they ended up sharing a music video which absolutely tells the story. Did you just let the music guide that concept as well? It seems like the music could have been used as an outline for that video.
Right, right. Simple enough – the treatment was already there in the song. Gerard [Victor] directed the video, and we definitely didn't have to pick our brains to come up with scenes. All we had to do was cast people to play the scenes out. Without being too literal – that's what we did. I wanted to shoot it with a certain cinematic feel to it. I think the video came out great. Everything fell in place pretty perfectly.
You had some family members involved in the making of that video. Does that make this one especially memorable?

I mean, it actually does. I have never purposefully cast, or had any of my family members, in anything I've done musically with my career. To have my little cousin play a younger version of the character on the song, and one of my oldest cousins playing the older version of the character on "Monday's Worst" – it was dope man. It was funny. One of the reasons we had them down to the shoot and got them involved – me and Gerard didn't have a lot of time to cast people. [Laughs] This was like a month before I had to leave for the tour. I was like, "Yo, Gerard I have to shoot this video before I leave. I know it's last minute. I know we don't have a lot of time to get locations and cast, but we've gotta figure it out." He was like, "Alright." That's when I started actually thinking about casting family members. My little cousin looked perfect for the role and my other cousin looked perfect for that role. That's kind of how it came together. It was kind of a rush job. [Laughs] We were scrambling and trying to take what we had and bring it all together. I was kind of shocked that the video came out how it came out. We were taking pieces of the puzzle and trying to fit them together.
I think it's safe to say that Gerard works best with high-pressure and a short deadline. He's quite the visual master.
Clearly. [Laughs]
Even though No Poison No Paradise wasn't focused on live instrumentation, "Deion's House" features some work by Detroit's Will Sessions. That seems like a pretty deliberate selection.
That was actually one of the last songs I recorded for the album. It was funny, because me and Sam [Beaubien] talk off and on about music stuff. Sometimes he puts me up on some crazy loops or I send him some crazy sample. But it was the original record that they re-recorded. I hit him up and said, "I thought I remembered you recording that record." He said that they did. I was like, "Are y'all going to use it!?" He was like, "I'll let you check it out." I was like, 'Man, I might as well use their version vs me sitting here remaking the beat.' So that's how that came about. It was a record they had put me up on and [Sam] let me use it. They are super talented.
You leave for Germany in a week to begin the tour's European leg. Is there a difference between an American crowd and a European crowd?
Yeah. [Laughs] Actually there is. I wouldn't say a huge difference, but there is definitely a difference. The European crowd has a little more energy. They are a little more energetic, or a little more wild. I think one of the reasons is because, you know, here in the States we're kind of spoiled. Especially if you live in a major city. Artists come to your city all the time – every weekend. Over there, they might not get the chance to see artists as often as they would like. That's why everybody is excited. The States shows are still live though, don't get me wrong. [Laughs]
What does Europe say about Detroit music?
They love it. They fucking stand over Detroit hip hop music over there. Detroit hip hop artists and Detroit music in general – it all has a special place over there with them.
___________________________________________________________________________________________________
https://soundcloud.com/blackmilksoundcloud/poison-bonus-track
(DMM encourages listeners to support Detroit artists by purchasing their work)
Comments