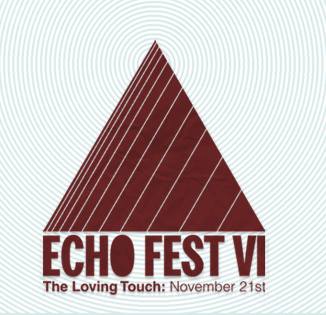 Echo Fest VI, curated annually by Detroit's Sisters of Your Sunshine Vapor, will take place Saturday night at The Loving Touch in Ferndale. The festival, which brings together national and local psychedelic rock acts, will also feature a "3D visual experience" involving glasses.
Sisters of Your Sunshine Vapor are set to play, along with a number of popular Detroit bands including Mexican Knives, Moonwalks, Oblisk, and Duende. The fourteen acts will be split evenly between two stages.
The hosts promise "two stages filled with live 3D visuals, fuzzed out guitars, and of course so much delay that time travel may become possible." You won't want to miss this interstellar voyage.
Doors open at 5:30 p.m., with the first act set to play at 6 p.m. Tickets are $15 at the door, but if you RSVP on the official Facebook event page, you can get discounted tickets at $12.
Check out the lineup and set times below and watch the festival trailer after the jump:
Red Stage
12:00 a.m. — Sisters of Your Sunshine Vapor
11:00 p.m. — Heaven's Gateway Drugs
10:00 p.m. — Electric Retro Spectrum
9:00 p.m. — Killer Moon
8:00 p.m. — 800beloved
7:00 p.m. — Isles of ESP
6:00 p.m. — Sienna Rise
Blue Stage
12:45 a.m. — Mexican Knives
11:30 p.m. — Heaters
10:30 p.m. — Moonwalks
9:30 p.m. — Oblisk
8:30 p.m. — Friends of Dennis Wilson
7:30 p.m. — Duende!
6:30 p.m. — The Red Plastic Buddha
Comments