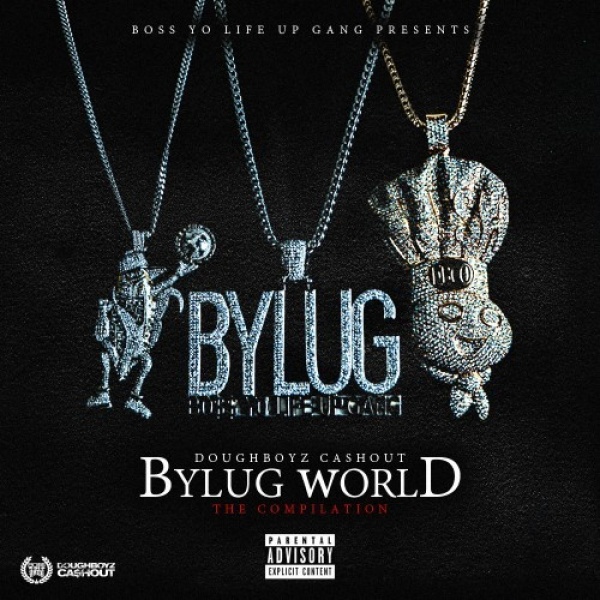 West Detroit supergroup Doughboyz Cashout self-released BYLUG World late last year as a free mixtape, and not — as many were hoping — a proper full-length from their home on Jeezy's CTE World label (their last official output from the imprint was a 2013 remix of "Mob Life," which had come out a year earlier). BYLUG ("Boss Yo Life Up Gang") World harkens back to the gangsta-glam sounds of Cash Money and No Limit Records, but look past the knife-sharp keyboard chords, blunted affect, and bounce house bass, and this is not only one of the best mixtapes in recent Detroit history, but also Doughboyz Cashout's strongest work since 2012's Free Roc.
Payroll Giovanni does double duty here, both rapping and taking on most of the tape's production. Of the 18 tracks, he handles just over half, including its most Y2K-era-indebted and blinged-out beats. These include opener "BYLUG Baby," which immediately sets an unnerving and threatening tone with its pitch-shifted samples. Payroll's out for blood on "OVL," with its brutally simple, sinister stab of piano mimicking his refrain — "I'm a overlord, I'm a overlord" — as John Carpenter-like strings hover in the background.
Payroll's not the only producer on BYLUG World, but in the absence of Helluva, the group's longtime beatmaker, any hopes for a crossover hit rest with him. Because of this, he makes room for Doughboyz Cashout's numerous members to get some bars in without short-changing anyone in the crew. Doughboyz Cashout belong together, but at the same time they can feel like they belong to a bygone period. Thankfully that fate is avoided throughout BYLUG World — not only on the very of-the-moment "Netflix," but also on "Fell Off," which boasts an irresistible hook from Clay Baby. The social media references may be jarring for a group who rarely update their Twitter, but that cognitive dissonance is part of their brand.
Ultimately, though, BYLUG World takes us back to the prime time of Detroit street rap as much as it does the heyday of New Orleans hip-hop, a concurrent late '90s and early '00s scene dominated by massive, rival collectives like Eastside Chedda Boyz and the Street Lordz. Doughboyz Cashout may have borrowed their predecessors' custom of rolling deep as well as their penchant for stilted beats from the jump, but with this new release, they've started looking elsewhere for inspiration — specifically, to SoCal.
"Day Ones" features ratchet rapper du jour YG and has a chopped-and-screwed-style ambience courtesy of producer Cardo; his dank beats provide an ideal background for the emcee's laid-back flow and a welcome respite from the tape's carnage. Similarly, "Street Heaven" gives Payroll an opportunity to step back from the producer role, as Cardo evokes early-'90s G-funk grooves while Payroll namedrops Benzes and Mr. Chow's like it ain't no thang. Those are just words, however, the verbal fronting and stunting of a man whose subconscious is haunted by "nightmares of the Feds wanting me in their possession."
Ten years into their existence, Doughboyz Cashout refuse to be pinned down by anyone: not by the government, not by hip-hop trends, not by A&R reps, not by public perception, not by their own label boss Jeezy, not even by the streets. If BYLUG World teaches us anything, it's that the crew live by a code, and that's to boss your own life up.
---
Stream BYLUG World below:
Comments