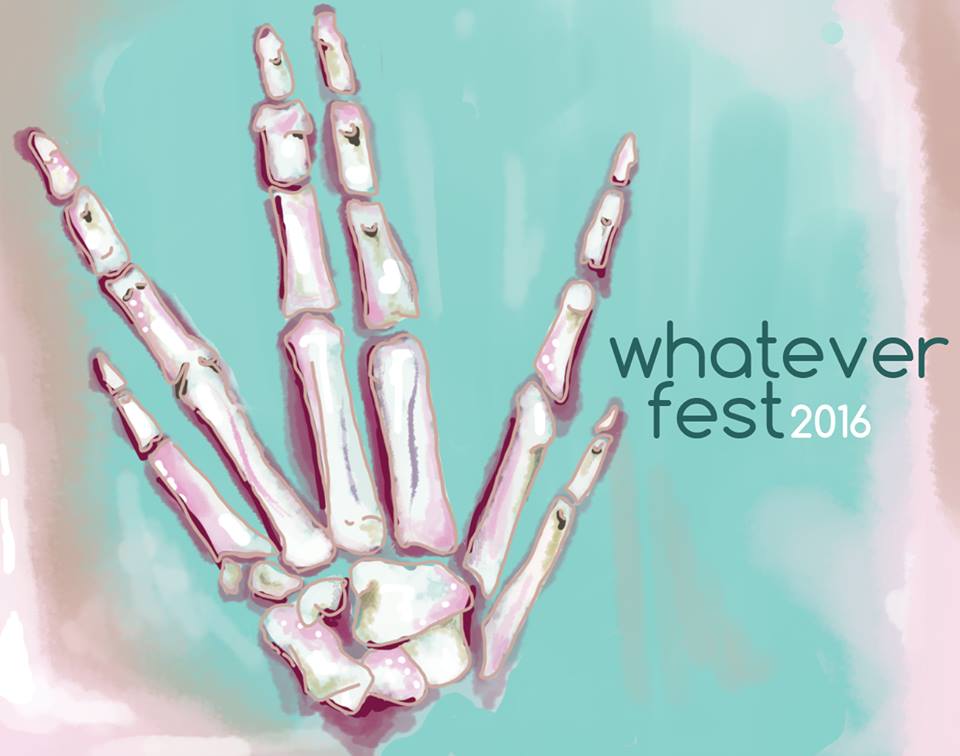 It began as a party at a Cass Corridor apartment building, but five years on, WhateverFest has grown into one of Detroit's most eagerly awaited music festivals. The sixth edition of the event promises to be bigger and better than ever, expanding to three days and moving outdoors across multiple venues. Festival founders and organizers Soph Sapounas, Brent Szczygielski, and Mark Anthony Stanisz have brought together more than 60 local acts as well as a bevy of art: live artists, merch/art vendors, art installations, and performance art. WhateverFest truly is a weekend where the DIA goes DIY.
Most important of all, the entire festival is a fundraiser whose proceeds will go to Community Push, The Youth Transit Alliance (Detroit Bus Co.), and Scripps Park. The first day of the festival (May 6) will be completely donation-based. Wristbands will be sold on May 6 and 7, and pre-sale wristbands can also be purchased here. Weekend passes are $15, while day passes for Saturday or Sunday only are $10 per day.
With so much music to take in over the weekend, Detroit Music Magazine has put together a one-stop guide to WhateverFest 6. Here you'll find set times and all the info on after-parties. We've also highlighted some artists that we feel are of particular interest. But whatever your musical tastes, you're sure to find something to your liking this weekend.
Jump to: Friday | Saturday | Sunday
---
WIG Skatepark
Friday — Full Schedule:
1:00 p.m. — HALA
1:45 p.m. — Taxon Clade
2:30 p.m. — Scientific Sunshine
3:15 p.m. — Honeybabe
4:00 p.m. — Kevin Midas
4:45 p.m. — Fluffer (Cincinnati)
5:30 p.m. — Mover Shaker
6:15 p.m. — Battersby Takes Bronze
7:00 p.m. — Go Tiger Go
7:45 p.m. — Mango Lane
Friday — Official After-party:
The Warehouse (1111 Beaufait)
Doors at 9:00 p.m., Music at 10:00 p.m.
Shady Groves
Mruzek
Cosmic Light Shapes
Rah the Son
Cass Ketchum
AB Broaden
Friday — Artist Highlights:
Taxon Clade
1:45 p.m.
Taxon Clade are a three-piece band from Midtown who have been plying their soul-pop groove sounds around the area for a couple years now. They are preparing to release their first full-length album this summer, which they recorded with Jim Diamond, the founder of Ghetto Recorders. This set at WhateverFest will be a great preparation for listeners before the group break big this year.
Back to top | Jump to: Saturday | Sunday
---
Scripps Park
Saturday — Full Schedule:
Stage 1
1:00 p.m. — Honey Pot
2:00 p.m. — Electric Honey
3:00 p.m. — After Hours Radio (Chicago)
4:00 p.m. — Shady Groves
5:00 p.m. — Gray Bliss
6:00 p.m. — Devinition
7:00 p.m. — Bronze Mambas
8:00 p.m. — Feral Ground
9:00 p.m. — Pile (Boston)
Stage 2
1:30 p.m. — Charming Relative
2:30 p.m. — Young Punk
3:30 p.m. — Strange Fir
4:30 p.m. — Virginia Violet & The Rays
5:30 p.m. — Flowers Bloom
6:30 p.m. — Blakdog
7:30 p.m. — Indigo Black
8:30 p.m. — The Erers
9:30 p.m. — The Idiot Kids
Electronic Stage
3:00 p.m. — Cass Ketchum
4:00 p.m. — Raphy
5:00 p.m. — Ambesaw
6:00 p.m. — Killa Kev
7:00 p.m. — Martez
8:00 p.m. — Market
9:00 p.m. — Dopke X Barret
Saturday — Official After-party:
Tires (Concord & Lafayette)
Doors at 8:00 p.m., Music at 9:00 p.m.
Moonwalks
Fake Surfers
Terrible Twos
Deadly Vipers
Link Sinatra
Wild Bill
KHZ
Edith Crash
Saturday — Artist Highlights:
Young Punk
2:30 p.m. (Stage 2)
Detroit trio Young Punk premiered their self-titled LP on Detroit Music Magazine earlier this year to considerable acclaim. The group — comprising Nick Van Huis (guitar), Taijah Johnson (vocals), and Stephen Stewart (bass, percussion) — combine different genres in unique ways, from the lilting charms of R&B and gossamer smear of shoegaze to the stately majesty of post-rock and rough-and-tumble rhythms of hip-hop. Though they play regularly at the New Way Bar in Ferndale, WhateverFest is a great chance to catch this exciting act in an outdoor setting.
Flowers Bloom
5:30 p.m. (Stage 2)
Detroit rock group Flowers Bloom have a Spaghetti Western aesthetic indebted to Nuggets-style garage. Their revivalism is quite literal: on their excellent, country-tinged 2015 single "Yeah They Told Me," they complain that "kids don't move their hips just like they used to" and bemoan the rise of techno. If you're looking to twist and shout to some retro-sounding tunes, be sure to check these harmonizing hippies out.
Martez
7:00 p.m. (Electronic Stage)
Vocal musician Martez Claybren borrows equally from Motown vocal stylings and modern dance music to craft his unique blend of neo-soul. Citing himself as a fan first, he experiments within multiple genres of electronica, usually on the groovy side of the spectrum. While his recorded music is laid-back, Martez has an affinity for UK garage and Chicago footwork, so he may lay down some heavy rhythms to take us into Saturday night.
The Erers
8:30 p.m. (Stage 2)
The Erers stay true to Detroit's garage rock roots, even as styles change and trends come and go. The trio build their sound on the classic foundation of three-chord blues-rock riffs, but to it they add extended psychedelic jams and the groovy Motown rhythms of their hometown. It's no wonder they've been asked to share the stage with The Kills and Black Pistol Fire and that those shows both sold out. Detroit Music Magazine premiered the video for their track "I Can Do Anything," and based on its reception, it's safe to say they'll do as much at WhateverFest.
Moonwalks
Official After-party
Moonwalks are a Detroit four-piece whose take on psychedelia is sufficiently reverb-y and trance-like to be called space rock. But just when their eerie guitar work has got you hypnotized, the rhythm section snaps to, proving them capable of serious post-punk bite. The group's debut full-length, the thrillingly spooky Lunar Phases, was named one of Detroit Music Magazine's top ten albums of 2015. If you dig the paisley punk of local acts like Bad Indians, you'll definitely enjoy Moonwalks' trippy set.
Deadly Vipers
Official After-party
Deadly Vipers play headbanging, psych-inflected punk. Prepare to be electrified by guitarist Ava East's wah-stomping riffs and singer Zoe Edwards's furious vocals. The rhythm section, comprising bassist Kate Derringer and drummer Kerrigan Pearce, hauls you along for a thrill ride. This blistering act will leave you breathless and begging for more.
Back to top | Jump to: Friday | Sunday
---
Scripps Park
Sunday — Full Schedule:
Stage 1
1:00 p.m. — Carmel Liburdi
2:00 p.m. — ISLA
3:00 p.m. — Raven Love & The 27s
4:00 p.m. — White Bee
5:00 p.m. — Five Pound Snap
6:00 p.m. — Nina & The Buffalo Riders
7:00 p.m. — Sheefy McFly
8:00 p.m. — Rarewolf
9:00 p.m. — The Ill Itches
Stage 2
1:30 p.m. — Holly Bernt Band
2:30 p.m. — LOUIS
3:30 p.m. — Eleanora
4:30 p.m. — Wu Zee
5:30 p.m. — Sun Tribe
6:30 p.m. — The Old Adage
7:30 p.m. — Lokye
8:30 p.m. — Tart
9:30 p.m. — Earth Engine
Electronic Stage
3:00 p.m. — Dave Sterling
4:00 p.m. — Labden
5:00 p.m. — Liquid Flow & Detroit's Goldie
6:00 p.m. — Sapphire Bracelet
7:00 p.m. — Lt. Bad
8:00 p.m. — Dayggs
9:00 p.m. — Edward Elektro
Sunday — Official After-party:
Russell Industrial Center (4th Floor)
Doors at 9:00 p.m., Music at 10:00 p.m.
Minihorse
JP from the HP
Characteristics
Wu Zee
B. Sykes
Crazy Toy
Sunday — Artist Highlights:
Sheefy McFly
7:00 p.m. (Stage 1)
26-year-old Detroit native Sheefy McFly is redefining our ideas of rap today. He released his first self-produced mixtape while attending the Detroit School of Arts, and since then he's released 20 more self-produced albums in a variety of genres. While primarily known as a hip-hop artist, McFly has also made electronic music and punk rock. As a fixture of the city's DIY scene, McFly is the quintessential WhateverFest act, and there's no telling what we can expect from this multi-talented musician.
Lt. baD
7:00 p.m. (Electronic Stage)
Detroit-based duo Lt. baD were formed in 2012 as a tribute to early eighties boogie, electro, and breakdance music. The former indie rockers had previously released mixtapes of their favorite tracks from this classic era but recently put out their third album of original music, Electromagnetic. Expect them to light up the dancefloor with retro-flavored bangers Sunday night.
Dayggs
8:00 p.m. (Electronic Stage)
Dayggs is an Ypsilanti/Ann Arbor-based producer who recently stole the show at Paramita Sound's regular Beat Profile party last weekend. This rising artist definitely favors hip-hop, while also mixing in some juke and future bass joints. A quick look at his Bandcamp page reveals over 100 beats and a thirst for experimentation, similar to Knxwledge or House Shoes (if House Shoes listened to more trap). If there's one thing we can expect from Dayggs, it's that there won't be anything else quite like him at WhateverFest.
Tart
8:30 p.m. (Stage 2)
Vocalist Zee Bricker and instrumentalist Adam Michael Lee Padden are Tart, a Detroit-based duo whose songs combine smoldering blues and sparking electro-pop. After their 2014 debut Knots and single "Rabid Dogs," the pair returned last year with a shiny new EP, These Are Not Love Songs. Their set is sure pack a serious punch, bringing bite and soul and electrify the WhateverFest stage.
The Ill Itches
9:00 p.m. (Stage 1)
What better way to close out WhateverFest than a dose of classic Detroit rock. The Ill Itches traffic in the tradition of The Stooges and MC5, with the quartet kicking out the jams. Stephen Schmidt (vocals, guitar), Joshua Woodcock (guitar), Matt Mruzek (bass), and Matt Livengood (drums) will bring plenty of raw power to their set, and this will be one set you'll have to add to your list.
Back to top | Jump to: Friday | Saturday
---
All images provided courtesy of artists.
Comments