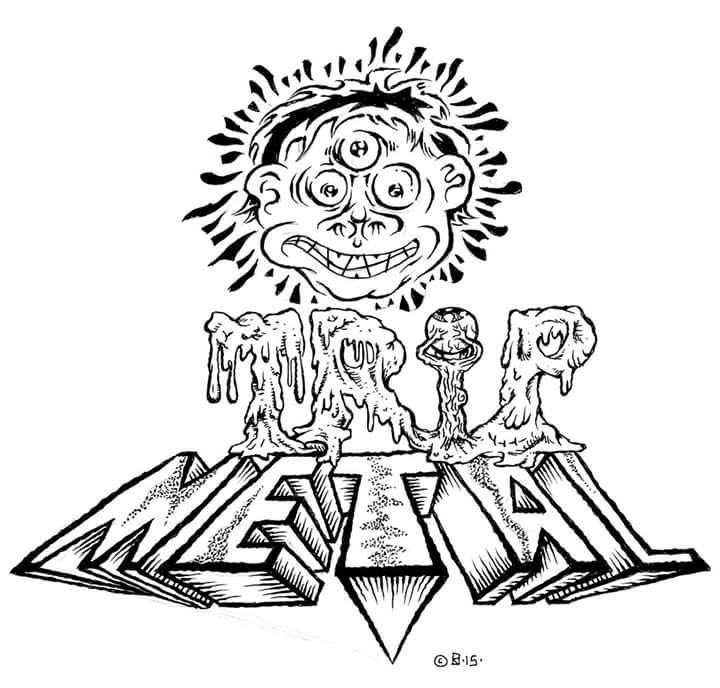 Even as Mayor Mike Duggan has declared this week "Detroit Techno Week," and even as Movement Electronic Music Festival celebrates its tenth anniversary (with the event having taken place under other guises since 2000), Memorial Day weekend in Detroit is no longer solely the province of the Belleville Three and their musical offspring. The Motor City has long been home to a wide range of aural fare, from Berry Gordy's pop-soul confections to the street poets of its hip-hop scene. While its likely that the upcoming four days will still be dominated by the four-on-the-floor beats emanating from Hart Plaza, elsewhere in the city there's a new fest producing sounds that don't conform to any traditional sonic structures.
Trip Metal Fest is the brainchild of Wolf Eyes, an experimental noise act from Ann Arbor (but long considered a part of the Detroit orbit), who recently signed to Jack White's label Third Man Records. The event takes its name from a phrase the band coined to describe their sound after the description of "noise" lost its meaning in their minds. This inaugural free festival brings together acts from disparate styles, but they all have one thing in common: they're off the beaten path and uncompromising about their art. From avant-garde composers and party rockers to ambient electronic producers and psych-freaks, Trip Metal Fest takes Detroit's lineage of proto-punks and garage bands to its logical conclusion — and then goes one step further.
In addition to the live performances at the newly opened El Club in Mexicantown, Trip Metal Fest will offer screenings of experimental films at Third Man Records and Cinema Detroit, artist talks at Trinosophes, an after-party at Menjo's, and brunch like you've never had (or heard) it before. So whether you're ready to dip your toes in these experimental waters or you've already been swimming in the deep end for a while, Detroit Music Magazine has got your back. Our guide to Trip Metal Fest is your one-stop spot to help you navigate all the avant-garde activities this weekend. Keep it weird out there.
---
Friday | May 27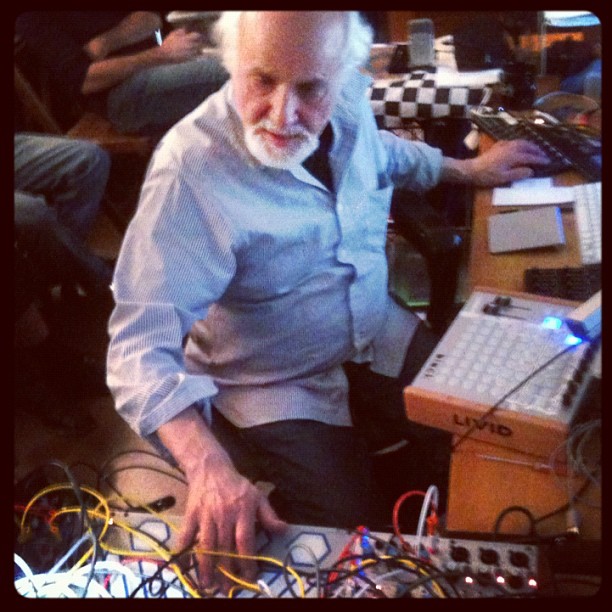 Morton Subotnick
(Image Credit: Ethan Hein | Flickr)
El Club — Live
7:30 p.m. Doors
Free Admission | Donations Accepted
Rubber (O) Cement
8:00 p.m.
A spin-off of Bay Area "industrial bluegrass" weirdos Caroliner, Rubber (O) Cement are a trio known for their strange stage shows and their equally eccentric music, which comprises vintage analog synths, lo-fi effects, and skronky guitar noise.
Morton Subotnick
9:00 p.m.
Composer Morton Subotnick has long been at the forefront of American electronic music and also initiated the growth in multimedia performance through his far-reaching and broad-ranging work in connection with interactive computer systems.
MV Carbon
10:15 p.m.
MV Carbon is a Brooklyn-based interdisciplinary artist whose work comprises live performance, installation, projection, music, and sculpture, with the intention of provoking an extrasensory awareness through warping the boundaries of time and space.
Panicsville
10:40 p.m.
Experimental noise project Panicsville create deafening records that defy their limited technical expertise and meager technological resources, matched only by their confrontational live presence.
Cotton Museum + Apetech Chip
11:15 p.m.
Cotton Museum is the solo project of musician and visual artist Chris Pottinger, who creates experimental sounds using synthesizers and other unusual electronic instruments. He will be joined by Apetech Chip at Trip Metal Fest.
Tarpit + Jessie & The Eels
12:00 a.m.
Sam Hooker (Tarpit) will be joined by Daniel Dlugosielski and Jessie Kendall, better known as Jessie & The Eels, for this special gig at Trip Metal Fest.
Traag
12:45 a.m.
The alter ego of Siobhan, who makes electronic music with drawling vocals with slow, kinky boogie and electro rhythms somewhere between Throbbing Gristle's industrial clang and the snotty discord of No Wave.
Third Man Records — Screening
Canyon Cinema's ACID STRIP: Inzane & Fried Alive 16mm Short Films
Doors 6:30 p.m. | Screening 8:00 p.m. – 9:30 p.m.
Free Admission | Cash Bar
7/64 Leda and the Swan (Kurt Karen)
Articulation of Boolean Algebra for Film Opticals (Tony Conrad)
Black and White Trypps #3 (Ben Russell)
Invocation of My Demon Brother (kenneth Anger)
Mutiny (Abigail Child)
Take Off (Gunvor Nelson)
T, O, U, C, H, I, N, G (Paul Sharits)
23/69 Underground Explosion (Kurt Karen)
Trinosophes — Talk
Morton Subotnick in conversation
5:30 p.m.
RSVP not required. Attendence is first-come, first-served. The kitchen will remain open until 6:00 p.m.
Menjo's Olympus Theater — After-Party
Fit Sound / Est. 83 x Trip Metal Afterhours
$10 Admission
DJs
DJ Sotofett
Fit Siegel
Bill Converse
LIVE
Madteo
Stallone the Reducer
Especially Good
---
Saturday | May 28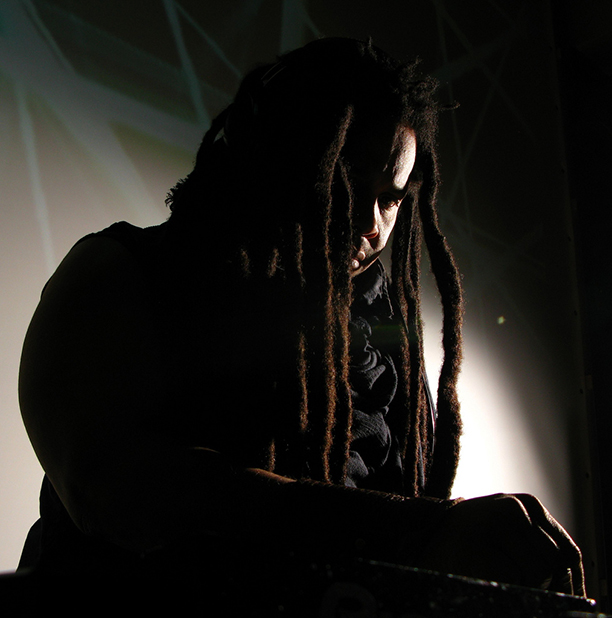 Hieroglyphic Being
(Image Credit: Rene Passet | Flickr)
El Club — Live
7:30 p.m. Doors
Free Admission | Donations Accepted
Caleb Johnston
8:00 p.m.
Michigan-based electronic musician Caleb Johnston's bio is wrapped up in "facts and lies," but one thing is for certain: his performance at Trip Metal Fest is not to be missed.
Pengo
8:35 p.m.
Pengo are an avant-drone, noise-psych trio from Rochester, New York who meld many different strands of underground sounds to form a perplexing, and at times alienating, style of music in the tradition of outsiders since the 1960s.
Lexie Mountain & Scroll Downers
9:10 p.m.
Singer Lexie Mountain, former Dope Body guitarist Zachary Utz, and drummer Dave Jacober are Scroll Downers, a Baltimore-based band who play a bracing strand of heavy psych-rock that's thrilling and visceral.
Drainolith
9:45 p.m.
The solo project of AIDS Wolf guitarist Alexander Moskos, Drainolith's sound is skeletal, smoky, and sparse, with the structures of songs built up in in slow-motion that creates an overall effect of disorientation.
Hieroglyphic Being + Marshall Allen + Danny Ray Thompson (The Sun Ra Arkestra)
10:20 p.m.
Hieroglyphic Being is an experimental composer and environmental sound artist from Chicago whose musical works and creations are seeded and inspired by Afrofuturist concepts. Marshall Allen and Danny Ray Thompson are multi-instrumentalists who are veterans of Sun Ra's various Arkestras.
Joseph Hammer
11:35 p.m.
Joseph Hammer has played analog synths and samplers and manipulated tape loops in the groups Dinosaurs with Horns, Steaming Coils, Debt of Nature, Points of Friction, Blue Daisies, and more since 1980.
Pod Blotz
12:10 a.m.
Los Angeles-based project Pod Blotz plays inside of multi-dimensional environments with shattered mirrors, sculptures, video, and light.
Viki + Magas
12:45 a.m.
Viki is the alias of Lindsay Karty, who is a veteran of the Detroit noise scene and makes a form of highly abstract synth-based electronic music, in addition to leading deep listening workshops around the city. (Jim) Magas is an Ann Arbor-based act who once played in the cult band Couch with Dilloway and co-founded Bulb Records.
Viands
1:30 a.m.
Viands is a spontaneous collaboration between two auteurs of Detroit's underground music scene — Joel Peterson and David Shettler (Moon Pool and Dead Band) — that began as a sound check for a visiting jazz pianist and has become a broad musical vision to explore new vistas.
Cinema Detroit — Screening
Trip Metal Fest presents EVERYTHING IS TERRIBLE
Over the last eight years, Everything Is Terrible! has introduced the world to such viral sensations gems as the dancing child-god Duane, the pedophile-stomping yellow dino, French pubic hair styling, cat massage, and much more. Now, as a live experience, audience members will select each step of the journey, leaving viewers in control of their own destiny.
7:00 p.m. Screening
9:00 p.m. Screening
Trinosophes — Talk
Hieroglyphic Being in conversation
5:30 p.m.
RSVP not required. Attendence is first-come, first-served. The kitchen will remain open until 6:00 p.m.
---
Sunday | May 29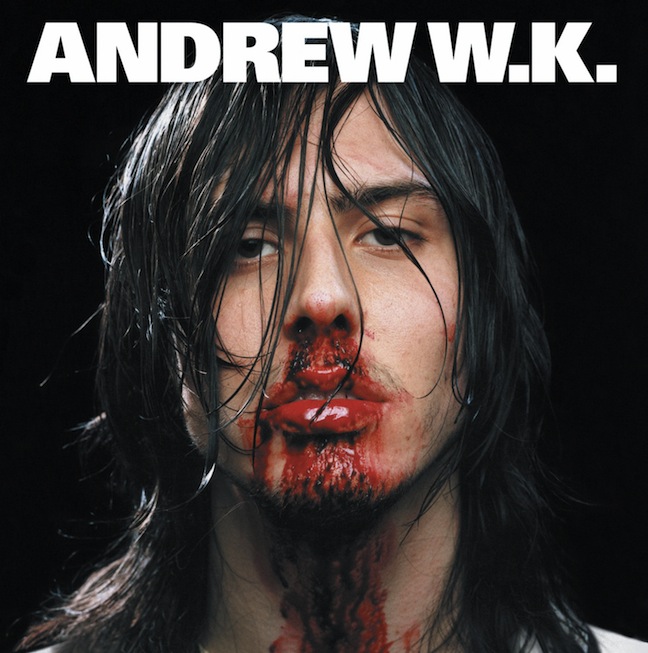 Andrew W.K.
(Image Credit: Album Art | I Get Wet)
El Club — Live
7:30 p.m. Doors
Free Admission | Donations Accepted
Brain Transplant
8:00 p.m.
Sick Llama
8:35 p.m.
Heath Moerland is the man behind Sick Llama, an experimental noise outfit, and he's both the operator of the label Fag Tapes, as well as the founder of noted Detroit band Tyvek.
Creode
9:10 p.m.
Creode are Samantha Flowers and Tyler Hicks, a duo from Detroit who make devotional abstract electronic music with elements of free improvisation and psychedelic noise.
Wooden Highway
9:45 p.m.
Wooden Highway are Michelle Birawer and Brad Hales, a duo based in Detroit.
Shades
10:20 p.m.
Shades are James & Leif Ritchey, Spence Bryant, Brian Woz, and Tom Hohmann, and they have been playing a brand of "smooth noise" for over a decade in the Ann Arbor area.
DJ Dog Dick
10:55 p.m.
Electronic producer Max Eisenberg, aka DJ Dog Dick, blends an underhanded sense of craftsmanship with his more salient tendency toward puerile humor and silliness.
Nautical Almanac
11:30 p.m.
Nautical Almanac were formed in 1994 by Nate Young and James Twig Harper in Michigan as a rogue "crash and smash" terror band, playing anywhere possible using confrontational social musical tactics, before becoming a trio with Sol Meltzer.
Andrew W.K. + Nate Young + Twig Harper
12:05 a.m.
Andrew W.K. is a California-born but Michigan-bred party rocker who gained a niche in the music world for his hybrid of metal, pop, and dance that both satirized and honored all three genres.
Wolf Eyes
12:40 a.m.
The creators of Trip Metal Fest, Wolf Eyes are a Michigan-based band that began as the solo project of Nate Young, but have since earned a large cult following and introduced the noise underground to indie rockers, punks, and experimentalists alike.
Trinosophes — Talk / Screening
Andrew W.K. + Nautical Almanac + Nate Young in conversation
5:30 p.m.
RSVP not required. Attendence is first-come, first-served. The kitchen will remain open until 6:00 p.m.
Andrew WK & Trip Metal Fest present DESTROYED HISTORY: Trip Metal Vids From the Vaults
Doors 6:30 p.m.
Free Admission | Cash Bar
Andrew will present a selection of rare early videos from the underground music world, including a special presentation of Andrew's never before screened 1997 short film, Poltergeist.
Jam Handy — Noise Brunch
The Effects of Noise on Brunch
12:00 p.m.
$12.00 Admission
Full Frontal, David Shettler, Viki + Tyler Hicks + Shells, Joe Wojtoewicz Psych Band, Moth Cock, Andrew Kirschner, Sikk Laffter, New Toy, and special guests
---
For more information on Trip Metal Fest, please visit the official website. Detroit Music Magazine wishes everyone a safe and enjoyable time at this year's event; check back soon for more coverage of the festival!
Comments