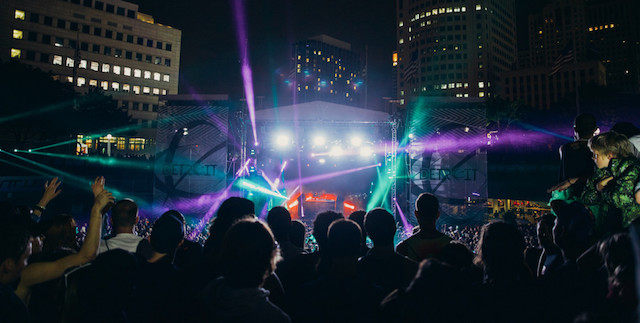 Memorial day weekend in Detroit is a special time for lovers of techno. The city hosts thousands of festival goers from around the world as they converge on Hart Plaza for a weekend long celebration of electronic music. For those of us who call Motor City home, it's affirmation that our city is thriving. For those who are visiting, it's their chance to see once-in-a-lifetime sets and revel in our greatest musical export since Motown.
Movement not only brings together iconic local artists and high-caliber international acts at this premiere North American electronic music festival, but all walks of life. No matter who you are or where you hail, all dance in harmony at this techno homecoming. Make sure to clear your schedule and take Tuesday off so you don't miss a beat.
While the festival may only last 3 days, the city of Detroit starts celebrating Movement well in advance. First-timers and veterans alike are faced with a staggering amount of crucial decisions in the face of overlapping sets and afterparties. To help you sort through the preparties, afterparties and can't-miss festival sets, Detroit Music Magazine returns with our annual guide to Movement.
For more information on Movement, including set times, tickets, and FAQs, visit movement.us.
---
Friday Pre-Parties:
Patio Loco 2 : Pre-Festival Edition Day Party
Ryan Dahl, Aboudi Issa, Pilar Cote, Prgrm, Fracesco DeMarcello
Third Street Bar | 12:00 p.m. – 8:00 p.m.
$10.00 DOS
DJ Dan
DJ Dan, Sonya Alvarez, Players Club, Daniels Jack, Just Alexander, Ghita Sisters, Mr. Falcon, Mike Clark, Food Fight, Dav, Adam Westing, Henry Brooks, Pigpen, Pressed & Proper, and Mona Black
TV Lounge | 3:00 p.m. – 4:00 a.m.
$10.00 -$20 via Eventbrite
Bang Tech 12 Anniversary
Presented by Detroit Techno Militia and Detroit Artist Agency
Bookies Bar | 4:00 p.m. – 2:00 a.m.
Free cover
Trip Metal Fest 3
The Art Ensemble of Chicago, Martin Rev, Wolf Eyes, Guttersnipe, Puce Mary & Drew McDowall, and Gashrat
El Club | 4:00 p.m. – 7:00 p.m.
$20.00+ via Ticketfly

Smartbar Opening Party & BBQ
SDJs Ariel Zetina, Bruce Bailey, Dez Andres, Garrett David, Harry Cross, Mister Joshooa, Olin, Palms Trax, Remote Viewing Party, Sassmouth, Sevron, Dold, and Tin Man
TV Lounge | 4:00 p.m. – 4:00 a.m.
$20.00+ via Resident Advisor
nfiltr8:Celebr8 and [something clever] present Prelude Detroit
Atnarko, Dax Lee, Punisher, Tim Baker, Sergio Santos, Finley, Andy Warren, Jeremy Ismael, Sutter, Jeremy Poling, Nesto, Lola B, SuperDre, Nat Black, Travis Poling, and Alex Morrison
Norther Lights Lounge | 7:00 p.m. – 2:00 a.m.
Free cover
Rock Steady Disco presents Viva La Resistance IV
DJs Blair French, Haz Mat (live), LaFleur, Moonlighter, Peter Croce, and Pontchartrain
Motor City Wine | 8:00 p.m. – 2:00 a.m.
Free until 9:00 p.m., $10.00 after 9:00 p.m. via Resident Advisor
Modern Cathedrals presents Eden IV
Anastasia Kristensen, Headless Horseman (live), Deepchord (live), Evigt Mörker, Clay Wilson (live), The debut of Uun's new project Araceae (live), and Altstadt Echo
Tangent Gallery | 9:00 p.m. – 5:00 a.m.
Tickets via Resident Advisor
Frequenza Showcase
DJs Wolf Story, Soul Goodman, Jason Patrick, Chris Hughes, Classic Roots, and Francesco E Marcello
Whiskey Disco | 9:00 p.m. – 4:00 a.m.
$15.00 DOS
Paxahau and Ghostly International presents Matthew Dear
Matthew Dear, Tadd Mullinix as X-Altera, Osborne, Mike Servito b2b with Derek Plaslaiko, Shigeto, ZGTOboyz (live) with Bruiser Brigade MC Zelooperz, Kim Ann Foxman, Recloose, Russell E. L. Butler, and Pablo R. Ruiz
Marble Bar | 9:00 p.m. – 4:00 a.m.
$15.00 DOS
Tickets via Resident Advisor
Unforgiven and Modular Techno Alliance present Live Modular Showcase
Komprezzor (live), Monix (live), Amnesiac (live), and Victims Of Silence (live)
The Apparatus Room | 9:00 p.m. – 2:00 a.m.
RSVP required
Paxahau presents 10 years of No. 19 Music
Art Department, Kenny Larkin, Terrence Dixon, Ryan Crosson, Nitin, and Teeloo
Magic Stick | 9:30 p.m. – 3:00 a.m.
Tickets via Ticketweb
---
Saturday | May 26
Key Detroit Artists
Waajeed: Stargate Stage 3:30 p.m. – 4:30 p.m.
Detroit born producer Waajeed is known not only for his techno tracks, but for his deep hip-hop roots as well. The Dirt Tech Reck label head made his first beats on an broken MPC gifted to him by the late J Dilla.
Bevlove: Red Bull Music Stage 4:00 p.m. – 4:30 p.m.
RnB singer and Detroit native Bevlove is arguably one of the hardest working artists in the city right now. Coming hot off of a headlining spot at the Hamtramck Music Festival and with a new EP on the way, Bev's dreamy style has earned her a set that should not be slept on.
Stacey Pullen: Stargate Stage 7:30 p.m. – 9:00 p.m.
While Stacey Pullen may be considered a "second wave" techno artist, today his presence in the Detroit music scene is as ubiquitous as The Belleville Three. Expect big things from the Blackflag label head as he makes his annual return to Movement.
Carl Craig: Stargate Stage 9:00 p.m. – 11:00 p.m.
If you're not familiar with Carl Craig, you might be at the wrong festival. As a founding father of DEMF, the original inception of Movement, he is among techno's most prolific artists. His Planet E label boasts a collection of releases from legendary Detroit DJs and producers. Don't miss set as he closes out his own Detroit Love showcase.
Ectomorph (Live): RA Underground Stage 10:00 p.m. – 11:00 p.m.
Ectomorph is an Interdimensional Transmissions supergroup composed of Erika & BMG. They forego the luxury of using a laptop and decks, instead opting to play live, pure analog sets off modular synthesizers.
Claude VonStroke: Movement Stage 10:30 p.m. – 12:00 a.m.
Dirtybird label head Claude Von Stroke will be hitting the main stage hard this year, bringing the heat with his familiar, upbeat electro-house style. Be sure to catch the Dirtybird Players after party at the Masonic Temple after the fest to hear sets from the whole Dirtybird lineup.
Key International Artists
Helena Hauff: RA Underground Stage 7:00 p.m. – 8:30 p.m.
German born Helena Hauff holds the title of being the first ever female DJ to be named BBC Radio 1's Essential Mix of the year. Her gritty, stripped down style is guaranteed to tear the Underground Stage apart in a set that you won't want to miss.
Ida Endberg: Pyramid Stage 9:00 p.m. – 10:30 p.m.
Hailing from Sweden, the Scandinavian techno queen has held club residencies since she was 18. Along her career she has collaborated with such high profile artists as Bjork to her husband Adam Beyer, founder of Drumcode Records.
DJ Hype b2b DJ Hazard: Red Bull Music Stage 9:00 p.m. – 11:00 p.m.
While Detroit might be the birthplace of techno, the city has always appreciated hardcore jungle. If you're seeking BPM upwards of 180, check out pirate radio's finest selecta b2b the winner of 2017's best DJ at the Drum and Bass Awards.
Maceo Plex: Pyramid Stage 10:30 p.m. – 12:00 a.m.
Drawing inspiration from Detroit techno's finest, Maceo Plex has developed a brand of tech house sound some would call interplanetary funk. If you want a taste of Ibiza in Detroit, check out the Balearic island resident's set.
---
Sunday | May 27
Key Detroit Artists
Shigeto: Red Bull Music Stage 6:00 p.m. – 7:00 p.m.
Born and raised in Ann Arbor, Michigan, Shigeto melds deep Motown and jazz influences into rich, beat-driven electronic music. His live set at the festival will be a highlight of the weekend; or for a different pace, catch his DJ set at the Ghostly International Movement pre party at Marble Bar Friday night.
Eddie Fowlkes: Movement Main Stage 5:30 p.m. – 7:00 p.m.
A founding father of Detroit Techno, Eddie Fowlkes has been moving feet on dance floors across the globe for over 30 years with his unique "techno soul" style. Immerse yourself in Fowlkes' open book of techno history and get down with one of the greats.
Will Sessions & Amp Fiddler feat Dames Brown: Red Bull Music Stage 7:00 p.m. – 8:00 p.m.
Will Sessions, funk night heroes, reunites with ex Funkadelic member/Jay Dilla mentor Amp Fiddler, and Dames Brown to debut original music from their LP, "The One."
Seth Troxler: Movement Main Stage 8:30 p.m. – 10:00 p.m.
After a move from Detroit to Berlin in the early 2000s, Michigan native Seth Troxler was able to find his sound in minimal techno and cement himself as one of underground electronic music's most iconic figures. Sadly, his legendary "Need I Say More" Monday morning party at Old Miami is no longer happening (it's not a rumor people, party's cancelled), so don't miss your chance to catch him at the fest.
Kevin Saunderson (& Family): Stargate Stage 10:30 p.m. – 12:00 a.m.
Kweku Saunderson: Stargate Stage 1:00 p.m. – 2:00 p.m.
The Saunderson Brothers: Stargate Stage 4:30 p.m. – 5:30 p.m.
As one of the notorious Belleville Three, Kevin Saunderson changed the future of electronic music. Now, he passes the torch to his family as they carry on techno's legacy.
Key International Artists
Modeselektor: Red Bull Music Stage 8:00 p.m. – 9:30 p.m.
German duo Modeselektor has been breaking genre barriers since the late 1980s, inspired by the artistic rebirth of Berlin following the fall of the Berlin Wall. It's really tough to describe their seriously mind bending sound. Check them out for yourself and you decide.
Kink (Live): Stargate Stage 9:30 p.m. – 10:30 p.m.
This Bulgarian producer is best known for his eccentric live sets, which have earned him his spot as one of house music's most in demand producers. You'll never see anything like a KinK set. If you're not familiar with KinK, check out his Moscow Boiler Room set and you'll soon understand.
Loco Dice b2b The Martinez Brothers: Movement Main Stage 10:00 p.m. – 12:00 a.m.
Two of Ibiza's biggest headliners join forces for a rare mainstage b2b set. The last time these DJ's went b2b was with Seth Troxler at Printworks in London for an epic 6+ hour journey.
Laurent Garnier: Red Bull Music Stage 9:30 p.m. – 11:30 p.m.
With over 25 years behind the decks, Laurent Garnier brings his passion and love for music to every performance. His upbeat style is sure to get any dance floor moving.
Nina Kraviz: Pyramid Stage 10:00 p.m. – 12:00 a.m.
The most recognizable name in Russian techno makes her eagerly awaited return to Movement. As a singer, songwriter, producer, DJ, label head, feminist, with a doctorate in dental medicine – the sky's the limit for her scintillating talent.
---
DMM will be updating this guide, so come back for more!
Comments