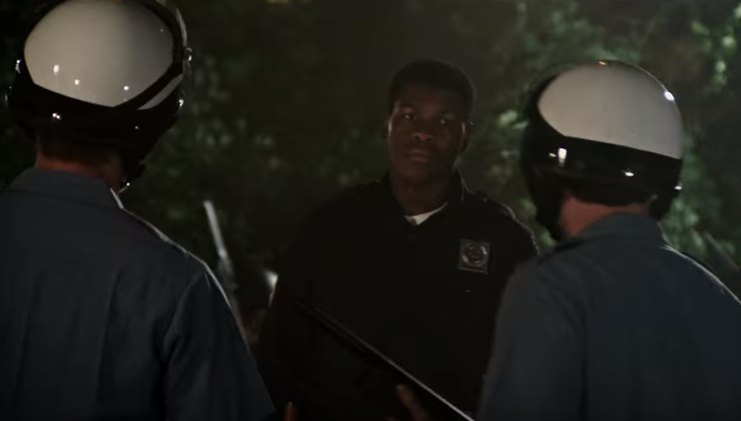 The long-awaited release of Detroit — the Kathryn Bigelow-directed film that tells the tragic story of three black teenagers murdered at the Algiers Motel, during the Detroit riots of 1967 — is finally here.
After a star-studded world premiere at the Fox Theatre in Detroit, and months of nationwide promotion, Detroit has hit theaters with plenty of buzz. One topic of discussion among locals: the soundtrack. Motown Records, which was founded in 1959, was at full force in 1967, having just released legendary records such as, Four Tops' Reach Out, The Temptations' Temptations LIVE!, Down to Earth by Stevie Wonder, and gearing up for the releases of classics like, The Supremes' Greatest Hits, United by Marvin Gaye and Tammy Terrell (featuring the originally-released version of "Ain't No Mountain High Enough"), among many others.
In addition to some necessary Motown legends, such as Brenda Holloway, Martha & The Vandellas, The Elgins, and more, the film also included jazz great John Coltrane's "I Want To Talk About You." In addition to Motown favorites, the soundtrack features two new songs: one by Philadelphia hip-hop innovators The Roots, titled "It Ain't Fair" featuring singer-songwriter Bilal — and the other, "Grow," recorded by Detroit actor Algee Smith featuring Larry Reed from The Dramatics.
See the full track list for Detroit below:
"If You Haven't Got Love" — The Dramatics
"Jimmy Mack" — Martha Reeves & The Vandellas
"Baby Bunny (Sugar Honey)" — Jerry Williams
"Your Precious Love" — Marvin Gaye & Tammi Terrell
"Till Johnny Comes" — Brenda Holloway
"Larry's Rescue" — James Newton Howard
"It Ain't Fair" (feat. Bilal) — The Roots
"Devil's Gotten Into My Baby" — The Devotions
"The Cream Of The Crop" — Lee Rogers
"All Because Of You" — The Dramatics
"Larry's Alone" — James Newton Howard
"Grow" — Algee Smith
"Heaven Must Have Sent You" — The Elgins
"I Want To Talk About You" — John Coltrane
Watch the full trailer for Detroit below:
Comments