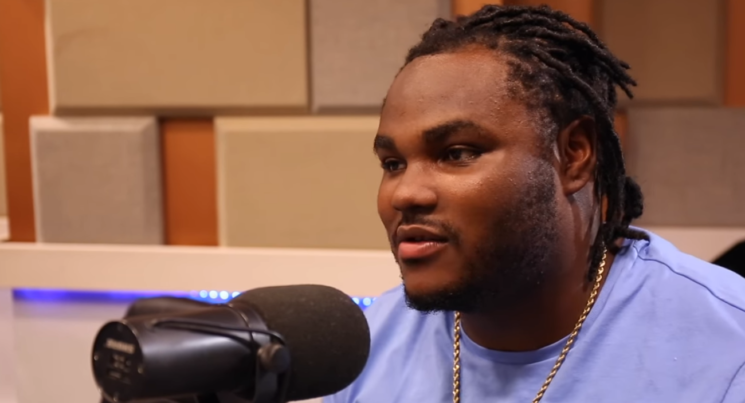 Tee Grizzley is having a great year.
In April, the 23-year-old rapper from Detroit's west side celebrated the release of his debut mixtape, My Moment, which has been lauded as one of the strongest hip hop projects of 2017. The tape's hit single "First Day Out" was recorded immediately after the rapper's release from a three-year prison sentence and has received national airplay, in addition to gaining the attention of the hip hop community. After partnering with pop-culture superstar Lil Yachty for the duel-city anthem "From the D to the A," Tee Grizzley has quickly become a hip-hop household name.
But Thursday was an especially good day for Grizzley (born Terry Wallace), when LeBron James — just days after his NBA finals loss to the Golden State Warriors — posted a video of himself mid-workout. The soundtrack? Tee Grizzley's "First Day Out."

Grizzley's track not only comes from Detroit, but includes several references to Michigan, including Perishing and Cody high schools, Michigan State University, Six Mile Rd., Joy Rd., and "Blade dancing" — a reference to Detroit's late, infamous rap-superstar Blade Icewood.
In an amazing coincidence, rap deity Jay Z decided to take to Twitter — which the 47-year-old magnate rarely does — to name his personal inspirations, following his own induction into the Songwriters Hall of Fame. After a video tribute by former president Barack Obama, Jay Z — now the first hip hop artist to ever be inducted — expressed his appreciation by naming hip hop icons, including Rakim, Notorious B.I.G., Tupac, Andre 3000, Wu Tang Clan, Queen Latifah, De La Soul, Ice Cube, Kanye West, Drake, and more. Mid-tweetstorm, HOV mentioned Grizzley, referencing his song as the "best out."
G Rap .Mel . Kurupt . Lox. X . Q. Ab lupe. Mos. Foxy. Boss . Ross. Quavo Future Travis too many fuck this. All you!T grizzley song best out

— Mr. Carter (@S_C_) June 16, 2017
It's safe to say that Thursday was a huge boost to Grizzley's quickly-accelerating career trajectory, especially after many questioned his exclusion from hip-hop publication XXL's Freshman list, which highlights up-and-coming artists each year. Be on the lookout for more from Tee Grizzley, including his upcoming album, Activated.
Watch Tee Grizzley's recent interview with DJ Self below:
Comments