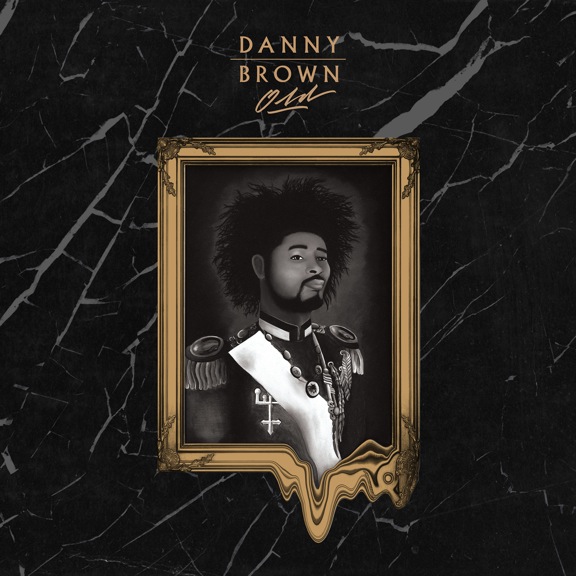 Old is Detroit emcee Danny Brown's third studio full-length. The highly anticipated follow-up to XXX was released on October 8, 2013 by Fool's Gold Records and is Brown's first retail-distributed album.
The 19-track release pays homage to a wide range of experiences within two halves, Sides A and B. Though the collection is divided, the connecting themes focus on empirical confusion, independent success, and a "past, present, and future" Danny Brown. Brown was sure to prepare listeners and the media that this album would be unlike XXX conceptually.
Old features production work from Paul White, A-Trak, Skywlkr, Oh No, Corin Roddick, Rustie, J-MIKE, Darq E. Freaker, and BadBadNotGood. This internationally renowned who's who of producers offers a wide variety of party anthems, raw emotion, and diverse instrumentation. Track samples include snippets from Brown's own work ("New Era" — XXX), Gong ("Castle in the Sky" — Angel's Egg), The Moments ("What's Your Name" — Those Sexy Moments), Belgian rock band Georgia Brown ("Pollution" — Pollution/Glory to the Music), Morice Benin ("Apocalypse" — Apocalypse…), The Alan Parsons Project ("The Raven" — Tales of Mystery and Imagination), Zambian rock group Amanaz ("Green Apple" — Africa), Freak Nasty ("Da' Dip" — Controversee…That's Life…And That's the Way It Is), and Ray Charles ("Bye Bye Love" — Modern Sounds in Country and Western Music).
In addition to the long list of producers, Old includes features from Freddie Gibbs, A$AP Rocky, ScHoolboy Q, Ab-Soul, Scrufizzer, Charli XCX, and Purity Ring. The contrasting styles of these artists add to the wildly complex motifs of the record.
"Dip," a Molly-influenced party anthem, is an in-your-face portrait of the Danny Brown many have come to know. Brown's tone is vivacious, high-pitched, and frantic while the Skywlkr-produced beat is sharp, droning, and steady with minimalist electronic flair.
"Torture" is completely perpendicular to party anthems "Dip" and "Smokin' and Drinkin'." The low wailing of Oh No's haunting Georgia Brown sample is a perfect fit to the gravity of Brown's subject matter. Lyrically, it's a nightmarish glimpse into the tough realities of growing up on the mean streets of Detroit.
Brown's Old is the audio equivalent of a Quentin Tarantino film. The random series of cinematic-influenced songs certainly encompasses the themes as a whole; however, as individual tracks, the message of each may seems unrelated to the next. This is a referential listener's album. To experience the full power, emotion, and association of each track, consider avoiding track-hopping and choosing favorites. Old is a record to enjoy all the way through.
Stream Danny Brown's Old below:
(DMM encourages supporting Detroit musicians by purchasing their work.)
Comments