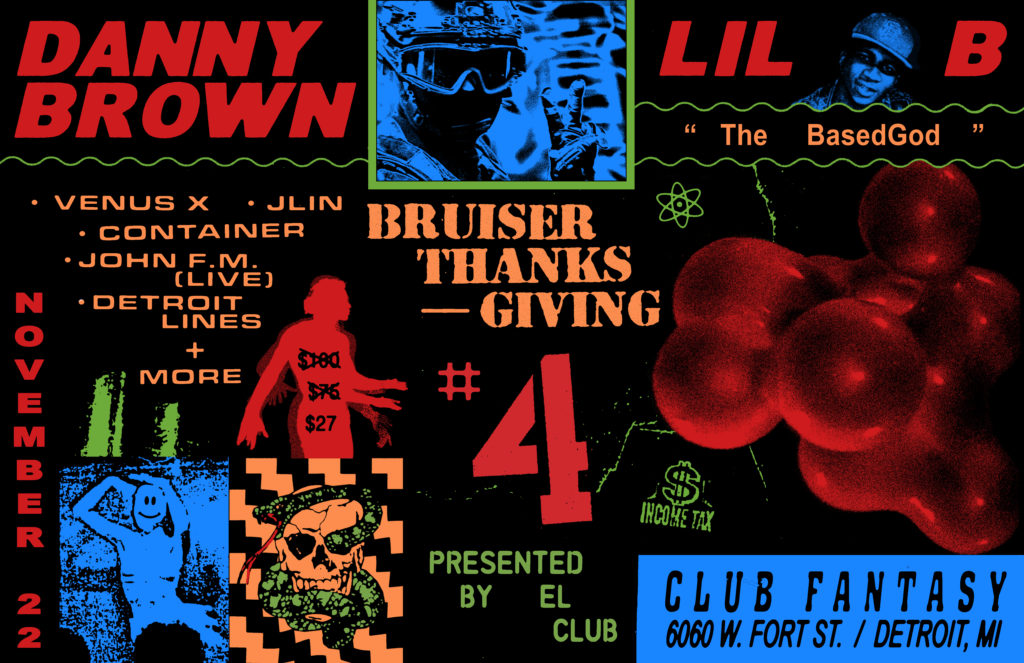 Danny Brown will once again host a Thanksgiving-themed concert in his hometown this week. In fact, it's become an established tradition in recent years.
The annual event, appropriately titled "Bruiser Thanksgiving," is on its fourth year, and making the move from the Majestic Theater complex north of downtown to Southwest Detroit's Club Fantasy. Presented by Detroit's El Club, the Thanksgiving eve-show will not only feature Detroit's most infamous punk-rock rapper, but a slew of regional, local, and nationally acclaimed artists. Here's a look at a few of Wednesday's performers:
Lil B
The "BasedGod" himself will perform at Bruiser Thanksgiving IV, marking his first live performance since III Points Festival in Miami, this fall. The California rapper, producer, author, and motivational speaker has become a household name through high profile social media showdowns and placing curses on NBA players, but he is also known for his promotion of openness and tolerance in hip-hop. Lil B's sound has been described as cloud rap, trillwave and "based" music, but his live presence cannot be categorized.
Jlin
Also joining the Club Fantasy stage on Wednesday is Jlin — an electronic producer from Gary, Indiana. Her interest in Chicago's footwork scene eventually inspired her 2011 track "Erotic Heat," which appeared on footwork and juke compilation Bangs & Works, Vol. 2. Recently, Jlin released her second album Black Origami.
Venus X
Jazmin Venus Soto, otherwise known as Venus X, is known for her live sets on high art stages like Fashion Week and Art Basel, as well as her regular dance-party series GHE20GOTH1K (pronounced "Ghetto Gothic").  Venus X grew up in Washington Heights and has been credited, in part, with reviving the underground dance scene of New York City. Give her your ear and your dancing shoes will follow.
John FM
A protégé of Detroit's own Omar S, John FM has released multiple EPs on the legendary producer's FXHE label, and even contributed vocals on Omar's track "Heard Chew Single," from his album The Best.  John FM's techno-soul crossbreed produces a refreshing take on familiar sounds, but remains uniquely Detroit.
Detroit Lines
This act is a collaboration between Detroit hip-hop and house innovator Black Noi$e and Bruiser Brigade producer Skywlkr. Get there early to see this super performance happen live.
For more information about Danny Brown's Bruiser Thanksgiving, or tickets, visit El Club's website. We'll see you there!
Comments