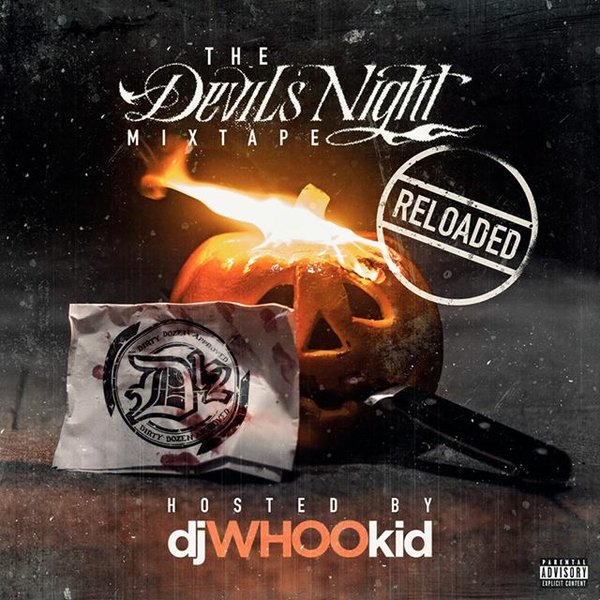 Bugz has been dead for 16 years. Proof has been dead for 9. Eminem hasn't been interested in a full-fledged reunion, and it's been 11 years since their last album. The group now consists of Eminem, Bizarre, Kuniva, Swifty McVay, Fuzz Scoota, and Kon Artis, yet many questioned if we would ever see another release. While many fans wrote off D12 years ago, they just quietly dropped one of the hottest mixtapes of 2015 — Devil's Night: Reloaded.
While Slim Shady is undoubtedly the most well-known member, his lone appearance is on the a cappella opening track. The intro's lines are reminiscent of classic D12 — filled with gratuitous violence, depraved sexuality, and drug references — but Em's delivery stays true to his contemporary form, angry and gruff. It would have been great to see him contribute to the rest of the album, or at least one track with the rest of the crew. This intro is somewhat of a tease for Eminem fans, but the rest of the album is replete with guest appearances from hometown heroes Royce da 5'9, T3 of Slum Village, King Gordy, Lazarus, Crooked I, and Kidd Kidd.
After the intro, D12 remind us why they rule the world with "The Set Off," and that they don't need Marshall to write some of the darkest bars the world has heard. Each track is harder than the next, with lyrics that could make Juggalos cringe. On "Dirty Dozen," Bizarre warns "You want positive shit, then listen to Kendrick Lamar/ You want crazy shit, then listen to Bizarre" before diving into a further demented verse that culminates in a Bruce Jenner shout-out. If you're not offended yet, you will be.
Consuming mass amounts of prescription drugs, having sex with well-worn prostitutes, and murdering anyone who doesn't support D12 is just the beginning. "Evil World" finds Bizarre provoking listeners with lines such as "I eat brains for breakfast," "Going both ways, killing all gays," and "Run in your house, rape your spouse." Later in the track, Kuniva professes "This ain't purple pills/ Bitch we ain't smiling," which could not be more true. Devil's Night: Reloaded can certainly seem comical at times to those who appreciate the deranged, but the tone is much more serious. Although they have nothing to prove, D12 have re-established themselves as one of the hardest rap collectives in history. Consider them Wu-Tang's horrorcore cousins.
The closing number, "Stay High," starts with a fan complaining, "I been listening to this whole D12 mixtape. I haven't heard anything about purple pills, cocaine, or molly. Come on fellas, get your shit together," before dipping into a seamless McVay verse. This track could well end up being the most timeless of the collection, as you can imagine it on just about any D12 production. That being said, the collective keep it real and adapt to the shifting rap landscape. Taking shots at Future, Donald Trump, and Macklemore: Just because D12 haven't been in the spotlight doesn't mean they aren't still with it.
D12 aren't rooted in the past. They aren't trying to relive their glory days. While favorites Bugz, Proof, and Eminem aren't on the album, it doesn't sound as if the rest of the group are trying to fill a void. Despite an impressive repertoire, D12 don't rest on their laurels. They rap as if they have a chip on their shoulder, but they never lost it. They were just underground popping pills, smoking blunts, and chilling with groupies, waiting for the right time to reemerge from the darkest depths of Detroit.
Devil's Night: Reloaded defines a new era for D12. It's unlike the original Devil's Night or D12 World, with Slim as the clear-cut leader. This is more of a return to The Underground EP era, when Detroit's high council of elite rappers gathered to spit some of the hottest bars the world has heard. This mixtape is lyrically raw but has the high-quality production of a studio album. Devil's Night: Reloaded is undoubtedly a contender for best mixtape of 2015, and proves Detroit's hip-hop scene is still alive and well.
---
Stream The Devil's Night Mixtape: Reloaded below:
Comments