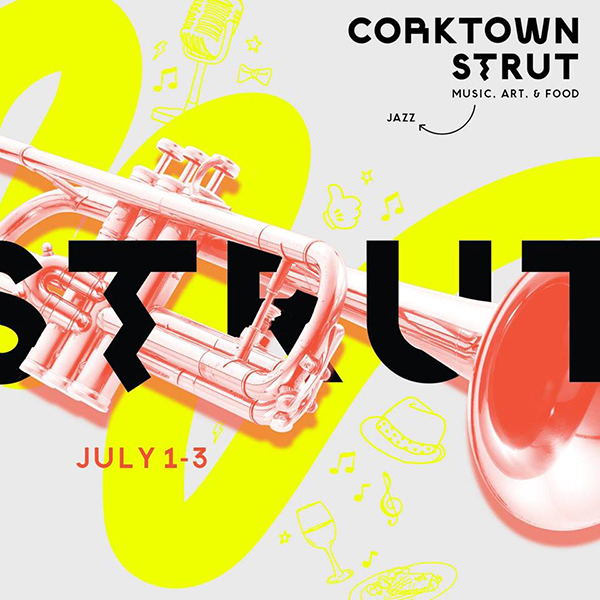 Summer in the Motor City has long been bookended by major music festivals: Movement Electronic Music Festival over Memorial Day Weekend — joined this year by the first (and maybe last) Trip Metal Fest — and Labor Day Weekend's choice of either Detroit Jazz Festival, Arts Beats & Eats, or the Hamtramck Labor Day Festival. The Fourth of July has usually offered a respite from these outdoor events, but the inaugural edition of Corktown STRUT is hoping to change all that.
The event came together under the eye of festival director Dominic Arellano, who is the head of Forward Arts, a Detroit nonprofit corporation whose mission is to grow, sustain, and preserve the city's art communities and industries. The aim of Corktown STRUT is to showcase Detroit's best music, visual, and culinary arts in a way that benefits both the artists, promoters, businesses, and Corktown community.
Corktown STRUT is an all-ages and free event except for the music festival designated areas, which are 21+, with wristband. Festivities will take place along the Michigan Avenue corridor and will feature an array of music programming, exclusive menu offerings from neighborhood restaurants, and visual art show openings. Altogether, the event promises to create a cohesive, cross-media experience, with more than 60 musicians, artists, and chefs from across 13 Corktown venues.
It all starts tonight at 7:00 p.m. with the Detroit Free Press STRUT Kick Off Party ($8) at Two James Annex. On Saturday and Sunday, seven venues will be used each night as part of the ticketed music programming: Two James Annex, Batch Brewing Co., Katoi, MotorCity Wine, UFO Factory, PJ's Lager House (Saturday only), Mudgie's, and McShane's Pub (Sunday only). All 10+ restaurants participating in the food festival will be free and open to the public.
Highlights include the first-ever live performance by Zap Francis, an album release party for Unkept, a set by Will Sessions featuring Amp Fiddler and Dames Brown, the first live performance in five years by the Detroit art-rock band Zoos of Berlin, a series of shows curated by Warren Defever that includes a set from His Name Is Alive, and an all-day Sunday party at McShane's Pub curated by TV Lounge.
For the full list of musical acts, visual artists, and participating restaurants, visit the Corktown STRUT website. You can also find a complete schedule of events and purchase tickets to the festival.
With so much variety and such a range of offerings, it won't be long before Corktown STRUT joins the list of can't miss Detroit summer festivals. In the words of Arellano, "We feel like we really adhered to our motto of 'No Genres, Just Good Music,' and put together a great, diverse line-up with our partners."
Comments