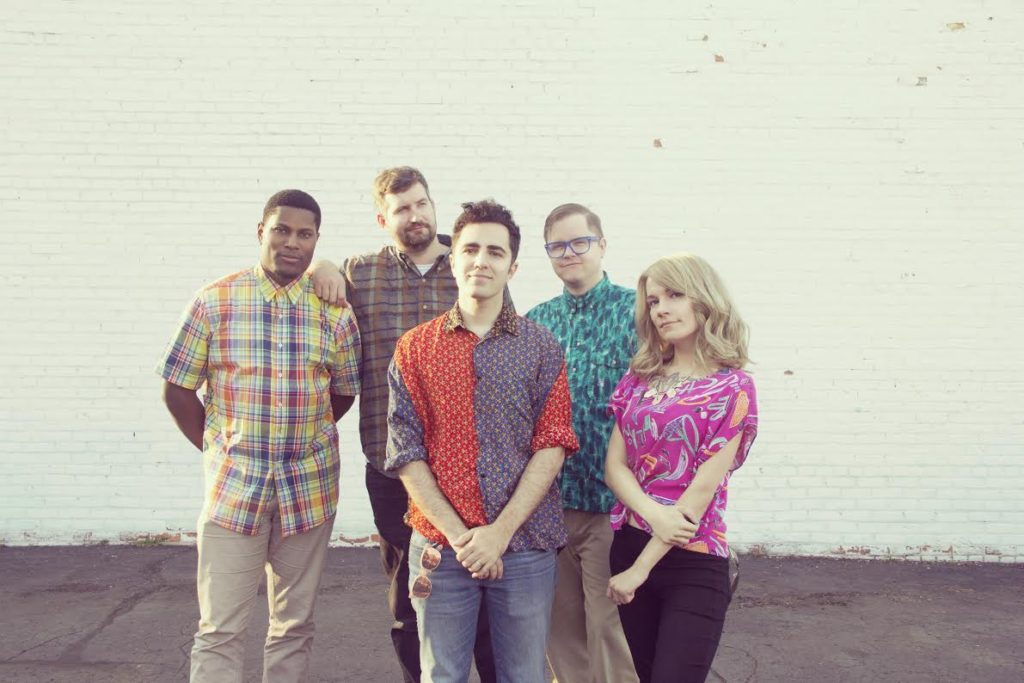 Corktown STRUT is back for its second year of music, food, art, and more.
This year's festival will take place June 26 through July 3, across 15 venues in Detroit's historic Corktown neighborhood. Powered by Forward Arts, the festival pledges to donate 5%–15% of all proceeds to a Corktown project every year, in coordination with the Corktown Economic Development Corporation. STRUT has doubled down on encouraging participation from local organizations, with support from Stroh's, Two James Distillery, Detroit Blues Society, Assemble SOUND, The River Street Anthology, TV Lounge, Slows Bar BQ, Hello Records, Metro Times, Detroit Electronic Quarterly, and more. (Including us, Detroit Music Magazine.)
Founder and STRUT organizer Dominic Arellano has been involved with the arts community for almost 20 years. "We have increased the number of restaurants, an art exhibit, added 3 stand alone culinary arts events, and the number of local organizations that we work with," Arellano told media in a statement Tuesday. "And of course, the music is top notch. All without raising prices. STRUT 2017 is going to be a great year."
More than 70 artists are scheduled to perform this year, with styles and sounds ranging from hip-hop and rock to pop and electronic. Two album releases will also take place during STRUT 2017: World Tour (The Blue Tape), from Eddie Logix-backed group Mega Powers, and Rollick, the new project from Two Cheers. Performances will take place on Friday, Saturday, and Monday — including Billy Davis Rhythm Machine, James Linck, and Ancient Language. (See full lineup below.)
In addition to great local music, the festival will feature 12 participating restaurants with off-menu items and three distinct culinary events. (DMM will be partnering with local legend Dr. Sushi for a special pop-up event. Stay tuned for details!) Participating restaurants include ima, McShane's Whiskey Pub, PJ's Lager House, Mercury Bar, Ottava Via, Gold Cash Gold, Astro Coffee, Mudgie's Deli, Batch Brewing Co, Brooklyn Street Local, and more.
For tickets and more information, visit corktownSTRUT.com. (Ticket prices range from $10 to $55 and are available at participating venues.) See full music lineup and list of venues below: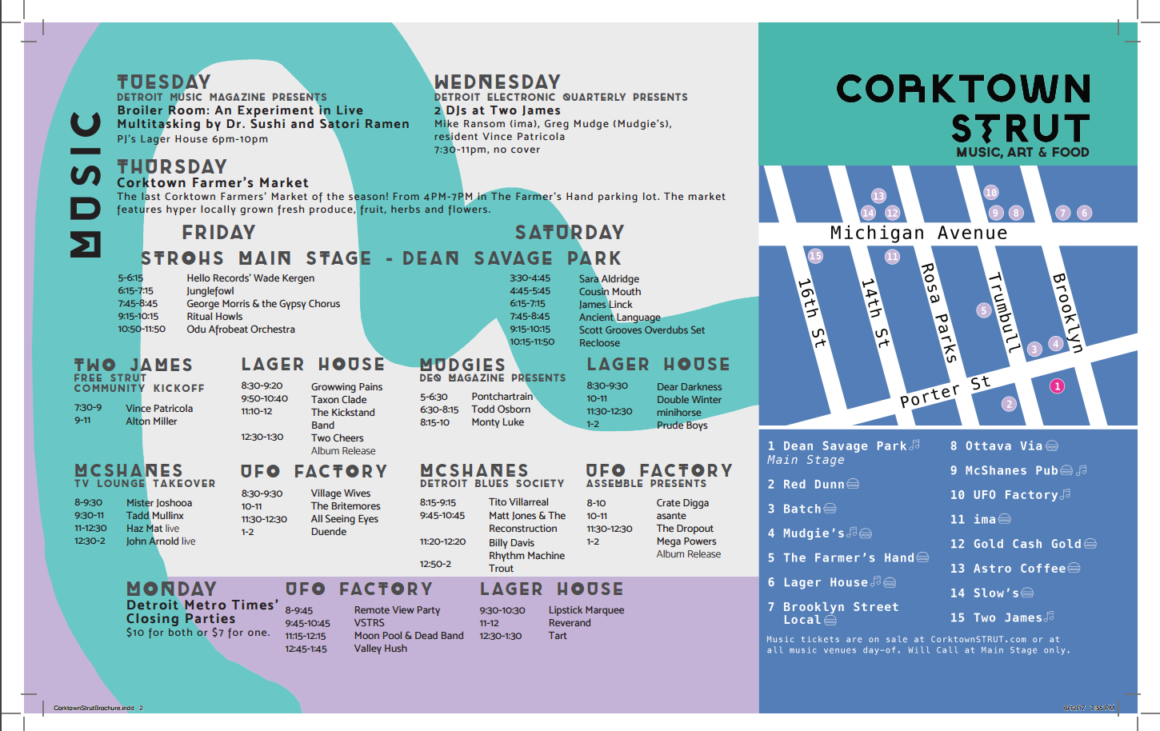 6/30 FRIDAY:
ODU, AFROBEAT ORCHESTRA, RITUAL HOWLS, TWO CHEERS (ALBUM RELEASE PARTY), GEORGE MORRIS AND THE GYPSY CHORUS, TADD MULLINX, JOHN ARNOLD LIVE, HAZ MAT LIVE, GROWWING PAINS, THE BRITMORES, ALL SEEING EYES, MISTER JOSHOOA (TV LOUNGE), ALTON MILLER, VINCE PATRICOLA, HELLO RECORDS' WADE KERGEN, DUENDE, JUNGLEFOWL, THE KICKSTAND BAND , TAXON CLADE , VILLAGE WIVES
7/1 SATURDAY:
RECLOOSE, MEGA POWERS ALBUM RELEASE, SCOTT GROOVES OVERDUB SET, ANCIENT LANGUAGE, BILLY DAVIS RHYTHM MACHINE (DOO-WOOP, BLUES AND ROCK HALL OF FAME), PRUDE BOYS, JAMES LINCK, MONTY LUKE, MINIHORSE, DOUBLE WINTER, TROUT, THE DROPOUT, MATT JONES & THE RECONSTRUCTION, ASANTE, TITO VILLARREAL, COUSIN MOUTH, TODD OSBORN, PONTCHARTAIN, CRATE DIGGA, SARA ALDRIDGE, DEAR DARKNESS
7/3 MONDAY:
VALLEY HUSH, TART, MOON POOL & DEAD BAND, REVEREND, VSTRS, REMOTE VIEWING PARTY, LIPSTICK MARQUEE
Comments