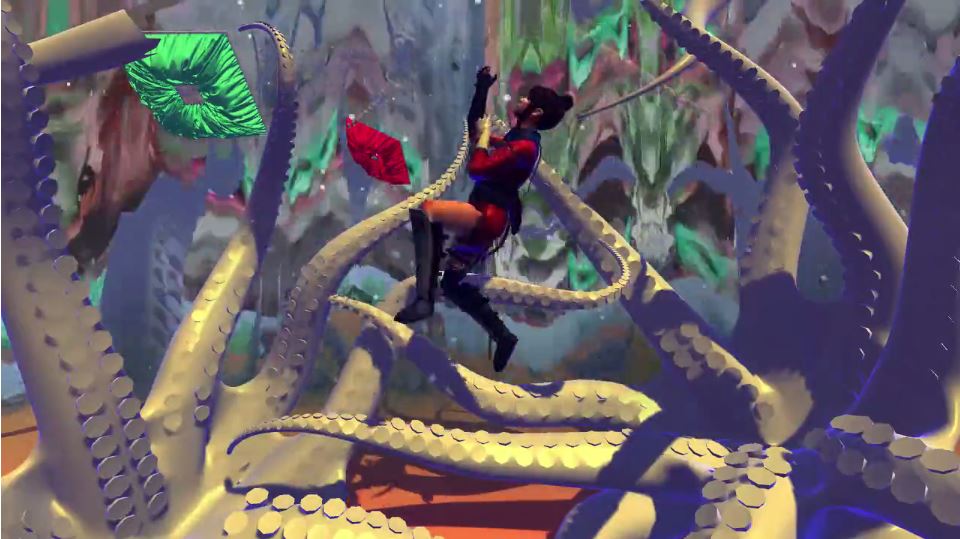 An onna-bugeisha hacks through the lush-but-plasticene flora of an artificial rainforest. A Pepto-Bismol-colored sprite sits pensively before a sniper gun. A Lara Croft-like figure swims toward a boardroom surrounded in smoke and swirling with pills. A carefree avatar teeters on the edge of a tower and surveys the wreckage of a post-apocalyptic urban landscape. An amusement park straight out of a Gaspar Noé film operates without visitors. Plus enough pixelation, distortion, noise, and filters to make your head spin.
With its focus on digital technology, temporal flux, simulated reality, gaming culture, gender identity, and conspicuous consumption, the work of artist Cassie McQuater shares many of the same concerns as the divisive PC Music label. But the Detroit native's latest project wasn't commissioned by the UK-based hyper-pop imprint. Instead, it came from someone unexpected, albeit much closer to home.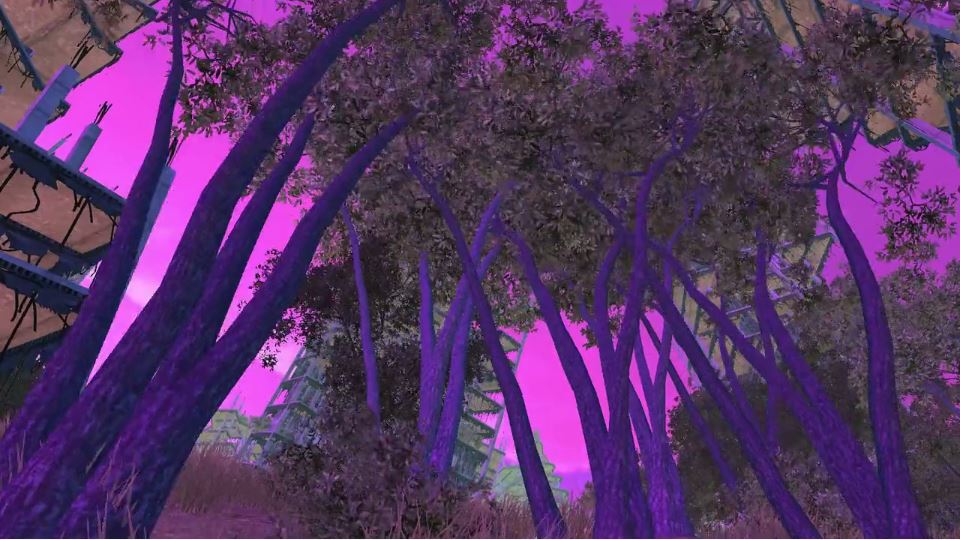 For the past few months, McQuater's vibrant, psychedelic video game-style visuals have accompanied Detroit rapper Danny Brown on tour with A$AP Rocky, Tyler, the Creator, and Vince Staples. For McQuater, it's been a chance to expose her work to a new audience outside the context of a museum or gallery, and to see it shared on social media channels as the tour has made its way across stadiums around the country.
McQuater, who currently resides in Santa Barbara, California, is no stranger to the Detroit music scene. Along with Nick George and Lindsay Farris, she is a co-founder of Noise Brunch, and she also provided visuals for Spectral Slumber. And when it comes to Danny Brown, the emcee's passion for video games is well-documented: Besides tweeting quite a bit about Persona 4, he even makes an appearance in Grand Theft Auto V.
On the eve of Danny Brown's homecoming performance with The Bruiser Brigade, Detroit Music Magazine had an online chat with Cassie McQuater to find out more about this project.
---
How did this commission come about?
Danny wanted video game visuals for this tour. Kill Screen [a video game arts and culture company] connected Danny's manager to me. I'd not worked with a rapper previously, and I'd never done visuals for a national tour before (and I'm a big Danny Brown fan), so I was excited to take it on.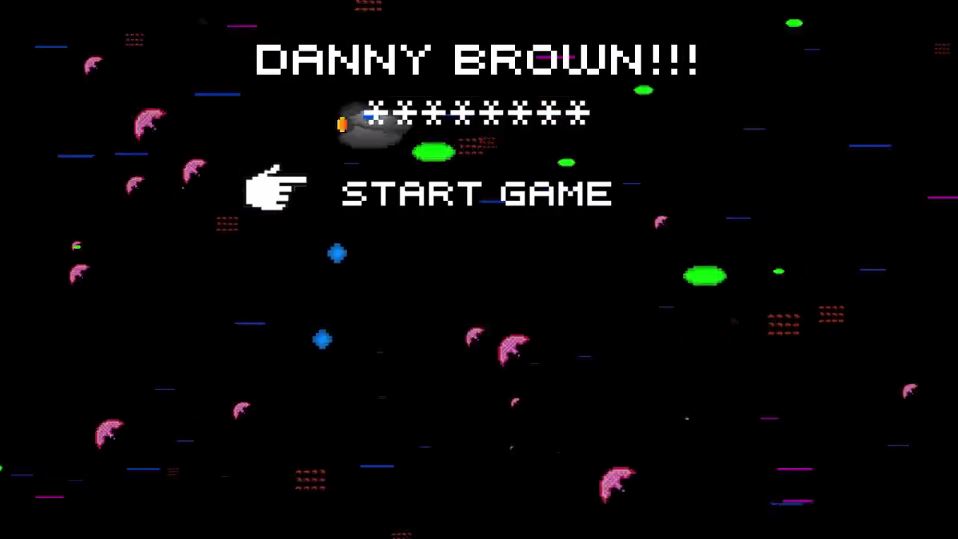 What was the inspiration for and the process behind the creation of the work? How much involvement did Danny Brown have?
I had a very short time to put everything together, so there were a lot of sleepless nights and chaotic visual decisions, which I think added to the work in the end. Danny Brown is a unique artist with his own distinctive everything, and I wanted to give him something to match. I knew what my color palette would be — somewhere between neon and pastel, highly saturated, LSD-like — but that's about it.
I realized pretty quickly that I wanted an entirely female cast of characters — even the alien overlords(ladies?). I wanted my female characters to have a powerful presence: fighters, guardians, goddesses, snipers. The "narrative" for the set emerged near the end of the process, which is not unusual for how I generally work, and even then it's all very loose and primarily color/effect-oriented.
I had pretty much free reign to do what I do, which I appreciated a lot. I was allowed to experiment. I think they've been using the visuals a couple of different ways on the tour too — so he's probably experimenting with them in their implementation as well.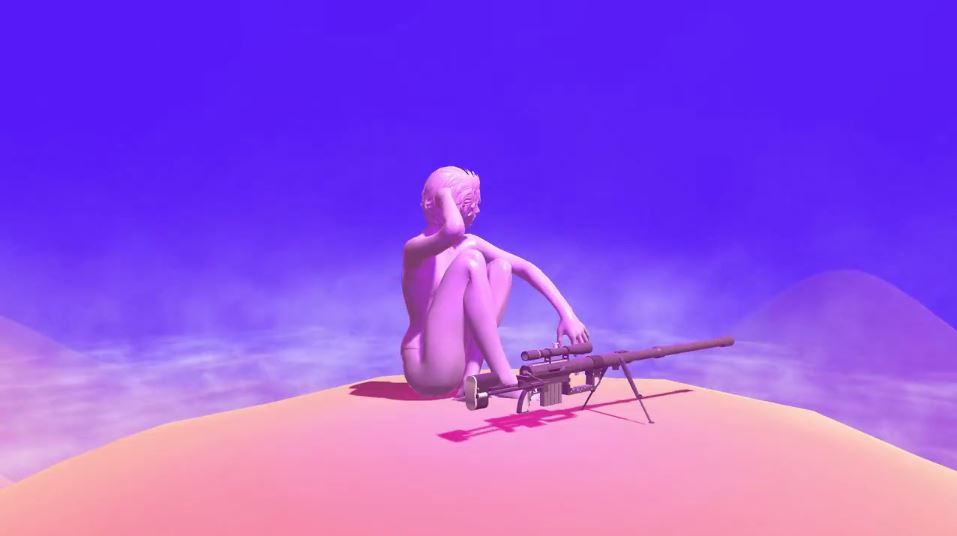 Did you work with a creative brief or treatment? If not, what type of relationship did you want your visuals to have with the music or with Danny Brown's performance?
I knew they wanted something brightly colored, interactive if possible, and video game-based. I wanted the visuals to complement Danny's complex and often chaotic persona. I wanted the audience to be able to move back and forth visually between Danny's wild dancing and my characters/colors wildly interacting on the screen behind him. I wanted to do something different from the normal flashing lights/bright logos on a screen thing, because Danny is very different from his contemporaries, and he deserves visuals to match. Concert visuals don't have to be boring; we're all tired of seeing the same shit over and over, lol.
What software or other technology did you use to create this piece?
All of the visuals are made in Unity and run through a Max/MSP patch synced with the audio. I used found characters, models, animations, and distorted them. I had to learn a lot of new programs in the timespan of a week to pull it off.
Your work is often associated with video games, web culture, net art, and lo-fi computer graphics. How do you see those concerns fitting in with your piece for Danny Brown?
Yeah, I wanted to make something for Danny that would reflect my own sensibilities as well as his energy — a collaboration. I knew that they were coming to me because they liked some of my previous work, so I didn't feel like I needed to change much about what I do/what kind of work I was going to make. I focused on making something I liked and hoped they'd like it too. The work reflects the resources I had access to, as does most of my work — that's where the "lo-fi" comes into play for me, and I embrace that.
What kind of feedback have you received on the project?
That has been one of the strangest things about this process. I'm used to having more control over how/when I release things and how I get feedback on those things. Most of the live documentation is audience/amateur phone photos/videos with hashtags. Lots of people tweet about how crazy the visuals are, so that's cool. It's still weird to me to see someone post a pic they took on their phone of the work I made during a sleepless bender week being projected to a crowd of more than 5,000 people going completely nuts.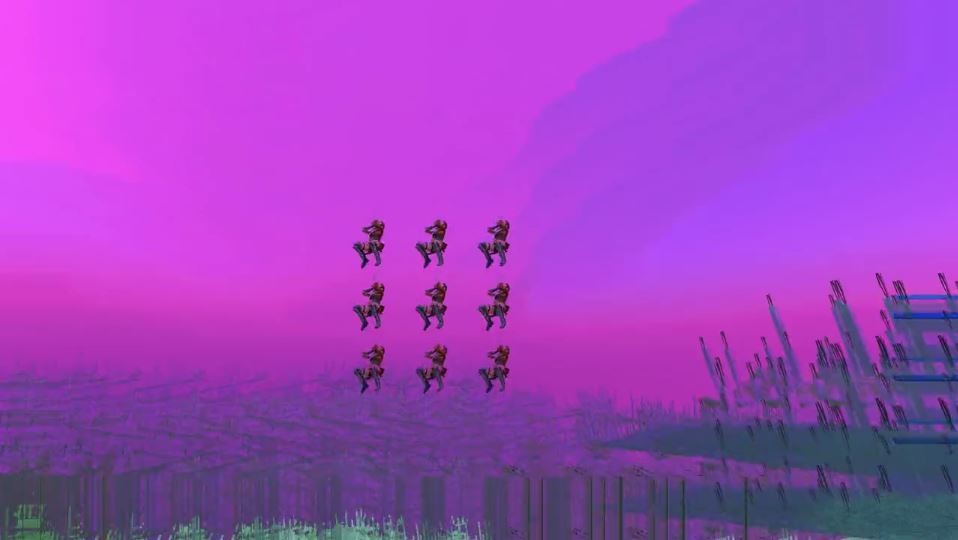 Do you foresee yourself collaborating again with other musicians?
Yeah, I'm always down/looking for new collaborations. 🙂
---
Danny Brown and The Bruiser Brigade return to the Majestic Theatre at 7:30 p.m. tonight for Bruiser Thanksgiving II. Tickets are $25 and can be purchased here. For more information on Cassie McQuater, visit her website.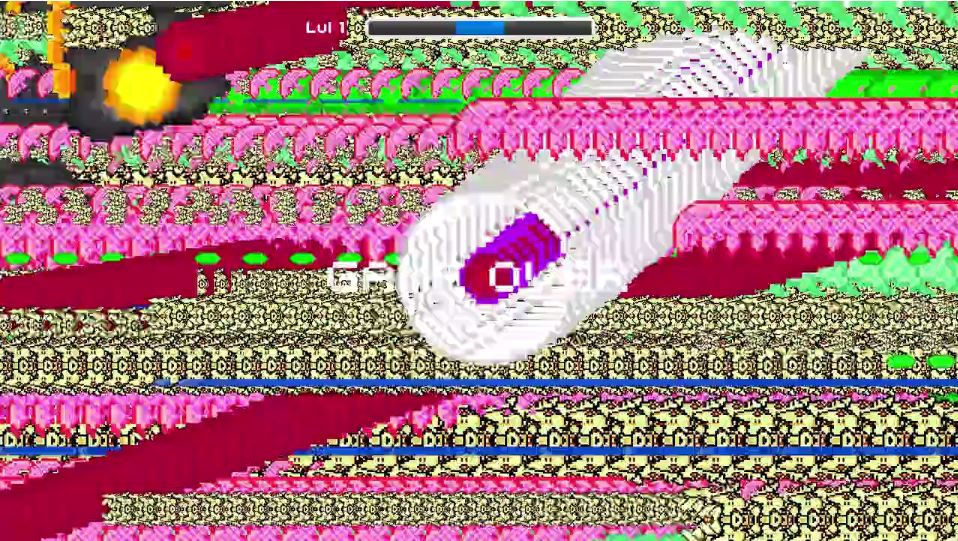 Comments