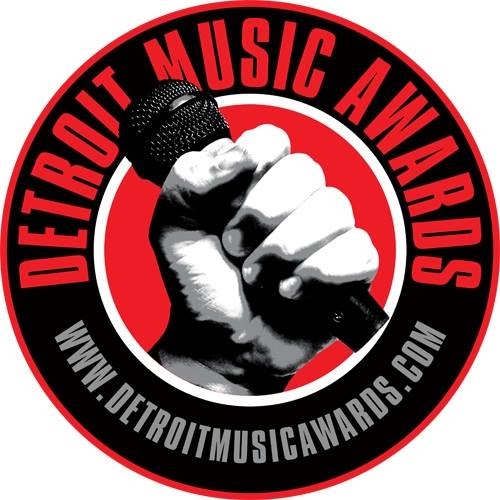 Tonight's Detroit Music Awards ceremony will award Detroit musicians from all genres with one of the most well-known local music trophies in Southeast Michigan. 
The foundation's members choose their favorite local representation of ten musical genres: Folk/Acoustic, Blues, Jazz, Gospel, Country, Classical, Rock/Pop, R&B/Hip-Hop, Electronic and World.
The three-part award process includes DMAF member submissions, nominations, and voting. The DMAF member community consists of music industry professionals, such as: musicians, producers, record label executives, booking agents, managers, sound technicians, and journalists.   
The Detroit Music Awards is a Michigan 501(c) 3 non-profit corporation which provides education, funding, and resources from the annual event's proceeds. Area musicians and artists are even eligible for insurance plans through a partnership between DMAF and ArtServe Michigan.
Past award ceremonies have included performances by: Eminem with D12, Kid Rock, Smokey Robinson, Bob Seger, Glen Frey, The Miracles, Grand Funk Railroad, George Clinton and Parliament, Ted Nugent, and others. 
See the full list of 2014 Detroit Music Awards nominees below: 
Outstanding Acoustic Artist/Group
Emily Rose
Frankie D'Angelo
Carl Henry
Jason Milan
The Flutter & Wow
Tom Butwin
Outstanding Folk Artist/Group
Corktown Popes
Audra Kubat
Jill Jack
Billy Brandt and Sarana VerLin
Carolyn Striho
Appleseed Collective
Outstanding Acoustic/Folk Instrumentalist
Jason Milan – Guitar
Jason Dennie – Guitar
Audra Kubat – Guitar
Brian "Roscoe" White – Guitar
Gia Warner – Guitar
Jill Jack – Guitar
Scott Dailey – Guitar
Paul Miles – Guitar
Maggie McCabe – Guitar
Outstanding Acoustic/Folk Recording
Gia Warner: "Over the Rainbow"
Carolyn Striho – " Word Attack"
Harper and Motor City Josh "Bare Bones"
Billy Brandt and Sarana Verlin "Going Home"
Olivia Millerschin – "Yes. No. Maybe So"
Mary McGuire "Halcyon Days"
Jeff Scott' "The Long Way Home"
Outstanding Acoustic/Folk Songwriter
Frankie D'Angelo
Jill Jack
Gia Warner
Dave Boutette
Matt Dmits
Holly Berndt
Outstanding Acoustic/Folk Vocalist
Audra Kubat
Gia Warner
Ryan Dillaha
Harper (Peter D. Harper)
Olivia Millerschin
Jill Jack
Tosha Owens
Outstanding Blues Artist/Group
Bobby Murray
Howard Glazer
Laith Al-Saadi
Royal Blackbirds
Erich Goebel
Broken Arrow Blues Band
Outstanding Blues/R&B Instrumentalist
Howard Glazer – Guitar
Bobby Murray – Guitar
Brett Lucas – Guitar
Laith Al-Saadi – Guitar
Pete Peltier – Guitar
Chuck Bartels -Bass
Philip Hale – Keyboards
Motor City Josh – Guitar
Paul Miles-Guitar
Outstanding Blues/R&B Recording
Bobby Murray "I'm Sticking With You
Howard Glazer "Stepchild Of The Blues"
Laith Al-Saadi – "Real"
Harper and Motor City Josh "Bare Bones"
The Infatuations "Yesterday Morning"
Laura Rain and the Caesars "Electrified"
Outstanding Blues/R&B Songwriter
Tino Gross
Howard Glazer
Paul Miles
Jim McCarty
Al Mckenzie
Laura Rain & George Friend
Outstanding Blues/R&B Vocalist
Thornetta Davis
Barbara Payton
Kathleen Murray
Tosha Owens
Caleb Gutierrez
Laith Al-Saadi
Outstanding R&B Artist/Group
The Infatuations
Mainstreet Soul
Laura Rain and the Caesars
Tosha Owens
The Groove Council
Emanuel Young & Howard Glazer
Outstanding Classical Composer
Todd Schoeneman
Carolyn Striho
Patrick Prouty
Bonnie Kaye
Anthony Lai
Christian Shaum, Ramsey Valentyn
Outstanding Classical Instrumentalist
Kenneth Thompkins – trombone
John Rutherford – trombone
Hai-Xin Wu – Violin
Christa Grix- Harp
Andrew Wu – Violin
Michael Rais – Double Bass
Jeff Zook – Piccolo
Randall Hawes – Bass / Trombone
Outstanding Classical Small Ensemble
Il Segreto String Quartet
Fleur de Lys Chamber Ensemble
Langsford Men's Chorus
Outstanding Classical Vocalist
Eva Marie Evola
Anamaria Ylizaliturri
Brian Leduc
Amber Williams
Ramsey Valentyn
Outstanding Community Orchestra
Dearborn Symphony Orchestra
Warren Symphony Orchestra
Livonia Symphony Orchestra
Downriver Community Band
Outstanding Classical Recording
Minuet-Carolyn Striho & Bonnie Kaye
Charade – Todd Schoeneman
David Winans II "Requiem #43"
Nemesis – Todd Schoeneman
Outstanding Country Artist/Group
Horse Cave Trio
Julianne Ankley & The Rogues
Paulina Jayne
Doop & The Inside Outlaws
The Orbitsuns
Two Tone Tobacco
Outstanding Country Instrumentalist
Joey Spina – Guitar and Bass
Scott Dailey – Guitar
David Mosher – Violin/mandolin/banjo
Drew Howard – Guitar
John Lang – Steel pedal/dobro
Steve Byrnes – Guitar
Bonnie Kaye – Violin
Outstanding Country Recording
"Those Tears I've Cried" – Steve Scott Country
"Christmas In Your Heart" – Julianne Ankley
"He Doesn't Know it Yet"–Paulina Jayne
Inside Outlaws "Live"
Scott Dailey – "So Much Time to Burn"
"Steel Highway" – John Lang
Outstanding Country Songwriter
Don Duprie
Paulina Jayne
Julianne Ankley
Scott Dailey
Katie Grace
Billy Brandt
Outstanding Country Vocalist
Julianne Ankley
Paulina Jayne
Don "Doop" Duprie
Billy Brandt
David Shelby
Maggie McCabe
Outstanding Electronic/Dance Artist/Group
Cybertrybe
Liz Larin
Flashclash
Eprom Colony featuring Meridith Lorde
Carjack
Detroit Techno Militia
Outstanding Electronic/Dance DJ
DJ Pleasure Kitten
Linda Lexy
DJ Moondancer
DJ Psycho
Mike "Agent X" Clark
DJ Maverick
Outstanding Electronic/Dance Recording
"Blood on the danse floor" – Haflife
"If I Stay I Die" Eprom Colony featuring Meridith Lorde
William "Big Will" Elijah – "International Girl"
"Dressed to Get Screwed Party" The Jesus Chainsaw Massacre
"Beautiful Devil" Ghost Synthesis
Seven the General – Knowhere (A.R.T. the DIA project 2013)
Outstanding Electronic/Dance Writer/Producer
Sean Mooer
Liz Larin
Gabe Gonzalez
Mike "Agent X" Clark
Doc Colony
Jeff Rebrovich
Outstanding Anthology/Compilation/Reissue
Four Tops, "50th Anniversary: Singles Collection 1962-1972" (Motown/UMe)
Martha Reeves & the Vandellas, "50th Anniversary: Singles Collection 1962-1972" (Motown/UMe)
Various Artists, "Motown: The Musical Originals" (Motown/UMe)
The Gories, "The Shaw Tapes: Live in Detroit 5/27/88" (Third Man)
Various Artists: "Complete Motown Singles, Vol. 12B: 1972"
The Pathetic Sounds of Detroit
Outstanding Live Performance
Muruga & The Cosmic Hoedown Band
The Infatuations
The Ruiners
Passalacqua
Wilson
Kaleido
Outstanding Live Sound Technician
Peter Jay
Neil T. Sever
Kevin Sharpe
Bill Kozy
Tom Lubinski
Jason Fisher
Outstanding Local Record Label
Funky D Records
Detroit Music Factory
Mack Avenue Records
Bellyache Records
Static Records
Distorted Soul
Outstanding National Major Label / Distribution Album
Eminem, "The Marshal Mathers LP 2" (Shady/Aftermath/Interscope)
Mayer Hawthorne, "Where Does This Door Go" (Republic)
Sponge – Stop The Bleeding – The End Records
Dale Earnhardt Jr. Jr., "The Speed of Things" (Warner Bros.)
Danny Brown, "Old" (Fool's Gold/Warner Bros.)
Big Sean, "Hall of Fame" (G.O.O.D. Music/Def Jam)
Outstanding National Single
Eminem "The Rap God"
Sponge "Come in From The Rain"
Dale Earnhardt Jr. Jr. "If You Didn't See Me (Then You Weren't on theDancefloor)"
Marshall Crenshaw, "I Don't See You Laughing Now"
Ron Isley "My Favorite Thing" Featuring KEM
Pistol Day Parade "Not Today"
Outstanding National Small / Independent Label Distribution Album
Iggy & the Stooges, "Ready to Die" (Fat Possum)
Pistol Day Parade "Burn"
Battlecross "War of Will"
Jessica Hernandez and the Deltas "Demons"
Black Milk, "No Poison No Paradise" (Fat Beats/Computer Ugly)
Sponge, "Sop the Bleeding" (Three One Three/The End)
Outstanding Record Producer
Al Sutton
Chuck Alkazian
David Feeny
Kevin Sharpe
Matt Dalton
Bryan Reilly
Outstanding Recording Studio
Rustbelt Studios
Metro 37
The Tempermill
Pearl Sound Studio
Funky D Studios
RMS Sound Studios
Outstanding Video / Independent Budget (Under $10,000
Carjack. "'Theme 2013"
Audra Kubat "Sparrow"
The Infatuations "Yesterday Morning"
White Shag "Die for Me"
Kaleido – "Goodbye"
Corktown Popes – "Christmas Tune"
Outstanding Video / Major Budget (Over $10,000)
Eminem – "Berzerk"
Eminem – "Rap God"
Big Sean "Beware"
Mike Posner "Top of the World"
Outstanding Tribute Band
Fifty Amp Fuse "Your Generation"
Danny D and The Vagabonds
In the Flesh
The Polka Floyd Show
Magic Bus (Woodstock era)
Raputa – J Geils Tribute Band
Outstanding Gospel/Christian Act
David Winans pi
Only 1 Way
OneAchord
Sonnie Day
The Gideon Crew
Jennifer Nasto
Outstanding Gospel/Christian Musician
Marq Andrew Speck (keyboards)
David Winas II (bass)
Pete Peltier – guitar
Al Mckenzie – keyboards
Jay Caver (guitarist)
Keith Lawrence (keyboards)
Outstanding Gospel/Christian Recording
"Troubled Waters" – David Winans' pi
"All I Need" OneAchord
"Sunday School" various (Don Duprie, Tino Gross, Katie Grace, Ty Stone)
"Some People May Ask" – Sweet Crystal featuring Amy Susan Heard
Testimony Sings "Lift Him Up"
Emazin & Good Son Featuring Mike Bowdre- We Lift You on High
Outstanding Gospel/Christian Songwriter
Marq Andrew Speck
David Winans II
Al McKenzie
Paul Collins, Mike Bowdre, Erik Harvey
Sonnie Day
William Reynolds
Outstanding Gospel/Christian Vocalist
Marq Andrew Speck
Ortheia Barnes
David Winans II
Sonnie Day
Al Jacquez
Suzi Bee
Outstanding Jazz Composer
Alexander Zonjic
Patrick Prouty
James Hughes
Duncan McMillan
Tracy Kash Thomas
Michele Ramo
Outstanding Jazz Instrumentalist
Carl Cafagna – saxophones
Skeeto Valdez-drums
Keith Kaminski – saxophones
Alexander Zonjic – flute / guitar
Ibrahim Jones – Bass
Evan Perri – guitar
Perry Hughes – guitar
Bob Mervak – piano
Outstanding Jazz Recording
The Hughes/Smith Quintet " From Here on Out "
Planet D Nonet "Swingin' The D"
Aguanko' – Elemental
Michele Ramo "A Cigar & A Scotch" – Live at Jenuwine with The World Jazz Orchestra
Brandon Williams – "Godsend" feat. De'Sean Jones & Jon Dixon
Ron Kischuk & The Masters of Music Big Band "Plays Kenton" Featuring Peter Erskine, Live at the Music Hall
Outstanding Jazz Vocalist
Sky Covington
Trish Shandor
Chrissy Morgan
Meri Slaven
Sheila Landis
Ben Sharkey
Outstanding Modern Jazz Artist/Group
Skeeto's Funhouse
Ben Sharkey Quartet
Al McKenzie band
Deon Yates
Alexander Zonjic
Robert Lee Revue
The Swank Club
Outstanding Traditional Jazz Artist/Group
Metro Jazz Voices
Planet D Nonet
The Hughes/Smith Quintet
Steve Wood Quartet
Scott Gwinnell Jazz Orchestra
Gerard Gibbs & ReORGAN'YZ
Outstanding Rock/Pop Instrumentalist
Wolf – Bass
Skid Marx – Bass
Erik Gustafson – Guitar
Johnny Bee Badanjek – drums
Gabe Gonzalez – Drums
Bob Monteleone- guitar
Chris Degnore- guitar
Joey Fava – Drums
Outstanding Rock/Pop Recording
The Infatuations "Yesterday Morning"
The Ruiners "Motorcycle Lazarus and the Masters of Fire and Love"
The Seatbelts " Joy Ride"
Kaleido "Watch Me Walk Away"
Bulletproof Snow – "Punished For My Innocence"
Howling Diablos "Return of the Funk Hand"
Outstanding Rock/Pop Songwriter
The Infatuations
Christina Chriss & Joey Fava
Eliza Neals
Liz Larin
Mike Leslie
Stewart Francke
Outstanding Rock/Pop Vocalist
Bootsey X
Caleb Gutierrez
Barbara Payton
Christina Chriss
Gia Warner
Josh Mayle
Metal/Hard Rock Artist/Group
Wilson
Chrome Mollie
Rocktropolis
Dead in 5
Hell Rides North
Circus Boy
Industrial Artist/Group
CyberTrybe
HafLife
Eprom Colony featuring Meridith Lorde
The Impaler
Electrocrush
Ghost Synthesis
Rock/Pop Artist/Group
The Ruiners
The Muggs
Kaleido
White Shag
Citizen Zero
The Infatuations
National Indie Label Rock Artist/Group
Electric 6
Battlecross
The Hounds Below
Pistol Day Parade
Critical Bill
Luder
Outstanding Hip-Hop Artist/Group
Hush
Danny Brown
Cold English
Critical Bill
Kidd Young
Magnanomous
Passalacqua
Outstanding Hip-Hop DJ
DJ Psycho
Dj Head
Dj Maestro
Drummer B
Dj Fingers
Skywlkr
Outstanding Hip-Hop MC
Volcano
Magnanamous
Mz. Korona
Frank Nitty
Leaf Erikson
Powerdise
Seven the General
Outstanding Urban/Funk Artist/Group
T Money Green's Roadwork
Gabe Gonzalez
Howling Diablos
Nadir
Big Will & The 360 Degrees Band
Enema Squad
Outstanding Urban/Funk Musician
Wolf – bass
TMoney Green – bass
Gabe Gonzalez – drums
Skeeto Valdez-drums
Phil Hale "Harmonic" – keyboards
Chuck Bartels -bass
Erik Gustafson – guitar
Outstanding Urban/Funk Songwriter
Nadir
Tino Gross
The Infatuations
Gabe "Undi$co Kidd" Gonzalez
William Big Will Elijah
K-Squeez
Outstanding Urban/Funk Vocalist
Caleb Gutierrez
Tosha Owens
Tino Gross
Chrissy Morgan
Nadir
William Big Will Elijah
Outstanding Urban/Funk/Hip-Hop Recording
"Return of the Funk Hand" Howling Diablos
The Infatuations "Yesterday Morning"
Enema Squad "Better Give It Up"
Kidd Young ft. Michael John "Let It Go"
"Save Detroit" by Paul Miles & Friends
K-Squeez "I Just Wanna"
Outstanding Reggae/Ska Artist/Group
The Belle Islanders
1592
The Process
Roots Vibration Band
Leaving Lifted
Immunity
Outstanding World Artist/Group
The Corktown Popes
Zap Toro
Michele Ramo "World Jazz Orchestra"
October Babies
The Lynn LaPlante Seven
Tumbao Bravo
Outstanding World/Reggae/Ska Instrumentalist
Muruga Booker – Drums & Percussion
Lynn LaPlante – piano
Gabe Gonzalez – Drums
Jose "Pepe" Espinosa – congos
Steve Caldwell – Guitar
Jason Milan – Guitar
Outstanding World/Reggae/Ska Recording
"Joty Drums" by Muruga Booker, Pandit Samar Saha, & John Churchville
"And Also With You" – Corktown Popes
1592- "Sunday Morning"
"Gypsy Wind" – The Process
Nothings Gonna Stop Us – The Belle Islanders
"Motown Mojo" by Monsieur Guillaume & His Zydeco Hepcats
Outstanding World/Reggae/Ska Songwriter
Eric Abbey
David K. Asher
Harper (Peter D. Harper)
Jason Milan
Joe Kidd & Sheila Burke
Xavier Rosario
Outstanding World/Reggae/Ska Vocalist
Harper (Peter D. Harper)
David Asher
Aaron Brown
Tom Wall
Xavier Rosario
Eric Abbey
Comments