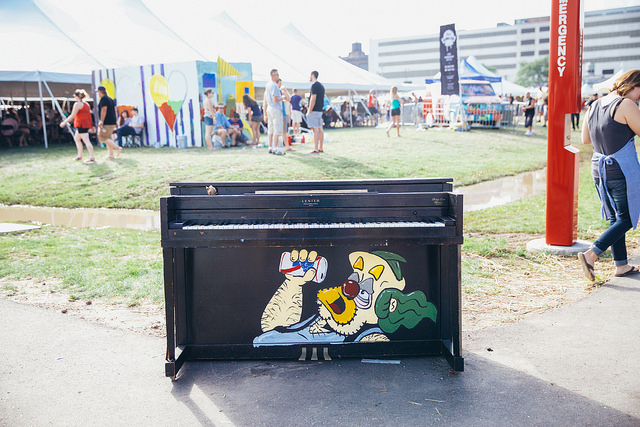 Despite torrential rains that threatened to turn the inaugural Detroit edition of Mo Pop Festival into a flood of biblical proportions, the indie-leaning event has returned to West Riverfront Park for the second year in a row, after spending its first two at Freedom Hill Amphitheatre in Sterling Heights.
In the case of any inclement weather this year, festival organizers have worked with the Detroit Riverfront Conservancy to address drainage issues. On top of that, they have added more bathrooms, bars, and technology and crafts vendors. Furthermore, the event will make use of park space further west for an air-conditioned tent featuring vintage video games courtesy of the pop-up gaming group Offworld Arcade.
But what about the music? This year's lineup is as diverse as ever, with Saturday headlined by popular Bay Area rapper G-Eazy and shoegazing French electronic act M83 closing out Sunday night. In between, there will be sets from critically acclaimed musicians — both local (Tunde Olaniran, BØRNS) and international (HAIM, Mac DeMarco) — across two stages.
Brush up before the the festival with our guide to all the artists playing this year. For more information on Mo Pop, including tickets, please visit the official website. Detroit Music Magazine wishes everyone a safe and enjoyable time at this year's event; check back soon for our recap of the festival!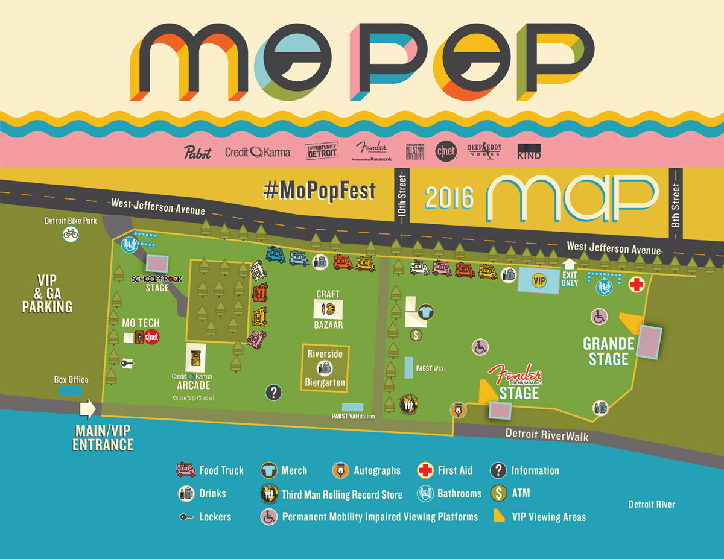 ---
Tunde Olaniran
Fender Premium Audio Stage
12:45 – 1:15 p.m.
The genre-defying Tunde Olaniran is a Flint-based, but Detroit-associated, artist whose confident, socially conscious songs blend dance, hip-hop, rock, and R&B.
Quilt
Fender Premium Audio Stage
1:30 – 2:00 p.m.
Quilt weave a tapestry of float-away guitars, Eastern melodies, and languid, intimate harmonies for a modern take on psychedelic folk.
Coast Modern
Fender Premium Audio Stage
2:15 – 2:45 p.m.
Coast Modern are a shape-shifting Los Angeles-based duo who infuse their breezy, west coast electro-pop with elements of hip-hop, indie rock, and psych-pop.
Panama Wedding
Grande Stage
2:50 – 3:20 p.m.
New York City electronic pop ensemble Panama Wedding center around singer/songwriter Peter Kirk's adult-alternative, synth-based melodies.
Alex G
Fender Premium Audio Stage
3:25 – 4:00 p.m.
The bedroom-produced lo-fi pop from Pennsylvania songwriter Alex G channels influences from Elliott Smith and Built to Spill.
Bishop Briggs
Grande Stage
4:05 – 4:40 p.m.
Bishop Briggs is a Los Angeles-based souful singer and songwriter of dark electro-pop, with a stage name borrowed from her family's hometown of Bishopbriggs, Scotland.
Twin Peaks
Fender Premium Audio Stage
4:45 – 5:20 p.m.
Chicago garage punkers Twin Peaks play their noisy nuggets with a giddy spirit and tons of childlike energy.
FIDLAR
Grande Stage
5:25 – 6:05 p.m.
FIDLAR are stoner skatepunk kids from Los Angeles who are influenced by The Offspring and blink-182 and who sure like to party hearty.
BØRNS
Fender Premium Audio Stage
6:15 – 7:00 p.m.
Raised in Grand Haven, but now based in Los Angeles, singer/songwriter Garrett Borns (aka BØRNS) has a knack for crafting sugary folk and glam rock-dusted electro-pop confections.
Glass Animals
Grande Stage
7:10 – 8:10 p.m.
Glass Animals are an Oxford, Englad-based band who are best known for their tracks "Gooey" and "Black Mambo."
HAIM
Fender Premium Audio Stage
8:20 – 9:20 p.m.
SoCal sister act HAIM create infectious pop/rock with influences ranging from Fleetwood Mac to '80s synth pop.
G-Eazy
Grande Stage
9:30 – 11:00 p.m.
G-Eazy is the man behind the hip-hop "Runaround Sue" redo and is also known as "the James Dean of rap."
---
The Greeting Committee
Fender Premium Audio Stage
12:45 – 1:15 p.m.
The Greeting Committee are a young indie pop quartet based out of Kansas City, Missouri whose debut EP, It's Not All That Bad, led to a deal with Harvest Records.
Lewis Del Mar
Fender Premium Audio Stage
1:30 – 2:00 p.m.
New York-based electro-acoustic indie pop duo Lewis Del Mar went viral earlier this year with their debut single, "Loud(y)."
Raury
Fender Premium Audio Stage
2:15 – 2:45 p.m.
The ambitious, free-spirited category dodger Raury released his first digital mixtape and signed to Columbia at the age of 18.
Banners
Grande Stage
2:50 – 3:20 p.m.
Velvety falsettoed Liverpudlian pop singer Mike Nelson, also known as Banners, grew up singing in Liverpool Cathedral Choir.
Kaleo
Fender Premium Audio Stage
3:25 – 3:55 p.m.
The bluesy indie folk-rock quartet Kaleo hail from the town of Mosfellsbær, just outside of Reykjavik.
Nothing But Thieves
Grande Stage
4:00 – 4:30 p.m.
Nothing But Thieves are a British rock outfit with an angular, moody, guitar-based sound and pop sensibility.
Shakey Graves
Fender Premium Audio Stage
4:35 – 5:20 p.m.
Shakey Graves is the stage name of Austin, Texas-based "hobo folk" singer, songwriter, musician, and actor Alejandro Rose-Garcia.
Mac DeMarco
Grande Stage
5:25 – 6:10 p.m.
Canadian songwriter and multi-instrumentalist Mac DeMarco moves between jangly warped pop and glassy-eyed themes of youth and late-night despair.
Father John Misty
Fender Premium Audio Stage
6:20 – 7:10 p.m.
Father John Misty is ex-Fleet Foxes drummer and singer/songwriter Joshua Tillman's Harry Nilsson/Gram Parsons-loving alter ego.
Matt and Kim
Grande Stage
7:20 – 8:10 p.m.
Keyboardist Matt Johnson and drummer Kim Schifino are the driving force behind the musical perpetual energy machine that is Matt and Kim.
The Head and The Heart
Fender Premium Audio Stage
8:20 – 9:35 p.m.
The Head and The Heart are a coed Seattle-based group whose music splits the difference between acoustic folk, Americana, and pop.
M83
Grande Stage
9:45 – 11:00 p.m.
Acclaimed French downtempo act M83 have strong influences from shoegaze, synth pop, and ambient music.
Comments